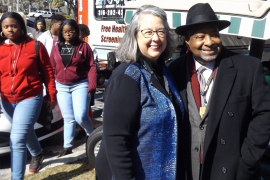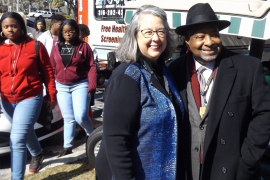 Citizens and dignitaries from throughout Volusia County gathered at Stetson on Jan. 15 for a march to celebrate Martin Luther King Jr. Day. The event was the first time ever that cities from across Volusia joined together to create a unified MLK Day celebration.
The event also gave Stetson President Wendy Libby, Ph.D., the opportunity to see her words come alive on the streets of downtown DeLand.
At the conclusion of the DeLand MLK Day breakfast in the Rinker Field House on campus, Libby was joined by Hubert Grimes, interim president of Bethune-Cookman University in Daytona Beach and the breakfast's keynote speaker. They, in turn, were joined by some 400 citizens from throughout the county for the key activity – a two-mile march from Rinker through downtown DeLand and on to Earl Brown Park, where a festival was being held.
While Libby had spoken about diversity and inclusiveness in her address at the breakfast, she was joyed to see such unity unfold as she drove a golf cart at the head of the march with Grimes seated beside her.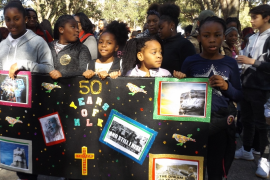 "Driving down here with President Grimes was so much fun because he worked in DeLand for almost 14 years," Libby said at Earl Brown Park. "And so, you could see all these people who turned out and who know him. And it really reminded us all that this is one community.
"For Stetson, the foundational goal of our strategic plan is to build a diverse community of inclusion."
During her breakfast address, Libby noted that Stetson has a rich institutional history of commitment to civil rights. "We know that a society is only as strong as the weakest among us," she said. "It is every one's mission to hold our brothers and sisters up, to deny those who try to diminish us. It's our role to be the change we want to be."
Grimes, who in 1988 became the first African-American judge to serve in Volusia, opened and closed his keynote address by quoting the poem "Harlem" by Langston Hughes, which includes the famous opening line "What happens to a dream deferred?"
Grimes spoke of the efforts of Mary McLeod Bethune to found the school that would bear her name, and drew a lineage from Bethune to Rosa Parks to Martin Luther King Jr. and other civil rights activists before concluding: "The rest of the story is you."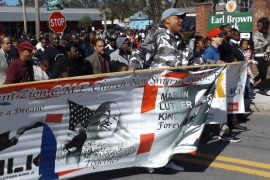 Mario Davis, executive director of the Greater Union Life Center, a DeLand-based, nonprofit community service group that organized the DeLand breakfast and march, saluted Stetson's participation.
"Stetson has been a historical partner for MLK Day here in DeLand. They were instrumental in helping with the formation [of MLK Day events] and have maintained their presence throughout essentially 35 years," Davis commented.
As an R&B band performed and celebrants filled Earl Brown Park, Morris Sullivan – a Buddhist sensei teacher and one of three Stetson chaplains – remarked about seeing "so many people from different cultures together."
"I think Dr. King has gone from being a representative of just one part of the population to being something much bigger – representing freedom and equality and justice for everybody. That's what strikes me here today," Sullivan said.
"If there's a silver lining to the current political climate, I think it's that people are really wanting to come together. I've heard that directly from some people, and I feel that way myself too. It's more important than ever now."
Stetson, added Sullivan, "is recognizing that the culture has changed, the community has changed, the student population has changed," and the university "is wanting not just to recognize that but to embrace it, be a part of it, encourage it – knowing that we are stronger if we are diverse."
– Rick de Yampert