Stetson University in the News, Dec. 15-Jan. 4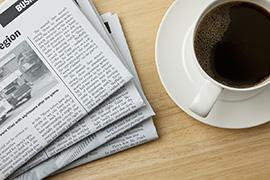 Top News:
Christopher Ferguson

Christopher Ferguson, Ph.D., psychology professor, was featured in the article, "World Health Organization to Recognize Gaming Disorder as a Mental Health Condition." Ferguson said, "Although some people do over-game, in the same sense that some people overdo almost any pleasurable activity, there isn't good evidence to suggest that gaming is unique and deserving of its own diagnosis," posted by The Mighty Dec. 22. Ferguson was also featured in the article, "WHO to Recognize Gaming Disorder as Mental Health Condition in 2018," posted by CNN Online, Crossroads Today and several other outlets Dec. 27.

Law Professor Peter Lake was quoted in Dec. 15 New York Magazine's article, "Inside a Training Course for Campus Sexual-Assault Officers."
Clay Henderson, executive director of Stetson University's Institute for Water and Environmental Resilience, was quoted in the article, "Coastal Waters Threaten Florida's Historic Resources" that appeared in the Daytona Beach News-Journal and was picked up nationwide by news outlets, including AP News, US News and World Report and the Seattle Times Dec. 30. Henderson said, "It's the first project that we've placed on our annual endangered list because it's endangered by sea level rise."
Professor Charles Rose spoke with the Daytona Beach News-Journal for the article, "Man convicted of unlawful sex with minor, other charges." The article also ran in the Associated Press and appeared in the Seattle Times, Darien News, New Milford Spectrum, Connecticut Post, Houston Chronicle, South Florida Sun-Sentinel, Idaho Statesman and many others. Professor Charles Rose also spoke with VICE News for the Dec. 21 article "It's easier than ever to get away with murder in Florida."

Joyce Mundy

Stetson Assistant Professor Joyce Mundy was interviewed in the Jan. 2 Orlando NPR segment, "Intersection: How to Stop Bullying in the Classroom."

Christopher Ferguson, Ph.D., professor of psychology at Stetson, wrote the Slate article, "More Than 500 Slate Readers Tell Us How They Handle Screen Time at Home," posted Dec. 21.
The Daytona Beach News-Journal posted an obituary for retired Stetson University Chaplain Michael Fronk.
Stetson University student Eddie Molina was featured in the West Volusia Beacon Online article, "Stetson Student Honored as Hometown Hero During Orlando Magic Game," posted Dec. 20.
Professor Jason Bent spoke with the Tampa Bay Times for the story, "When Does Sexual Harassment Become a Crime? It's a High Bar." The story ran via the wire and was picked up by WRAL TV and the Watertown Daily Times online.
Other News:
Professor Rebecca Morgan posted the Dec. 29 "Dementia Therapy in German Nursing Home" to the Elder Law Prof Blog and the Dec. 28 "Elder Caregiving and Women Not in the Workplace," and "Five Part Webinar on Abuse in Later Life" to the Dec. 27 Elder Law Prof Blog. She also posted "Mark Your Calendars: Webinar on Elder Abuse Hotlines" in the Dec. 26 Elder Law Prof Blog. She also posted in the Dec. 22 Elder Law Prof Blog on the "Florida WINGS Project." She wrote the Dec. 21 "Social Media Job Ads Targeted to Specific Age Groups-Discriminatory Based on Age?" She also wrote the Dec. 18 Elder Law Prof Blog, "Hawaii Starts Long-Term Care Program." She wrote the Jan. 3 Elder Law Prof Blog article, "Monetary Penalties vs. SNFs lessened." She wrote the Jan. 3 Elder Law Prof Blog, "Emergency Preparedness Legislation." Professor Morgan is listed among the Bloomberg Law Experts.
Professor Ciara Torres-Spelliscy wrote the article, "Vet Them Now Or Vet Them Later" for the Brennan Center for Justice. The article was picked up by the Dec. 27 Real Independent News & Film. The Dec. 27 Bookforum references Professor Torres-Spelliscy's article in "17 things we learned about money in politics in 2017." Read the article in the Brennan Center for Justice. The Dec. 21 Election Law Blog also pointed to the Brennan Center for Justice article.
Adjunct Professor Judge Irene Sullivan spoke with WUSF News for the story, "Parenting Law Goes Into Effect in Florida." The story also ran on WLRN.
News of the Disaster Research Project at Stetson was featured in the Dec. 14 Law Practice Today article, "Lessons Learned in Providing Disaster Legal Services in Florida."
Adjunct Law Professor Lt. Col. William Lanier Wallis Sr. has died, according to the Dec. 16 Tallahassee Democrat.
Law adjunct Chris Hunter is challenging U.S. Rep. Gus Bilirakis, R-Palm Harbor, according to the Jan. 2 Tampa Bay Times and Florida Politics Blog.
Stetson University's Marshall & Vera Lea Rinker Welcome Center was mentioned in the Orlando Business Journal article, "Here's a Roundup of What C. Fla. Businesses Have Been Up to in Recent Weeks," posted Jan. 3.
Alumni News:
The Dec. 16 Florida Politics reported that Florida Gov. Rick Scott has appointed Gerard Joseph Curley Jr. to the 15th Judicial Circuit Court.
According to GrayRobinson, Law alumnus Andrew Mayts Jr. has been announced as shareholder at GrayRobinson's Tampa office.
The Dec. 18 Orlando Political Observer reported that Law alumnus Gerard Joseph Curley Jr. of the Gunster law firm has been appointed to the Fifteenth Judicial Circuit Court.
According to the Dec. 19 Business Wire, PuppySpot.com welcomes Law alumnus Kenneth Vail among members of the Scientific Advisory Board.
Stetson alumnus Paul Bickel was featured in the article, "Stock Yards Bancorp Names Paul J. Bickel, III, to the Boards of Directors of the Company and Stock Yards Bank & Trust," posted by Publicnow, Profit Quotes and several other outlets Dec. 20.
Law alumna Florida Attorney General Pam Bondi was interviewed about the FBI/DOJ investigations on Fox News Dec. 20.
Law alumnus Rom Watson Powell has died, according to the Dec. 21 Orlando Sentinel.
Stetson alumna Jamie Haskins was covered in the article, "Haskins to Receive 2018 Remley Award," posted by News Tribune Online Dec. 26.
The Dec. 27 Calhoun Times reported that Law alumna Elinor Portivent has been appointed Gordon County Schools attorney.
Anita H. Lenssen, graduate of Stetson University, was covered in the article, "Local Author's Love for Animals Inspires Senator Bollweevil Cat Extraordinaire," posted by The Tribune Papers Dec. 28.
The Dec. 28 Dunn County News reported that Law alumnus Grant A. Beardsley has been elected shareholder of the Weld Riley SC firm.
According to the Dec. 28 Florida Weekly Naples, Law alumna Nancy Lascheid, co-founder of the Neighborhood Health Clinic, has been reelected to the board of directors for the Florida Association of Free and Charitable Clinics, of which she is a founding member.
The Dec. 31 Tallahassee Democrat reported that Law alumnus Mark Edward Becker has died.
According to the Dec. 31 PR.com and Dec.19 CityBizList, Law alumnus Scott A. Griffith has joined the Kelley Kronenberg law firm.
Law alumna Amy Boggs was mentioned in the Florida Politics article, "Lawyer couple claims exemption from St. Pete Beach short-term rental rules."
According to the Jan. 4 Bonita Springs Florida Weekly and Fort Myers Florida Weekly, Attorney Donald Thomson of Henderson, Franklin, Starnes & Holt has been named chairman of the Bonita Springs Estero Economic Development Council.
Law alumnus Thomas Stanton wrote the ChannelProNetwork Blog, "You Created It, You Own It. You Need to Protect It Too."
Law alumna Elizabeth M. Young LaBerge was profiled in CUInsight.