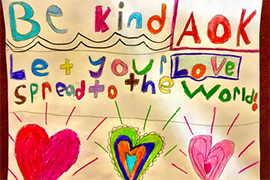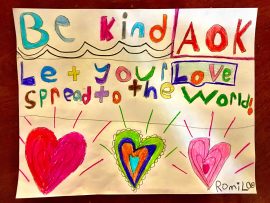 With all the love in the air on this Valentine's Day, it seems only apropos to feature a recently launched Acts of Kindness (AOK) program that shares kindness with a very important group: Volusia County school children.
Rajni Shankar-Brown, Ph.D., associate professor and the Jessie Ball duPont Chair of Social Justice Education at Stetson, is one of the lead organizers of the new AOK movement in the community, along with Dr. Felicia Benzo, community advocate and founder of the CATALYST (Children and Adults Together Achieving Leadership, Inspiration, Success and Trust) Mentoring Program; Hermia Guilliams-Reid, a CATALYST mentor and community volunteer; and Courtney Allen, coordinator for Dual Enrollment and Community Affairs, K-16, at Bethune-Cookman University.
"With significant growth in hate crimes, new levels of meanness, increased bullying inside and outside of schools, and painful incidents on the news daily, especially in the deep South, [we] came together and decided to organize AOK to inspire youth to promote kindness and step up as leaders in the community," Shankar-Brown explained. "This movement is an effort to plant seeds of kindness in the community with the hope that those seeds will spread and flourish, on school grounds, in hallways, in classrooms, and beyond into the community and larger world."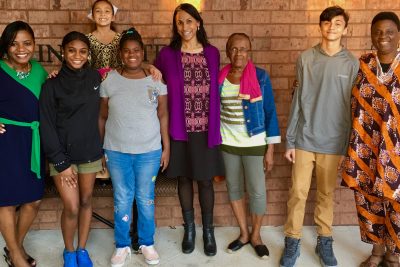 Participants in the AOK program are encouraged to record acts of kindness daily in a journal for 80 days. Through this pilot program, which runs until April 5, 74 journals have been gifted to children and 15 to adults at elementary, middle and high schools across Volusia County.
"Dr. Benzo and I encourage students to learn about culturally diverse examples from individuals who illuminate the power of kindness and empathy, as well as demonstrate kindness as a form of activism such as Mahatma Gandhi, Wangari Muta Maathai, Mother Teresa, Dr. Martin Luther King Jr., Maria Montessori, Malala Yousafzai, Ellen DeGeneres and others," Shankar-Brown said. "We encourage students to not only look to history and in their community to identify acts of kindness and role models, but to mindfully act with love and to actively be role models themselves. Watching students engage in AOK fills me with hope, especially during a social-political time filled with uncertainty."
The AOK program has enlisted the help of four Lead AOK Student Ambassadors (two of whom are Shankar-Brown's children): Trinity Allen, 10th-grader at Mainland High School (Academy of Communication and TV Production); Valen Siddhartha Brown, eighth-grader at Southwestern Middle School; Abby Reid Williams, fifth-grader at Reading Edge Academy; and Romila Sitara Brown, second-grader at Citrus Grove Elementary School.
Shankar-Brown's son, Valen, also is designing a mural for the project. Currently, they are looking for space in downtown DeLand to paint his AOK mural as a joint effort with engaged children and youth of the community.
Notably, Shankar-Brown has been selected as the featured scholar and keynote speaker for the National Dropout Prevention Council's 2018 RTWS (Reaching the Wounded Student) Conference this summer. The conference brings together leaders and educators from throughout the United States and overseas.
"I was fortunate that my Amma [mom] modeled kindness even in the face of hatred and cruelty, and her example continues to be a daily light in my life — a light I strive to share and awaken," Shankar-Brown said. "Sustainable social change requires collective effort and begins with us, especially our children."
-Trish Wieland