Born in October 2016, Reagan Hall was diagnosed with hypoplastic right ventricle/tricuspid atresia in utero at 18 weeks. At 4 days old, he underwent his first surgery.
Since then, Reagan's heart hasn't quite functioned normally, because of a defective valve prohibiting blood flow between the chambers of the heart.
In November 2016, one month after Reagan's arrival, Stetson alumna Brianne Boldrin '17 ran the race of her life. Successfully completing the Philadelphia Marathon, Boldrin qualified for the 2018 Boston Marathon. That race, the 122nd version of the famous event, is coming April 16 – when Boldrin will fulfill a dream while also helping Reagan and others to perhaps see their own come true.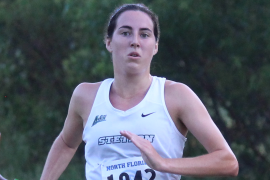 Through a Miles for Miracles fundraising effort, Boldrin will be racing to help raise money for Boston Children's Hospital – for Reagan and the other youngsters there. Reagan is Boldrin's patient partner, providing a personal connection and enabling her to share her journey.
"Reagan's name, like mine, comes from Gaelic roots. His name means 'little king,' which represents how strong, how loved, and how cherished he is by his family, friends and community of supporters," describes Boldrin, whose name means "strength" in Gaelic.
All of the donations go directly back to the hospital and help fund programs such as therapy dogs to comfort patients, clinics for families with teen patients, nights of free or subsidized housing, meal vouchers, global health projects, scientists researching new cures and clinical programs to treat the sickest children.
Boldrin, a student-athlete in women's soccer and cross country who graduated with degrees in both Business Systems Analytics and Applied Mathematics-Statistics, will be joined in the Boston Marathon by former Stetson teammate Laurie Scott '17.
"As a competitive athlete, I have experienced countless bruises, sprained ankles and swollen joints but never a life-threatening injury," Boldrin says. "Athletics is such an important part of who I am that I can't imagine facing an illness or condition that could take away my ability to compete."
Boldrin is preparing the "biggest race of my life" and hoping to make a difference in the lives of children who are not so fortunate.
"Reagan, as his parents have told me, will be a world-changer," says Boldrin, a data scientist at IBM in pricing analytics. "Though only one year old, his strength has inspired many. I know that Reagan will live up to his name, 'little king.' I hope that, in turn, I can live up to mine, and win a battle for the kids who are on the battlefield every single day."
-Michael Candelaria
Editor's note: To help support Boldrin's efforts, click here.