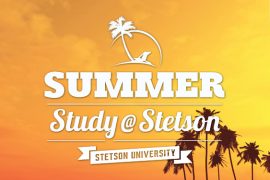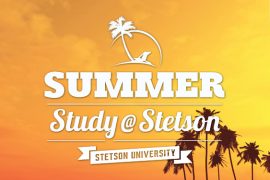 Mitchell Reddish, Ph.D., has a simple message about the summer academic offerings available this summer at Stetson: They can make a huge difference in helping students get back on academic track or get ahead.
Reddish is professor and chair of the Department of Religious Studies whose primary academic areas of interest are the history and literature of early Judaism and early Christianity. That's mostly during the regular academic school year. Also, he coordinates Stetson's summer academic for-credit sessions, where "Summer Study @ Stetson" can mean "opportunity."
"Summer study offers a great academic opportunity at Stetson," Reddish says. "This is a great time to catch up on coursework, particularly for students who have a lot of prerequisites in their majors. Students can really improve their GPA in the summer with less distractions. And students with an eye on graduating early can use summer study to move ahead on their schedules."
In addition, Reddish notes, students can do this all while saving money with lower summer tuitions and possible financial aid. Housing also might be available, he adds.
A wide variety of courses from many departments across Stetson's DeLand campus are offered – from accounting and anthropology to Spanish and sport business. For course listings, click here.
The summer courses are offered in three separate sessions: Session 1, May 21-June 19; Session 2, May 21-July 10 and Session 3, June 21-July 20. During each of the sessions, courses are held on Stetson's historic campus in DeLand. During the second session, online courses also are available.
Students may take a total of three courses during the summer, but they cannot be enrolled in more than two courses at the same time. Typically, class sizes are small, roughly 10 to 12 students. While Stetson students predominate, students enrolled at other colleges and universities may attend.
Course registrations open Feb. 1.
CAMP ADVENTURE
For David Wood, Stetson's executive director for Continuing Education and Outreach, summertime is largely about enabling young people to experience the campus in camps that are designed to entertain, educate and intrigue. Officially, it's called "Summer Experience at Stetson."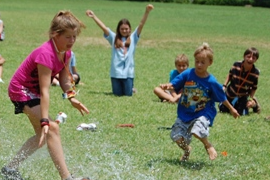 Weeklong camp offerings in June and July are divided into four groups: Little Hatters, Junior Hatters, Senior Hatters and Future Hatters. As one example, among the camps for Little Hatters (kindergarten through fifth grade) and Junior Hatters (grades 6-8) is Engineering for Kids Camp – Aerospace Engineering: Academy of Space Explorers.
Camps for Senior Hatters are for students in high school, while Future Hatters is reserved for students who have completed high school and may be entering college the next fall. Camp focuses for those groups include computer-science exploration in cyber security and artificial intelligence, a reading program (faster and smarter), sports broadcasting and leadership. Complete camp offerings can be found here.
Typically, on-site housing and meals are included in the cost of the camps.
"We are working on creating pathways to enrollment and becoming a Stetson student. It's a great opportunity," says Wood, adding that in the past two years camp offerings have increased approximately 65 percent.
The camps benefit both students and the university. Wood notes that while students get to know Stetson, the university gains a foothold in attracting them to eventually enroll. Last year's computer science camp was attended by 18 incoming first-year students to Stetson. At present, 17 of the students remain enrolled.
"This proves the theory that if you get them involved during the summer and prior to them becoming students, the better chance of them staying a student," Wood says.
At the very least, both Reddish and Wood agree, summer at Stetson can make a difference.
-Michael Candelaria
AT A GLANCE
Summer Study @ Stetson         
Catch up or get ahead  on academics
Save money with lower tuition costs
Financial aid and housing may be available
Summer Experience @ Stetson
Camps for K-12 students and older
Entertainment, education and intrigue
On-site housing and meals may be included