A Whistle, a Flag and a Shared Passion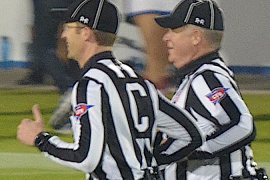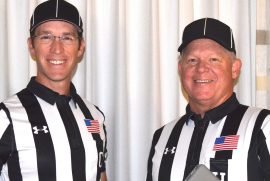 Greg LeFils Jr. '04 was mesmerized by a band performance he witnessed back in 2015. "The sousaphones and drums would keep playing, and then the rest of the band would stop and was singing multilevels of harmony — really well and projective," he recalls.
Then LeFils threw his penalty flag. Literally.
No, LeFils (pronounced "Luh-Feese," rhymes with "geese") wasn't watching a concert at Stetson, where he's a visiting assistant professor of choral music education. Rather, that big band was the massive Florida A&M University Marching 100, which had taken the field in Tallahassee to perform at halftime of that school's Homecoming football game.
LeFils, the crew chief on the officiating crew that day, knew the rules stipulated that he had to flag the legendary FAMU band if they performed over its allotted time.
"It was a 10-yard penalty at the opening kickoff of the third quarter," says LeFils, Ph.D., with the doctorate from Florida State.
LeFils is used to making the tough calls. He's been refereeing football for 17 years — since his first year as a student at Stetson. He started in Pop Warner and junior-varsity high school games, and worked his way up five years ago to the NCAA Division 1 Football Bowl Subdivision (college football's top level).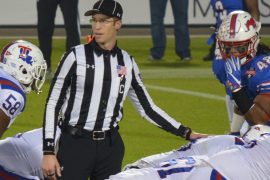 There's no need to look far for where LeFils got his passion. His father, Greg LeFils Sr., has been officiating football for 40 years — ever since his first year at Stetson, where he earned his accounting degree in 1981. LeFils Sr. also started in Pop Warner and high school games before advancing into college football in 1999.
"Growing up as a kid, if it was a Friday night, there was a really good chance our family was loading up in our midsize Astro van and going to a high school football game," LeFils Jr. says.
Father and son worked on different crews in the Sun Belt Conference. While the National Football League has some father-son referees, LeFils Sr. believes there are no others in Division 1 college football.
From late August through December each year, the duo was busy seven days a week. They would work their day jobs — LeFils Sr. runs an accounting firm in Orange City, just a few miles from the Stetson campus in DeLand. They would travel Thursday nights or Friday mornings to game sites from New Mexico to North Carolina, don their ref stripes on Saturdays, and return on Sundays to their almost-adjacent homes on the family cattle ranch in the Deltona/Osteen area of Central Florida.
'MEMORABLE AND EMOTIONAL' 
Only twice in the past eight years had they worked a game together, until just a few months ago when they were paired in the DXL Frisco Bowl. The game was held Dec. 20 at Toyota Stadium in Frisco, Texas, with Southern Methodist University matching up against the eventual winner Louisiana Tech.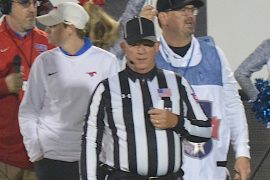 "Father-son combinations working together at the Division 1 level is very rare to begin with. Add to that a bowl game. We're not sure, but we may have been the first," says LeFils Jr.
"It is an honor just to be selected because it means that both of us were evaluated at the top of our respective positions in the conference, and since there are only 40 bowl games this year, that means my father was one of 40 head linesmen and I was one of 40 center judges selected this year."
The story gets better, with Sr. retiring as a football official immediately following the game. He had previously made that decision; the game appointment was coincidental but icing on the cake. "I would get to work a bowl game on the field in my father's final game wearing the stripes. As you can imagine, it was a very memorable and emotional experience," Jr. adds.
UPON FURTHER REVIEW 
Being referees, the two think alike, too. Computer geeks can dissect an iPhone's inner workings, and fanboys can repeat every line from the latest Marvel Comics movie blockbuster, but they have nothing on Sr. and Jr. making ref talk. In this instance, father and son delve into analyzing a close call Sr. had to make at a Troy-Idaho game last fall, when a receiver might have bobbled the ball as he caught a pass in the end zone.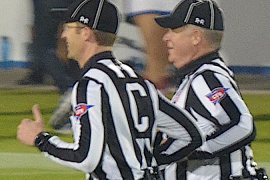 As father and son review the play, they sound like Sherlock Holmes — filtering data, weighing the evidence and pondering all possibilities to determine exactly what happened. Only, unlike the famous fictional sleuth, there are mere nanoseconds to determine if a football crime has been committed.
"It's amazing how quickly your mind can replay what you just saw," LeFils Sr. says. "You don't jump out of your shoes. Under control, you're slowly going (he makes a computer-processing sound). I called it a touchdown. It went to instant replay. The referee clicked on the mic: 'After further review, the ruling on the field is confirmed.'"
"Touchdown!" Jr. pipes in.
"We like the 'C' word — [call] confiiiiirmed," LeFils Sr. says, stretching out the pronunciation. "We don't like the 'S' word — [call] stands." And we sure don't like the 'R' word — [call] reversed."
"In a stadium for 40,000 people, every time you throw the flag there's a very good chance that a large percentage of the people in the stadium are going to hate your guts," LeFils Jr describes. "And there's a coach making $3 million a year standing right behind you, screaming at you, telling you what a horrible, awful, terrible person you are."
Staying cool under such pressures also has served Jr. well in his music career, whether it involved conducting the Orlando Chorale or the Orlando Chamber Choir, or his current teaching at Presser Hall on campus.
"The biggest parallel between being an ensemble director and a football official is every time an ensemble — choir, band or orchestra — is rehearsing or performing, the director hears mistakes. Every time," LeFils Jr. says. "In football officiating, there's holding on every play. They're coached to do that."
And so, a choir director or a football referee must make an instantaneous decision: Is the mistake or infraction "impactful" on the performance or game?
Then he must deal with any repercussions of his decision.
"I'm using the exact same skill set dealing with an irate parent and dealing with an irate coach," LeFils Jr. explains. "Coaches will yell and argue with officials frequently. And we deal with that with parents, if a student didn't get the role in the opera or if they auditioned for certain chairs in the orchestra."
In both cases, he emphasizes "de-escalating the situation."
Additionally, his career as a referee has led him to a third job of sorts. In every city that he travels to during the football season, he recruits for Stetson.
During the 2016 season, he visited 28 high schools on Fridays before suiting up to officiate on Saturdays. He's recruiting not only "that next generation of terrific music teachers" but also music students.
In a sense, it's a whistle and a flag for his alma mater.
"I'm spreading the news," LeFils Jr. says, "about Stetson's School of Music."
-Rick de Yampert
Note: This article appears in the the Spring 2018 issue of Stetson University Magazine.