Student-Directed One-Act Plays feature Trotsky's ax and a combusting husband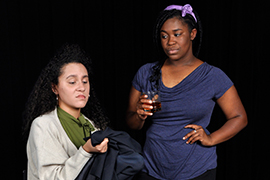 Jaycie Cohen faces a challenge directing her show in Second Stage Theatre's Student-Directed One-Act Plays, which run Thursday, April 19, through Sunday, April 22.
"I have to figure a way to push the actors enough to push themselves to get certain things out of them," said Cohen, a sophomore from West Palm Beach who is majoring in theater arts with a focus in directing.
In the case of Cohen's "Three Guys and a Brenda," that means three members of the all-female cast must summon their  . . . er, inner testosterone.
"In my show, it's three girls playing guys – really raunchy, sexual guys," Cohen says.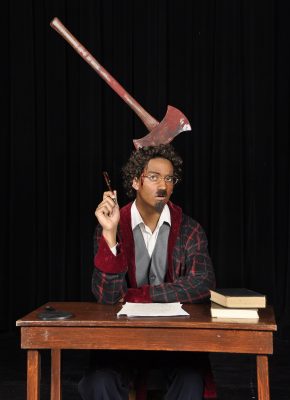 Student-Directed One-Act Plays will feature five short plays selected and directed by Stetson Theatre Arts students. All five plays will be staged during each performance at Second Stage's venue inside the Museum of Art – DeLand.
Cohen isn't the only student director facing a challenge. Her four fellow directors are helming plays that feature a woman whose abusive husband spontaneously combusts, a man whose emotions are characters debating the sort of day he's going to have, a cat-and-mouse encounter between two men at a gay bar, and a Russian revolutionary who contemplates his life even as an assassin's ax remains buried in his head.
Dakota Stitsinger, a junior from Lake City who is majoring in theater with a focus in directing and a minor in English, is directing "Daniel on a Thursday," the play about that encounter at a gay bar.
"I took an interest in directing because I'll admit I'm a Type-A personality, 100 percent," Stitsinger said. "I'm very OCD and organized, and I also have an interest in all areas of theater. When you're an actor, you're focused on the acting. Directing is the best way to do everything. You have to work with all aspects of the production to bring it to life. I like it because it puts me in charge (laughs)."
Here's a look at the five one-acts:
"Variations on the Death of Trotsky" by David Ives, directed by Cooper Hendrix. Ives' existential comedy-drama was inspired by the real-life assassination of Russian Revolutionary Leon Trotsky, who was bludgeoned by an ax and died one day later.
"In the beginning he's killed and he goes through the whole play trying to figure out how he can outsmart destiny," said Hendrix, a senior theater major from Vero Beach who plays cello and is minoring in art and music. "But each time, he dies again and again and again."
Hendrix wanted to "do something horror-related" and decided a play about a man ruminating on life with an ax buried in his head was close enough.
"It's about death, which is kind of spooky even though it's not really written that way," Hendrix said. "It's a great play, really well-written. You can try to understand it on many levels but you don't have to. There's a little existentialism in it but nothing about it that makes you have to be philosophical. It's fun to think about, fun to direct."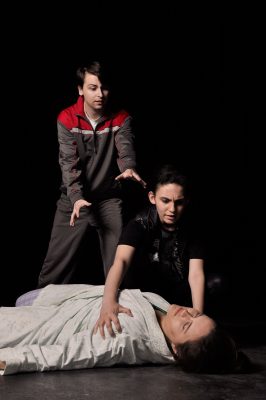 The cast includes Steven Kalicharan as Leon Trotsky, Morgan Egan as Mrs. Trotsky and Aaron Frank as Ramon.
"Up & at 'Em" by Nathaniel Maciag, directed by Jane Peterson. Maciag and Peterson are friends, having met when Peterson was a student at Marietta College in Ohio. She saw the play at the school during it's only previous production.
"The play is classified as a comedy/drama/farce," said Peterson, a sophomore theater major from Burlington, N.D. "It's very much an odd play but it has a lot of meaning to it."
The play tells the story of Ethan and three of his emotions/states of mind: Self-Esteem, Depression and Creativity.
"It's basically them deciding how his day is going to go," Peterson said. "Depression wants to make him miserable, but Creativity wants him to have this spectacular day with rainbows and butterflies. Self-Esteem is the run-down, overworked character that decides what goes through and what doesn't."
The play "has a lot of comedy in the beginning but it takes a dark twist," Peterson said. "By the end it's very serious, but it handles it in a good way."
The cast includes Cooper Hendrix as Ethan, David Calhoun as Creativity, Lauren Spratt as Self-Esteem and Kiara Santiago as Depression.
"Three Guys and a Brenda" by Adam Bock, directed by Jaycie Cohen. Bock's 2015 comedy tells the tale of three guys sitting around while one tries to summon the courage to talk to a female co-worker. Bock himself called for the play to be staged with an all-female cast.
"It's about male stereotypes, social pressures and getting the girl," said Cohen, who has previously directed eight high school and professional productions. She also is currently directing "Twosical the Musical" with a professional company in Wellington near West Palm Beach.
"I drive home every Monday and go to rehearsal, and then wake up at 4 a.m. and drive back and make it in time for class," she said.
Cohen chose Bock's play "because it's super funny and it gives these little hints at stereotypes that I really love. I think it's going to connect to people, but not in a way that they know it's going to connect with them."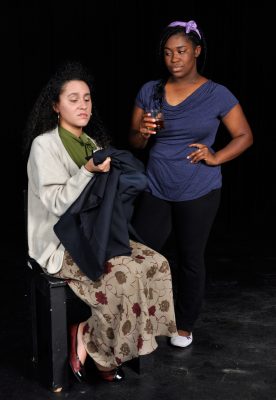 The cast includes Annie Wojcik as Brenda, Kiara Santiago as Randall, Lily Desenberg as Bob and Diamante McKay as Joe.
"Daniel on a Thursday" by Garth Wingfield, directed by Dakota Stitsinger. Wingfield's play portrays two men meeting for the first time outside a gay bar.
"The storyline follows their cat-and-mouse interaction," Stitsinger said. "The play has a lot about the importance of first impressions and the awkwardness of first meetings. There are definitely some twists and turns. You don't know how the play is going to end."
The cast includes Daniel Mejía as Kevin and Ben Baldwin as Daniel.
"Poof!" by Lynn Nottage, directed by Cori LaPinsky. In Nottage's comedy, "A woman is in the middle of an argument with her abusive husband and she shouts 'Go to hell,' " said LaPinsky, a senior from Port Orange who is majoring in theater with a focus in directing and acting. "Presumably he does by exploding."
The suddenly widowed Loureen is left to discuss this shocking turn of events with her best friend, Florence, who herself is the victim of verbal abuse from her husband.
"They talk about their situation, and Florence gets a little jealous of Loureen — now she's got this power," LaPinsky said. "Loureen speculates 'I'm a witch!' The play has comedic value but the subject matter has very serious themes. I'm very interested in women's issues and especially domestic violence. It's a subject I don't think comes from the woman's perspective enough."
The cast includes Lyneshka Cruz as Loureen and Brontë Joseph as Florence.
— Rick de Yampert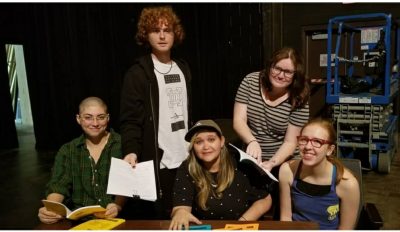 If You Go
Stetson's Second Stage Theatre presents Student-Directed One-Act Plays at 8 p.m. Thursday, April 19, through Saturday, April 21, and at 3 p.m. Sunday, April 22, at its venue inside the Museum of Art – DeLand, 600 N. Woodland Blvd., DeLand.
Admission is $12 adults and $10 seniors and non-Stetson students; free for Stetson students, faculty and staff with valid ID. Cultural Credit available.
Tickets will be available at the door. For information or reservations, call the Second Stage box office at 386-822-8700. Reserved tickets must be picked up 30 minutes prior to show time.