Donald Payne Grateful for Chance with Jaguars, Eyes Starting Spot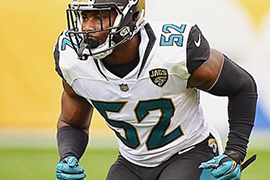 By John Reid
Jacksonville.com
Since getting claimed off waivers by the Jaguars nine months ago, Donald Payne has not let up.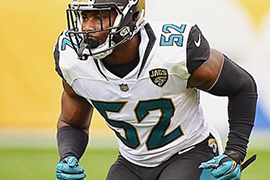 He remains intent on becoming an impactful player, willing to play on special teams and put forth whatever work necessary to improve.
Payne is thankful that the Jaguars extended him an opportunity last September because his path to the NFL was much different than most of his teammates.
Payne, a 6-foot, 238-pound linebacker, wasn't projected to make an NFL roster.
He played at Stetson University in DeLand, a school that doesn't offer scholarships in football. When Payne arrived as a freshman in 2013, it was Stetson's first season relaunching it's program since 1956.
Even in high school, Payne wasn't a player that attracted much attention from colleges. He helped lead Landmark Christian School to the Class A state championship in Georgia, but earned just one scholarship, an offer from Grambling. But Payne chose to play at Stetson because it provided an opportunity to play immediately with the program starting from scratch.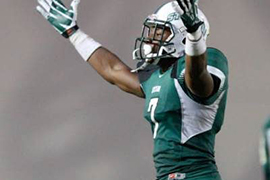 "Statistically, I'm not supposed to be here," said Payne, the first player in Stetson's program history who has played in an NFL regular season game. "We had no scholarships at all. No school in our entire [football] conference [Pioneer League] offers scholarships. It's very rare you see someone with no scholarship in college that been able to make it to the league.″
Payne made it despite going undrafted in 2017.
When he finally received a call from an NFL team, the Baltimore Ravens were only interested in extending him a free agent contract if he changed positions.
They wanted him to play linebacker, a position that Payne had never played. All of his prior predraft work had been at strong safety.
"It was like I had to jump two hurdles in trying to become a pro and linebacker at the same time," Payne said. "I'm still getting the hang of it. As a safety, I didn't have pulling guards coming directly at me. I didn't have to read the line as much like I do now. It has been a great switch for me. I think I'm going in a positive direction now."
Forced to learn playing linebacker on the fly with the Ravens, Payne ended the preseason last year with 15 tackles, the second most on the team.
It wasn't enough to survive the Ravens final cut. Baltimore opted to keep another undrafted free agent instead, inside linebacker Bam Bradley.

Payne said the Ravens had plans to put him on their practice squad if he cleared waivers. The Jaguars claimed him the next day, immediately placing him on their 53-man roster.
Making the most of limited opportunities, Payne was a strong special teams player last season for the Jaguars. He finished third in the NFL in special teams tackles with 13.
"Donald has always risen to the level of expectations in competition," Stetson coach Roger Hughes said by telephone on Wednesday.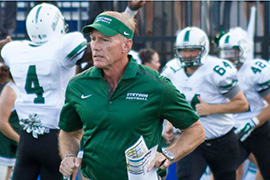 "I sat him down right after his junior year and I just told him if he wants to make the NFL … to focus his attention not only what he does on our defense, but that he also has to do things on special teams. He really embraced that."
Now, Payne has gone from having to prove he can play in the NFL, to competing with Blair Brown to be the starter at strongside linebacker in the Jaguars base-down defense when training camp opens next month.
The spot is open for competition because Paul Posluszny's retirement led to Myles Jack's switch from strong side to middle. Telvin Smith will remain at weak-side linebacker.
Seventh-round pick Leon Jacobs will also compete at the strong-side linebacker spot.
Payne took first-team snaps at middle linebacker during last week's mandatory minicamp because of Jack being limited because of a hand injury.
"I think from what I have seen from that group is that we have some position flexibility and obviously we have two positions [settled] and that third position, it will be interesting to see who wins that position when we put the pads on — the SAM linebacker position," coach Doug Marrone said.