Keaton Docchio '18: Landing a Job with Lockheed Martin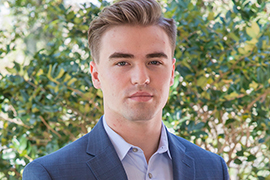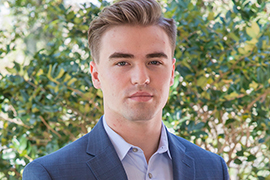 Before Keaton Docchio graduated from Stetson University, he already had landed a job as a financial analyst with Lockheed Martin.
Docchio connected with the aerospace company at a Stetson career fair last October on campus. The finance major had interned with a Pittsburgh bank as a financial controller and was part of Stetson's Roland George Investments Program, where students manage a $3.5 million portfolio of stocks and bonds.
"The program and Stetson itself, the name has really carried, especially in this area," he said about landing the job before his graduation in May. "People see Stetson, and they're pretty impressed with my résumé."
Docchio transferred to Stetson in 2016 from the University of Central Florida because he said his experience at the bigger school wasn't adding up.
"Essentially, it's not that one is better than the other … What fits your needs better, in a sense? For me, personally, it wasn't the big school atmosphere or being surrounded by thousands of people who are doing the same thing as me," he explained. "Probably the single biggest thing for me was the 'small' feel and how willing and helpful everyone is here at Stetson."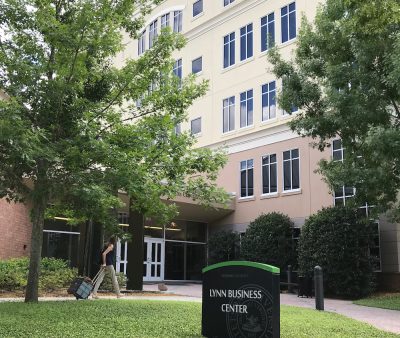 Docchio grew up in a small Pennsylvania town, so he felt more at home at Stetson and in DeLand. The one-on-one attention from professors at Stetson was tremendously important to his success.
"Without direction or mentors, things like that, it's easy to go awry. Here at Stetson I can't even tell you how many professors I know on a first name basis, who I'd know are willing to help me and do everything they can to help my career."
In addition to Stetson's strong sense of community, Docchio said the business school's reputation for strong academics was also a major factor in his decision to transfer.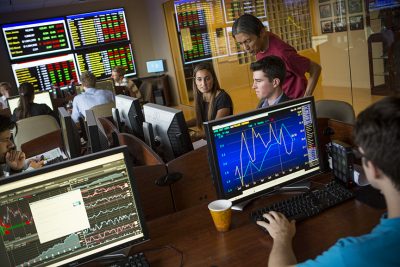 His role with Stetson's innovative Roland George Investments Program – one of the nation's oldest and best student-directed investment program – allowed him hand-on experience managing a real portfolio made up of $3.5 million in stocks and bonds.
The Stetson University core values of community, inclusion and personalized attention are what propelled him personally and professionally. And thanks to the job fair on campus last fall, he had an impressive job waiting for him upon graduation.

"I'm starting a position as a multifunctional financial analyst at Lockheed Martin here in Orlando," he explained. "They wanted to see my résumé, things like that. They liked it.  I was in the Roland George program, as well.  That, combined with my role as financial controller over the summer, sparked their interest and the interest was mutual."