Four New Art Exhibits Open on Stetson Campus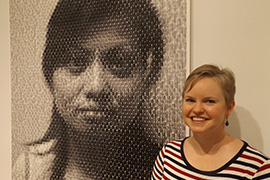 Four new art exhibits on the Stetson University campus feature black and white "fingerprint" portraits of international students, colored-pencil sketches by acclaimed Modernist Oscar Bluemner and works by Stetson alumni — including surrealist ceramic heads.
"Anni Holm: The Immigration Project" and "Alumni Permanent Collection Highlights" will run through Oct. 13 at the Homer and Dolly Hand Art Center on the university's DeLand campus. "Oscar Bluemner: Color Sketches" will run through Dec. 7 at the art center.
"Alumni Focus: Sean Erwin" will run through Dec. 7 in the exhibit cases on the first floor of Sampson Hall.
An opening reception for the four exhibits will be held from 6 to 8 p.m. on Friday, Aug. 24, at the Hand Art Center. Here's a look at each exhibit:
"Anni Holm: The Immigration Project"
Danish multi-media artist Anni Holm was a student living in the United States during the 9/11 terrorist attacks in 2001. Soon after, she wrote on anniholm.com, "International students were seen as a threat to American security and freedom."
As proposals were being made by various U.S. authorities to have international students fingerprinted or even carry chip-implanted tracking cards, Holm began work on "The Immigration Project" in 2003.
"I worked with international students from all over the world to obtain photos and fingerprints used to create large-scale digital portraits of each student," Holm wrote. Each image measures 57 by 43 inches and contains about 4000 actual life-size fingerprints of the depicted student. The portraits appear pixilated when viewed up close, and less so further away.
"The participants were all international students who chose to be involved in the project because they, like me, questioned the use of this information as a tool to secure America," Holm said.
Tonya Curran, director of the Hand Art Center, says the Holm exhibit exemplifies Stetson's values, which specifically cite "global citizenship," among others.
"We want to be good global citizens," Curran said. "It's a time when our country has so much going on politically and internationally, and there's a lot of commentary, a lot of immigration and racial issues being brought up every day in the news. You look at the diversity of the faces and the ethnicities of the people coming to our country and, as a global citizen, you do want them to feel welcome, you want to learn about their culture and you want to share your culture.
"There are so many conversations that could be had from this body of work," Curran said, noting that a number of American students have not travelled outside of the country.
Those conversations include "trying to understand what other people who are our peers are experiencing and how it impacts them. Then, of course, because immigration is still an issue today, there are constant laws changing within our country about who should be allowed in and how they are going to be allowed in."
Such discussions, Curran said, "are important to have" and motivated her to bring the Holm exhibit to Stetson.
"In an academic environment, art can bring some things to the foreground so you can learn more about them, then be able to critically think about them and process that into how you conduct yourself and how you live your life," she said. "That's part of what Stetson values are about."
"Oscar Bluemner: Color Sketches"
German-born American painter Oscar Bluemner (1867-1938) exhibited in the renowned Armory Show in 1913 and the first Whitney Biennial, but he garnered little attention from his death in 1938 to the early 21st century, said Roberta Smith Favis, professor emerita of art history at Stetson.
His daughter Vera Bluemner Kouba retired with her husband to DeLand in the 1970s, and upon her death in 1997, she bequeathed her collection of more than 1,000 of her father's works to Stetson. A major exhibit in 2005 at the Whitney Museum of American Art, featuring works from the Stetson collection, helped revive Bluemner's reputation.
"Color Sketches" is a revival of an exhibit first shown at the Hand center in 2013, although some of the works in the current show have never been displayed previously, Curran said. The 30 sketches, all approximately six by eight inches, were made by Bluemner using what was then a new type of vivid colored pencils. His subjects included country scenes, suburban roadways, canal banks and small towns within close proximity to New York City.
At the time of these sketches, Bluemner harbored a "growing conviction that expressive color was the most important element in art," Favis wrote about the exhibit before her recent retirement as curator of the university's Vera Bluemner Kouba Collection.
The drawings "demonstrate Bluemner's rapid assimilation of the various strands of Post-Impressionism, notably the expressive mark-making of Vincent Van Gogh, the compositional alchemy of Paul Cezanne, and the divisionist color of the disciples of George Seurat," Favis wrote.
"Alumni Permanent Collection Highlights"
This exhibit includes works from the university's permanent art collection and is "a celebration of our studio art programs and graduates of the Creative Arts Department," Curran said. Works include sculpture, painting, ceramics, collage and mixed-media pieces.
"Our faculty do a fantastic job getting really great work out of students," Curran said.
"Alumni Focus: Sean Erwin" (located in Sampson Hall adjacent to the Hand Art Center)
Erwin earned a B.A. in studio art from Stetson in 2004 and an M.F.A. from the University of South Florida in 2008. He currently lives in DeLand and works as a studio artist and adjunct professor for the Visual Arts Department at Stetson.
While the "Alumni Permanent Collection Highlights" show includes his oil painting, "Best Two Out of Three," his works on display at Sampson Hall include his surrealist, ceramic human heads, which reveal a sense of whimsy and wit akin to the paintings of Salvador Dali or Rene Magritte.
"The narratives I create in my work are intended to provoke the viewer's imagination into reflecting on their own personal experiences and consequently their own identity in relation to the work," Erwin said in his artist statement. "Often times the resulting narrative is satirical and humorous. Through humor I hope to encourage a way of experiencing the world that will open us to the transcendent that informs it, and at the same time forms ourselves within it."
If You Go
The Hand Art Center is located on Stetson University's Palm Court, 139 E. Michigan Ave., DeLand. Admission is free and open to the public. Designated parking is available in the lots at East Arizona Avenue.
Center hours are 11 a.m.-4 p.m. Monday through Wednesday and Friday; 11 a.m.-6 p.m. Thursday; and noon-4 p.m. Saturday. Closed on national holidays, holiday weekends and on fall, Thanksgiving and winter breaks. Information: 386-822-7270.
-Rick de Yampert