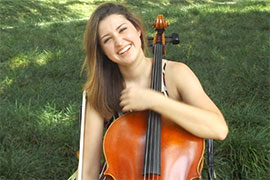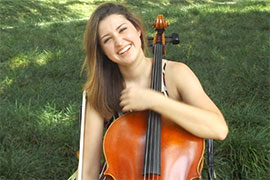 As Stetson sophomore Megan Savage walked to Carnegie Hall to perform with the National Youth Orchestra in July, a passerby noticed the white cello case she was carrying backpack-style.
The passerby asked, "Oh, you play cello."
Savage responded, "Yes, I'm performing at Carnegie Hall."
The passerby: "Oh, have you heard that joke? — how do you get to Carnegie Hall?"
The answer, Savage learned from that passerby, is practice, practice, practice.
For Savage, a 19-year-old music major with an additional field of study in health science, that punchline was the answer to an even grander question: "How do you get to China?"
Last February, Savage earned a spot in the National Youth Orchestra, administered by Carnegie Hall's Weill Music Institute. The program drew approximately 1,000 applicants from across the United States for 110 spots, including only 12 cello positions.
In July, Savage and her colleagues gathered in New York for three weeks of rehearsals before performing at Carnegie Hall. Then the orchestra embarked on a five-city tour of China and Taiwan. Internationally acclaimed conductor Michael Tilson Thomas, music director of the San Francisco Symphony and founder/artistic director of the New World Symphony, was among others who joined the National Youth Orchestra for each of its concerts.
For Savage, who began studying cello at age 10, a mantra more apropos than "practice, practice, practice" might be "perseverance, perseverance, perseverance."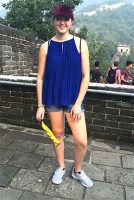 She first auditioned for the NYO three years ago as a home-schooled high schooler with dual enrollment at Indian River State College near Port St. Lucie, Florida. As it turned out, her third tryout was the charm.
Applicants are not required to audition in person. Instead, they can submit a recording of themselves online. Savage submitted her audition recording in November 2017, finally getting accepted three months later.
The NYO experience has enriched Savage both musically and personally.
"I have bad performance anxiety as a soloist," Savage said. "It's really interesting how orchestra helps me with my performance. I feel like I can play my heart out and not worry. If you make a slight mistake, it's OK. You keep going; you're in a group; you're a team. You feel the support of everyone around you."
Savage learned from the renowned Thomas, also conductor laureate of the London Symphony Orchestra. "What I found so interesting was how he would tell us very simply to change something — like a small detail, but it's very simple to change. And once we changed it, I felt like I was playing in a professional orchestra," Savage commented.
Meanwhile, the China journey taught her that making music is about more than playing precise notes.
"As musicians, we tend to focus on precision on the notes, making notes technically perfect," Savage said. "But it helped me with playing to 'talk' to the audience. I couldn't speak their language, but I could tell them something through what I play. So that helped me, just remembering that notes are important but the delivery is really important, as well. I was just learning continuously."
Further, Savage was struck by the camaraderie among her fellow musicians.
"I was really worried that the other students were going to be very competitive, and it was going to be hard to make a lot of friends," she said.  "… But when I got there, they were extremely friendly. They weren't competitive; they were encouraging. There was a good, healthy competition among seating auditions, but even then we were all encouraging each other."
Now back home, despite all of the recent musical success, there is an upcoming decision to make: music or health science as a career?
Savage is leaning toward a career in health science — with her heart also squarely tuned to music.
"My mom is a medical laboratory technologist, so I am interested in something like that," Savage explained. "… I want to take biology and chemistry and see which one clicks with me, and in the near future I'll narrow it down to something more specific.
"But music is something I feel like will always be a part of my life. I would love to perform in orchestras, especially. I just find it so liberating from everything else going on in life, just to sit down and play. It's something I want to do the rest of my life."
– Rick de Yampert