Leading A Meaningful Life in '10 Simple Words'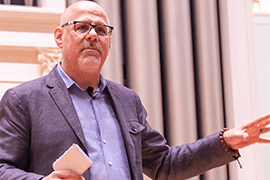 In Thailand, there's an expression about happiness that can pose a challenge on a college campus.
Thailand rates among the happiest places on the planet, explained Eric Weiner, keynote speaker on Values Day and author of The New York Times bestseller, "The Geography of Bliss: One Grump's Search for the Happiest Places in the World."
But the Thai people have an expression that means: "Don't think too much."
"In Thailand, this is true, people consider excessive thinking a sign of mental illness, which would make most college campuses pretty much an insane asylum," he said, prompting laughter from the crowd of students, faculty and staff in Lee Chapel on Tuesday morning.

Weiner's book was selected as this year's read for Values Day, an annual tradition at Stetson.  Classes are canceled and offices close to allow the community to focus on the university's core values of personal growth, intellectual development and global citizenship at workshops, community projects and other events.
"I have to tell you this is my tenth Values Day, and I have never seen the room this full before," Stetson President Wendy B. Libby, Ph.D., said in welcoming the crowd to Lee Chapel.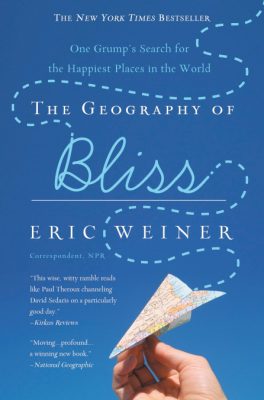 Weiner, a former foreign correspondent for National Public Radio and former reporter for the New York Times, spoke for an hour and then attended the Stetson R.E.A.D., where participants discussed his book and asked him questions.
The event was booked to capacity, and organizers have scheduled another Q&A with Weiner on Wednesday, Sept. 26, from 1:15-2:15 pm. in the Sage Science Center, room 222.
Cultural Credit will be available for students and Rajni Shankar-Brown, Ph.D., associate professor and Jessie Ball duPont Chair of Social Justice Education, will facilitate the discussion.
A self-described grump and malcontent, Weiner traveled the world for "The Geography of Bliss," and gave an overview Tuesday of what he gleaned from some of the happiest places, including Switzerland, Iceland, Bhutan and Thailand.
The search for happiness often is based on myths, he said. People believe wealth brings happiness when, in fact, money buys happiness only up to a point. "The U.S. is five times larger on a GDP (Gross Domestic Product) basis than it was in the 1950s but no happier," he said.
Instead, he encouraged the crowd to pursue a meaningful life – what he called "the flourishing life," one built on close relationships, selflessness, virtue, patience, creativity and trust. And humor helps, too.
About 50 minutes in, he announced to the crowd: "If you've been dozing off, or checking your iPhone the whole time, you're in luck. You just need to pay attention now because now I'm going to tell you exactly what you need to know in 10 words."
He quoted Plato: "What is honored in your country will be cultivated there."
"Simple, obvious, but true," he explained.
"We don't often think about what we honor and today on Values Day, I would challenge you, when you leave here and you go to lunch and you go about your day, I challenge you to think about what it is that you honor," not just in words, but in thoughts and actions, he said.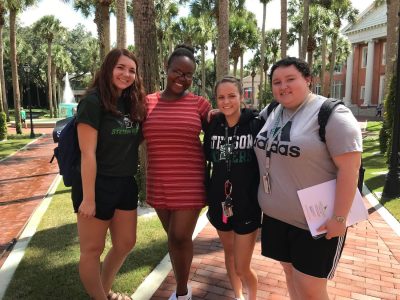 "Once you're clear on that … it's almost something magical about what happens in your life. Things will happen for you, things line up. It's a mysterious process, and it is, I think, pure genius," he added.
His message of happiness and flourishing resonated with first-year students and friends, Lexi McComb, Kellie Baier, Johnisha Wright and Stephanie D'Addio.
"I'm really big on happiness and positivity," said Wright, a biology major from Miami, adding on a happiness scale, "I'd say I'm 10 out of 10 – 20 out of 10. I have great friends and family. Life's pretty great."