Giving Back One Paw at a Time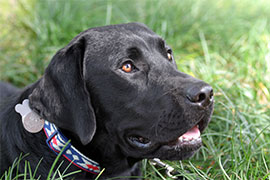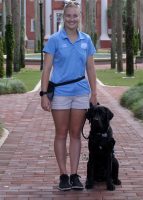 The ability to raise a puppy for someone in need is gratifying work.
Just ask Kali Todd, a senior business major at Stetson, who is giving back to her community by raising Delta, a guide dog, on campus.
Delta, 11 months old, is a black male Labrador Retriever with a playful and loving personality that is complemented by specialized skills developed through extensive training. Todd received Delta in March from the not-for-profit Southeastern Guide Dogs organization and has since been training him to ultimately be paired with either someone who is visually impaired or a U.S. veteran.
Todd, from Longwood, not far from Stetson's DeLand campus, had always been interested in working with animals — growing up with a rabbit, turtle, cat and a Dachshund — "but never thought it was plausible," she said. With Stetson being a pet-friendly campus, she became involved with Southeastern Guide Dogs following a chance introduction.
Although no one in Todd's family is visually impaired, through the Guide Dogs organization she met a local woman who has benefitted from a guide dog and became sold on the idea of raising a guide dog.
"She [the woman] was able to share how much of a difference the dog made in her life," Todd noted.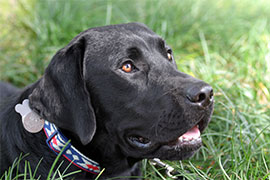 After receiving approval from Residential Living and Learning at Stetson to raise a service dog on campus, Todd then had to learn to become a trainer before receiving Delta. Southeastern Guide Dogs puppy raisers must teach obedience and socialization, as well as fulfill requirements that include daily training expectations and rules about food, toys and general behavior.
Notably, co-raising is encouraged. Also, the organization covers all veterinary bills, although the raiser must pay for general care.
"These dogs do have to be able to perform in all different types of situations and environments," Todd explained. "The dogs do work up to this, however. The younger dogs are not allowed to go on public outings until they have passed puppy kindergarten, which is at about 16 weeks old. Once the puppy has passed puppy kindergarten and is given a training harness, he or she is able to start working in public environments [or working up to public environments]. This includes going to class, grocery-store outings, other stores, etc. After this, the puppy raiser will give the dog different exposures to different environments. This all depends on the confidence and personality of the puppy."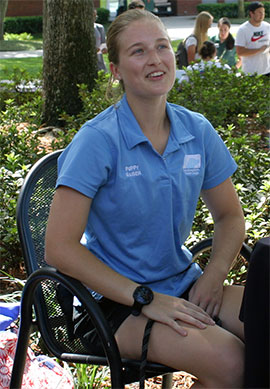 Todd continued: "The puppy raiser has to be able to read the dog to make sure that the dog is comfortable and able to settle. The puppy is never forced to perform in situations that he or she is not comfortable yet."
In January 2019, Delta will himself be going to "college." He will spend roughly six months in training with a professional trainer. Then, if he passes his tests, Delta will be placed with a person in need.
For now, Delta goes "just about everywhere" with Todd, including to class, with each outing having a training component. "When the dogs are younger, a trip to Publix won't be to get groceries. It is only for the dog to learn," Todd said. "This allows me to have all my attention focused on the dog."
Also, there is plenty of fun. Delta gets most of his exercise walking to and from class at the Lynn Business Center, which is approximately one mile from their residence. In between and at home, there is play time.
"He absolutely loves seeing his friends! A misconception of training a guide dog is that the dog is always working and cannot ever be a dog — this is not true! He gets a ton of exercise sprinting around with his buddies almost daily," said Todd.
Their training/living arrangement is temporary, of course. But in January Delta won't entirely be out of Todd's life. "He will not completely disappear from my life. I will know who he is placed with!" Todd said. "A lot of raisers are able to see the Southeastern Guide Dog that they raised when they are with their forever person."
-Story and photos by Mary Willison '22
Want to Get Involved?
The program offered by Southeastern Guide Dogs is open to anyone, not only Stetson students. Students interested in becoming a raiser need to complete an application online at guidedogs.org. The organization's area coordinator will then conduct training meetings, usually Saturday mornings for an hour, twice a month. Potential raisers must attend three meetings, plus complete an in-home interview along with paperwork and a background check before they are placed on the list to receive a puppy.
If students live on campus, they must reside in pet-friendly housing, have earned at least 12 Stetson credits and have a minimum GPA of 2.5. Also, they must complete a Stetson application for "service animal in training" through Residential Living and Learning. If they do not live on campus, the Stetson application isn't necessary.