Stetson Hackerspace hosts computer workshops for non-techies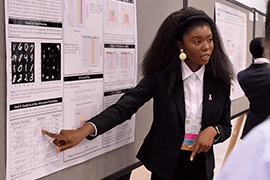 When Heyley Gatewood, a junior double major in computer science and mathematics, would try to interest students in Stetson's annual spring "hackathon," she noticed the uneasiness in those without a computer/tech background.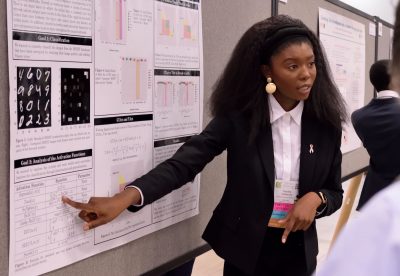 "The term 'hackathon' would really scare people," Gatewood said. "People would say 'I don't know anything about computer science' or 'Are you guys actually hacking Stetson?' "
A new series of computer tech workshops organized and presented by Stetson Hackerspace, the university's official computer science club, hopes to change that scenario. The four workshops, which begin Nov. 10 and run through Feb. 23, are designed for Stetson and area high school students with absolutely no computer experience.
The hackathon, now known as the Greater Central Florida Tech Faire + HatterHacks, is a three-day event in which students from universities and high schools throughout the state gather on campus to participate in tech workshops, app-building competitions, networking with big-name tech companies, and other activities.
"When we started our hackathon, we mostly just attracted collegiate hackers who are already into computer science and are already experienced," Gatewood said.
"So this year, instead of just throwing the hackathon and having it appear and frighten people, we are holding workshops leading up to the hackathon," Gatewood said. "This will allow people to start at whatever level they are, but grow their knowledge so when they get to the hackathon, they won't feel as behind or as afraid of actually going. You might not even know what a computer is, but even if that's true, you'll still be able to fly through every single workshop very successfully."
Students from all majors and backgrounds are welcome to attend the workshops. Stetson Hackerspace also hopes to recruit students from area high schools. The workshops will be held in the computer labs (rooms 317 and 322) at the Lynn Business Center, corner of Woodland Boulevard and Michigan Avenue.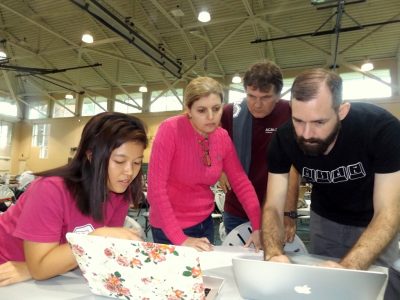 Students can pre-register for any of the free workshops by emailing [email protected]. Students can register at the Lynn Business Center on the day of the workshops, but only if spaces are still available.
The workshops are being held with the support of Major League Hacking, which describes itself on its website, mlh.io, as a "student hackathon league" that "powers" hackathons and workshops to "inspire innovation, cultivate communities and teach computer science skills to more than 65,000 students around the world."
Here's a look at the workshops:
No-Code App Build Workshop – 2-4 p.m. Saturday, Nov. 10. Participants will build and deploy an app that can be used to organize campus and extracurricular events, such as fundraisers. Users of the app will be able to post events, see a list of events, and register for and rate events. Participants will be able to customize their app and continue building it after the workshop is completed.
Local Hack Day and Hour of Code – 9 a.m.-9 p.m. Dec. 1. This event is a combination of Major League Hacking's Local Hack Day and Code.org's Hour of Code. Students will have the opportunity to learn a different computer science programming language or topic every hour for 12 hours straight.
Build and Deploy First Website – 2-4 p.m. Jan. 26. Participants will learn the structure and syntax of basic HTML and CSS. They also will receive a skeleton of a portfolio website and will update the HTML to include information about themselves and edit the CSS to style and position elements on their page. Then they will deploy their new website.
Hacking Alexa – 2-4 p.m. Feb. 23. Participants will learn the basics of how to build skills for Amazon Alexa to run on Alexa devices like the Amazon Tap or Echo.
Dates for the Greater Central Florida Tech Faire + HatterHacks will be announced soon for the spring, as well as the site and other details.
— Rick de Yampert