Showcasing Business Ethics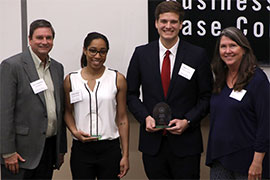 The annual Templeton Business Ethics Case Competition was held recently at Stetson University on Feb. 21-22. Undergraduate students from invited institutions across the country had the opportunity to analyze and present arguments on a contemporary business issue tied to financial, legal and ethical issues.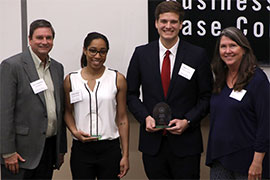 Through the generous support of Troy and Sissy Templeton, the Stetson Business Ethics Initiative, within the School of Business Administration, sponsors the Templeton Case Competition each spring. Russel and Elin Kunz, Boulevard Tire Center, SAGE Publishing and Schrimsher Properties were contributing sponsors of the event.
The Competition opened with a plenary session/dinner on Thursday evening, with Tom Christopher as the keynote speaker. Christopher is CEO and Managing Director of the Christopher Group (TCG), headquartered in Willoughby, Ohio. TCG is a boutique executive recruiting agency focusing on human resources. The firm has worked with many of America's most notable corporations, including Pepsi, Honeywell, Capital One and Kraft.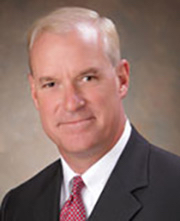 Christopher spoke to a group of 100 attendees about his personal journey in business with an ongoing engagement of the question, "What makes high performing people and teams?" Following a compelling recounting of his pursuit of answers to this query, Christopher presented his findings to the group of future business leaders.
He said, "In business, we need to sell and require goodness and we need to vigorously pursue productivity and continuous improvement which will lead to shared rewards." In his conclusion about what he has learned in his own developmental journey and through the transformation he led at TCG, Christopher told the students to remember several things: servant leadership is the best model for business; nothing sells better than goodness; give and you will receive ten-fold; you don't have to be the biggest, just the best; and, finally, "Do all these things because it is the right thing to do, and it is the best model for business."
On Friday, teams from these 20 institutions participated in the 2019 competition:
Belmont University
Campbell University
Clemson University
Elon University
Florida Gulf Coast University
Georgetown University
Iowa State University
Jacksonville University
LaSalle University
Northern Illinois University
Pennsylvania State University
Simon Fraser University
St. Mary's University
St. Petersburg College
University of Calgary
University of Florida
University of Massachusetts-Amherst
University of North Dakota
University of South Florida-St. Petersburg
Wake Forest University
After receiving the case, teams were given two weeks to prepare and submit an executive summary and a visual presentation. During the event, teams made an oral presentation to a panel of judges. Bracket winners then delivered a final eight-minute oral presentation to the entire body of judges in a plenary session, including all conference attendees, members of the Stetson University community and the public.
Wake Forest students placed first in the Competition with Pennsylvania State University taking second place, Clemson University coming in third and Elon University securing fourth place. The top four teams received cash prizes and trophies.
Representatives from top companies across Central Florida volunteered their time to serve as judges for the two-day competition, including: Mark Alexander, Founding Partner, ADB Legal; Bobbi Baugh, Independent Studio Artist; Yvonne Chang, Director, Club Management and Regulatory Affairs, Disney Vacation Club; Paula Christopher, CAO & Managing Partner, The Christopher Group; Tom Christopher, CEO & Managing Director, The Christopher Group; Randall Croom, Assistant Professor of Management, Stetson University; Helena Dabrowski, Director of Finance, Sunshine Ace Hardware; Paul Dascher, Retired Dean, Stetson University School of Business Administration; Theo Etzel, CEO and Owner, Conditioned Air; Brent Gibbs, Principal Counsel, Walt Disney Parks and Resorts, U.S.; Elin Kunz, Certified Health Care Compliance Specialist; Debbie Lashinsky, Retired Senior Director of I. T., Ryder System, Inc.; Ed Patricoff, Partner, Schutts & Bowen; Jack Phifer, Former Managing Partner, Moroch Partners; Gino Santos, President, AMN Distributors; Steve Schrimsher, Partner, Schrimsher Properties; Barb Button Shepherd, CEO and Publisher, West Volusia Beacon.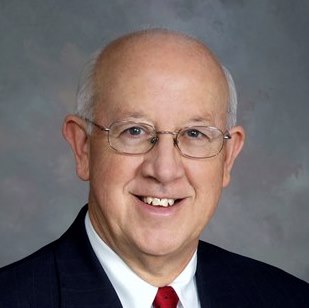 "The Templeton Business Ethics Case Competition is a wonderful example of the transfer of learned course material to a real-world setting. The use of concrete, actual business dilemmas in the cases analyzed by student participants prompts a level of learning that significantly supplements students' curricular programs in business education," explained Jim Beasley, Ph.D., professor of management and co-director of the event. "Over the past four years, the Templeton has become a premier program of experiential learning for business students from universities in the United States and Canada."
–Marie Dinklage