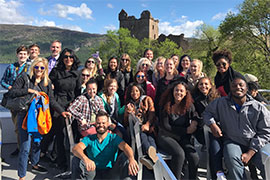 Editor's note: This article appears in the Spring issue of Stetson University Magazine, now available online.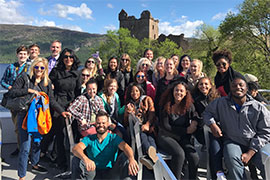 As Robert Burns, regarded as the national poet of Scotland, so eloquently wrote: "Wherever I wander, wherever I rove, the hills of the Highlands forever I love."
The endearing qualities of Scotland have inspired many a writer and poet over the years. Travelers from every corner of the globe also have been enchanted by Scotland's beauty, typically describing it as "mystical" and "awe-inspiring."
For Stetson students, a study-abroad program, now going into its fourth year, is providing them with the opportunity to experience that splendor firsthand in Inverness, a city in the Scottish Highlands and the northernmost city of the United Kingdom.
"I had never traveled outside the country before, so it was suggested that Scotland would be a good first study-abroad experience. It was a life-changing experience, and I caught the travel bug after that," said Caylyn Gunby '19, a double-major in international studies and world languages and cultures whoparticipated in the program in the summer of 2016. Gunby added she since has participated in two additional study-abroad programs in Austria and Thailand, plus an internship in France.
Such a trip has that kind of impact.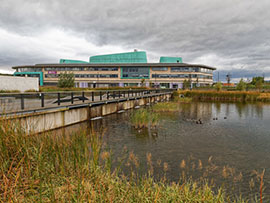 The Inverness program, called Summer Scotland, is a multi-university, faculty-led consortium including professors from Stetson, Jacksonville University and Utah Valley University, all congregating at The University of the Highlands and Islands – Inverness College to teach students management and marketing as they relate to the international community. With approximately 8,500 students, Inverness College is the main campus for The University of the Highlands and Islands.
The program occurs three or four weeks over summers. Summer Scotland 2019 is set for May 28-June 27.
"Five years ago, we got together with Jacksonville University and suggested Scotland as a great place for a study-abroad program," cited Paula Hentz, director of international learning at WORLD: The David and Leighan Rinker Center for International Learning at Stetson. "We wanted to build something that included best practices and incorporated case-study projects with local Scottish businesses. Utah Valley University and Inverness College joined the consortium, and it has turned out to be really beneficial for students."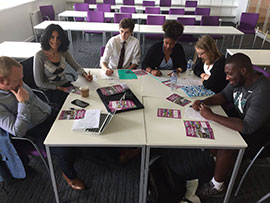 As part of these case-study projects, students are paired with local businesses (five students per company) and work on real-world business issues. They apply their coursework and offer solutions to actual problems to help the businesses, presenting a final report at the end of the project.
Group projects vary based on the current business needs. In the past, companies have included WOW Scotland (a travel company); a fashion designer who has designed items for the Queen; Robertson Construction; Walker (an international shortbread company); local craft breweries; a Highland bakery that provided baked goods for the 2012 London Olympics; local social enterprises that support youth; and Cobb (a hotel company).
"This represents an incredible opportunity for students to not only get real-world experience but also real-world international business experience — learning how to do business in another country with another culture. It's a great challenge for them," Hentz added.
In 2016, Gunby and her team worked with Café Artysans, a social-enterprise café in Inverness that uses some of its profits to help homeless Scottish youth.
"We helped with advertising, met with the director and talked about growth and international outreach," Gundy said. "We focused on social-media coverage and how to better reach out to Americans."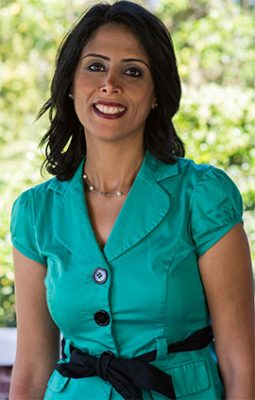 Students who participate in the program are offered a choice between two courses — Global Marketing: Business Without Borders and Principles of Management — and earn four credits upon completion. The course counts as an elective for nonbusiness students.
"These study-abroad programs teach students about international business and how countries operate and do business differently because of cultural nuances," said Carol Azab, Ph.D., assistant professor of marketing in the School of Business Administration, who teaches, lectures and represents Stetson on the trips. "In Scotland, people are more laid-back than we are when it comes to their business culture. And it's important for students to be able to adapt to whatever company they're working for, wherever that may be.
"When I see students presenting at the end of the program, I feel so proud. Their marketing proposals and plans get praise from these companies, and they've resulted in direct changes and improvements made in many of the businesses. It's a life-changing experience for these students, who come back more enlightened and also improve academically."
Students start some coursework online prior to their arrival in Inverness. Once there, they have regular class time, Monday through Friday, and also interact with advisers to work on their case studies. Additionally, they hear local guest lecturers talk about topics such as the effects of Brexit (the U.K. leaving the European Union), the general business environment and business practices in Scotland. Students have the option to stay in the dormitories at Inverness College or with a Scottish host family.
Further, there is cultural immersion. Among the highlights is a guided tour of the Isle of Skye, the largest and most northerly large island in the Inner Hebrides of Scotland.
"It was stunning," Gunby recalled. "We actually went to Fairy Pools [on the River Brittle in the Isle of Skye]."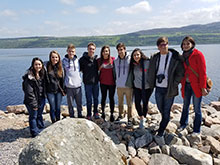 Other excursions include visits to Loch Ness, the deepest lake in the United Kingdom and where students can take a boat tour and hear stories about the Loch Ness Monster; Urquhart Castle, one of Scotland's most iconic castles on the banks of Loch Ness; the Quiraing, a landslip on the eastern face of Meall na Suiramach, the northernmost summit of the Trotternish on the Isle of Skye; and Edinburgh, the ancient capital city of Scotland.
Also, this past summer students participated in mini-Highland Games, so they could try some of the activities. Previously, they had watched the actual Highland Games. "We learned about Scottish food, music, sports, folklore and even got to hear Gaelic from the local Highlanders," noted Gunby.
"We want students to step out of their comfort zones," Azab said, simply.
"It's a chance to build intentional opportunities for students to meet local people," Hentz affirmed. "Everything we do there is geared toward giving our students the most immersive cultural experience possible."
For Gunby, who missed not having black pudding and sausage when she got back to the States, her Scotland experience opened many doors and widened her eyes. And she will never forget the Scottish people, while she also became close with other Stetson students who participated in the program.
"They're so friendly and much more laid-back then we are," she said about the Scottish. "People understand how to enjoy life there, and that taught me something about how to live my life."
When Gunby graduates this spring, she plans on teaching English abroad, as a gap year, then attending grad school to get a master's degree in international affairs or global development.
The study-abroad effect is transformative.
"I believe in student learning and stepping out into the world as a life-changing experience," Azab concluded. "Helping students realize this is very rewarding to me. In the end, we're celebrating differences, and this is a beautiful thing and a great lesson for these students to learn."
-Jack Roth
UPCOMING CLASSROOMS ABROAD
Destinations for official faculty-led study this summer:
Austria, Switzerland and Germany (same program)
Burgundy, France
Cairns, Australia
Cuenca, Ecuador
Dominican Republic
Georgian Foodways
Geneva, Switzerland
Hong Kong
Innsbruck, Austria
Inverness, Scotland
London, England
Moldova
Novi Sad, Serbia
Paris and London
Portugal (Executive M.B.A. program)
Singapore
South Africa
South Korea