Apps, a Robot and the Shark Tank Challenge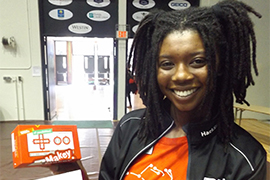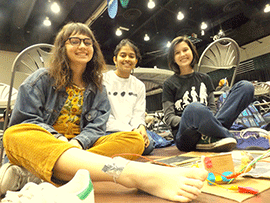 You've left your workplace and you're 20 miles into your 40-mile commute back home, and you realize you forgot to clock out. No problem — if you have GeoSchdlr.
The app, which is sort of a personal GPS system developed by a team of students from Florida International University, took first place in the Hackathon app-building competition held during the Greater Central Florida Tech Faire + HatterHacks.
The event, held around the clock from 6 p.m. Friday April 5 to 2 p.m. Sunday April 7, was hosted by Stetson HackerSpace, the university's official computer science club, with scores of college and high school students from across the state attending.
A "Day of Learning" included Friday overnight workshops in Elizabeth Hall, such as the 1 a.m. session "You Can't Really Learn Clojure in an Hour, But We Can Make a Web App So Let's Do That." (Clojure is a dynamic general-purpose programming language.) Then from 9 a.m. Saturday until the event's conclusion Sunday afternoon, students holed up in the vast expanse of the Edmunds Center for the HatterHacks portion of the weekend, which featured tech talks, a gaming tournament, a SharkTank Challenge that required no computer skills, and various other competitions including the main event: the Hackathon, an app-building contest for both individuals and teams.
Along with that geo-locator, among the student app creations were a small robot designed to explore post-natural disaster landscapes, a phone app to test for glaucoma in countries with a shortage of optometrists, a cosmetic application app and a missing pets app. Just to name a few.
Judges included four Stetson faculty: Daniel Plante, Ph.D., professor of math and computer science; Hala ElAarag, Ph.D., professor of computer science; Joshua Eckroth, Ph.D., assistant professor of computer science; and Basar Koc, Ph.D., assistant professor of computer science.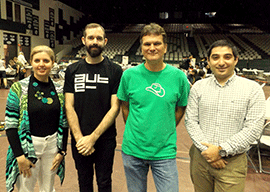 The first-place GeoSchdlr app, only in the developmental stage as a competition creation, could be set to clock-out workers whenever they travel a certain distance from their workplace. The geo-locating device could be applied by users in numerous other ways.
Judges were impressed when a member of the FIU team behind GeoSchdlr walked away from the presentation podium in the Edmunds Center, and the giant video screen — a view of a hypothetical workplace's digital time clock — changed from "in" to "out" when the student reached a certain distance.  
"It was a new idea, and it worked," Eckroth said. "Geo-IP location tracking is actually difficult because the precision is low. Getting that integrated and actually having it flip the wording on the website … is not easy to accomplish."
Heyley Gatewood, the Tech Faire/HatterHacks head organizer and a Stetson junior with a double major in computer science and mathematics, said her favorite part of the weekend "was that this year we had so many more events for people who don't know coding whatsoever. We had a 'Day of Learning' [the initial workshops], and people actually used some of the stuff they learned in their projects."
Gatewood created three of the event's challenges (competitions) in addition to the Hackathon, "and two of them you did not need any type of computer science knowledge whatsoever," Gatewood said. "For the Shark Tank Challenge, you didn't have to make a demo; you didn't have to code anything — all you had to do was come up with an idea and pitch it."
Kelly Mahoney, a University of Florida graduate working on her M.B.A. at FIU, won the Shark Tank Challenge and its $500 prize for Abstrack, a storage-space management app that she hopes "will revolutionize the self-storage industry," she said.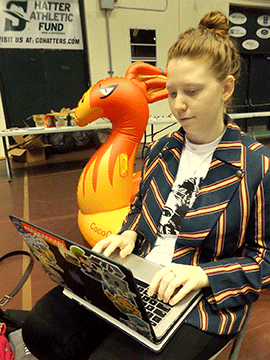 Mahoney was a nursing student and then a religious-studies major until she attended her first hackathon three years ago. The event changed her life.
"It transformed everything for me. I do know how to code a little bit, but what I really thrive in is design," Mahoney said. "And that's something that a lot of hackathon projects lack — a good design. It just goes to show that anybody has a place at these things. You can be a finance major, a business major or a designer. You cannot know how to code, or you can know how to code. These events are welcoming to everybody."
Dani Carson, a Stetson junior majoring in math, joined with Veenadhari Kollipara from the University of South Florida in Tampa and Emma Martins from Sandalwood High School in Jacksonville to form a team after the three met early during the event.
"The best thing about the hackathon is just being around so many motivated people," Carson said. "It's absolutely amazing to see so many people getting together to work on computer-based projects."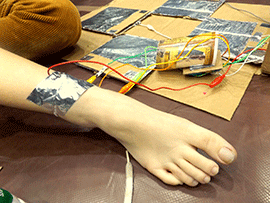 Their app, 1 Degree Celsius, is a game that intends to educate users about climate change and global warming. They also wanted the game to have an active physical dimension, which led to the team experimenting with attaching wires to Martins' foot in order to control the action.
Major League Hacking, which describes itself on its website (mlh.io) as a "student hackathon league" that "powers" hackathons and workshops, presented five awards, with three of them won by the same app: Swamp Sense. That app featured a small remote-controlled robot created by a team from Florida Institute of Technology in Melbourne.
The project "started out as a fun app," said Muntaser Syed of the FIT team. In fact, the team presented that aspect of their work as a second app titled Boogie Bot. The students used the same technology for Swamp Sense, which Syed described as "a post-natural disaster" app to enable investigators to "get a scientific kit out in the wild to collect data where people cannot physically be."
In all, the Greater Central Florida Tech Faire + HatterHacks featured 21 project presentations.
"Everyone who came to the hackathon, whether it was an individual or group, presented a project," Gatewood said. "That's never happened during the previous years and that doesn't happen at other hackathons, because usually others feel the need to present computer science. Well, here, whether you know computer science or not, you can still show how your brain works through these other challenges."
-Rick de Yampert