Inside 'A Big Work of Art'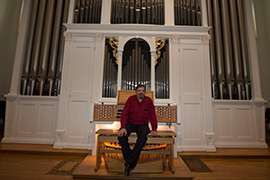 Editor's note: This story originally was posted Aug. 12, 2017.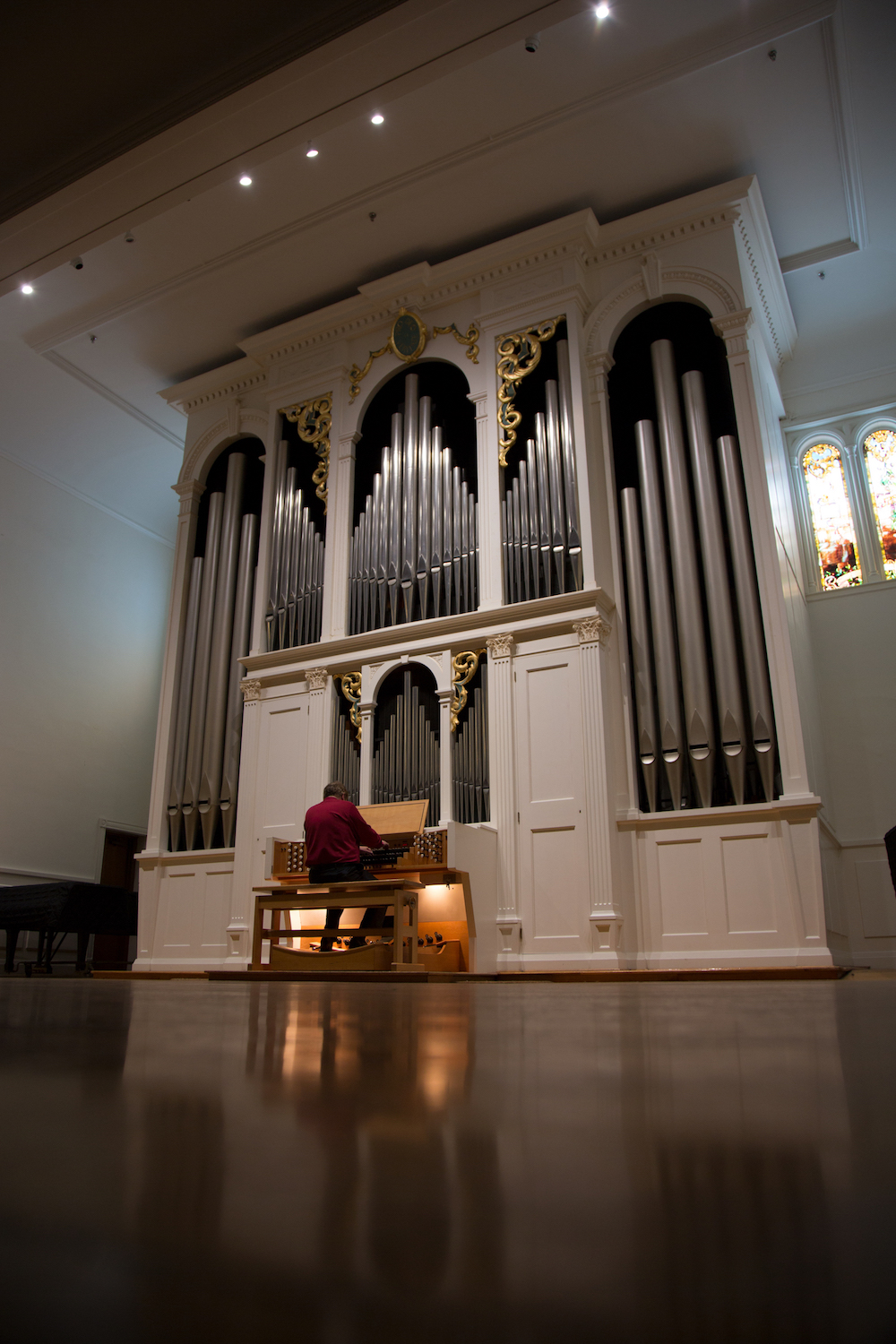 Stetson Organ Professor Boyd Jones unlocked a narrow door in the front of the Beckerath Organ, climbed up a few steps and disappeared inside.
"If you follow me in here," he said, leading the way.
Stetson's massive pipe organ is housed in an ornate case that rises almost to the ceiling in Lee Chapel, decorated with golden accents and a cartouche bearing Stetson's motto, "Pro Deo et Veritate (For God and Truth)."
Through the narrow doorway and Jones revealed the elaborate inner workings of pulleys, wooden rods and other parts that bring the 2,500 pipes to life.
Inside the organ, Jones climbed up two more wooden ladders, going higher and higher into the case as he explained how he tunes some of the pipes before each major performance, such as the Great Organists at Stetson Series that he organizes each year. Five organists, including himself, will perform on the organ from Sept. 19, 2017, to April 10, 2018.
Jones, D.M.A., also is the University Organist and plays the iconic instrument at campus events, such as Convocation, which signifies the start of the new academic year, on Aug. 23.
"You have to consider the organ as a big work of art," he said. "Most people don't realize right here is the most valuable piece of art owned by the university."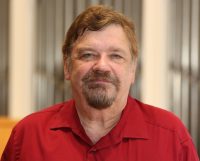 Jones knows more about the organ than probably anyone, except for the German craftspeople who – just rarely – come over to perform maintenance. Jones attended Stetson as an undergraduate and studied with former Organ Professor Paul Jenkins, who is credited with getting the university to purchase the instrument 56 years ago.
From time to time, Jones will give a tour inside the organ, but not too often. "You can't get a ton of people in here," said Jones, who earned two master's degrees and a Doctor of Musical Arts from Yale University. "And there are places in here where you could fall down and do many thousands of dollars in damage."
A Destination for Great Organists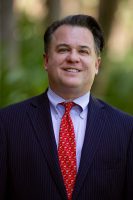 Professor Jones has won national and international organ performance competitions, and plays the organ and harpsichord extensively around the country. "Bo Jones is incredibly well-respected," said Thomas Gilmore Masse, Dean of the Stetson School of Music. "He is internationally recognized and admired as one of the most important organists before the public today."
With the support of the Apgar Foundation, Masse suggested Jones create the Great Organists at Stetson Series a few years ago, much like the music school's Great Pianists at Stetson Series. This year, the Great Organist series begins Sept. 19 with Simon Thomas Jacobs, winner of the St. Albans International Organ Competition.
"People love to come and play this instrument," Dean Masse said. "People describe it as a very musical instrument and a real pleasure to play. In bringing them here for the concert series, it highlights the instrument, but also highlights the space in which the instrument resides."
The Beckerath Organ is "a destination," Masse added. Unlike a violin, a pipe organ cannot be carried to a recital to play. Musicians must come to the place where the organ was built, and the Beckerath was designed to be an ideal match for the space of Lee Chapel.
"For a very long time during the Baptist years, Stetson had a degree in church music and it was an excellent degree and attracted many, many organists to study at Stetson," Masse said. "Stetson became one of the really great destinations for undergraduate training in organ performance and we have organ alumni working all over the world."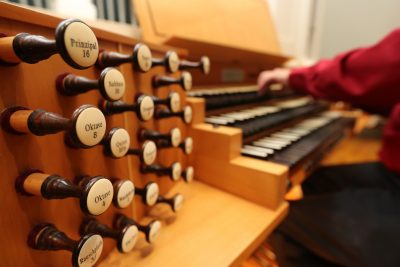 When Professor Jones graduated from Stetson in 1975, more than 20 students were majoring in organ performance, and the School of Music was considering adding a second organ teacher. But the number of organ majors has dwindled across the country since then.
"Organ enrollment is notoriously low everywhere," Jones explained. "In recent statistics, there are 81 undergraduate organ programs with a total of 141 students in those 81 programs."
These days, only a few students major in organ performance at Stetson. But many more learn to play the organ as a secondary instrument. The School of Music requires its students to take four semesters of applied study on an instrument other than the one they play. Piano students tend to choose the organ as a secondary instrument while organ students choose the harpsichord, which Jones teaches, as well.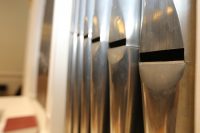 "The organ is an odd instrument in that you don't come to it terribly early in life," said Jones, who began playing the organ at 16 and now also plays as a part-time organist for the First Presbyterian Church in DeLand.
"You don't have a bunch of 12-year-old organists running around like you would flutists or clarinetists or guitarists or pianists because you have to be full grown to be tall enough to manage the pedals and the manuals at the same time, and you probably need transportation to get somewhere to practice on an instrument – it's not something you're going to have at home," he said.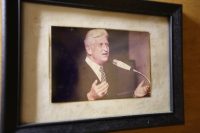 A Superb Builder
Stetson's organ was built by one of the great organ builders of the 20th century, the late Rudolf von Beckerath. A small framed photo of him hangs just inside the organ's doorway on the right. His Hamburg, Germany, workshop made the organ's 2,500 pipes from a tin-and-lead alloy and cut each one to pitch, Jones explained.
"Everything inside here is completely original," he added.
Bricks sits in the exact spot where the German builders placed them in 1961 as weights on the organ's reservoir, a large box fed by an electric blower that maintains a stable supply of wind to the instrument. The positioning of the bricks has never been changed, not when the organ's ornate case was built in 1992 and not when the instrument was cleaned and a new console added in 2004.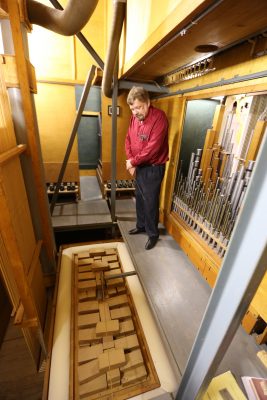 Jones slid open cabinet doors and showed how a simple keystroke on the console sets off a complicated chain reaction – thin wooden "tracker" rods move pieces of wood, which move rollers on roller boards, which in turn pull other trackers. The mechanical action eventually opens a valve under a pipe, allowing air to blow in and play a musical note, like other wind instruments.
Some keystrokes open a tiny pipe a few feet away. Others trigger a long chain of mechanical actions to big pipes reaching to near the ceiling of Lee Chapel.
"It's amazing that it can have that kind of elaborate mechanism and still all the keys feel the same," Jones said of the mechanical-action organ. "That demonstrates the refinement of what a really superb builder can create."
All that motion, hidden from view, helps create the pipe organ's enduring sense of awe. One musician playing the organ's keyboards can create so much miraculous sound, capable of filling the largest cathedrals.
Stetson purchased the organ for $35,000 in 1961, at a time when the exchange rate was "very favorable," Jones said. Today, he estimates its worth at $1.5 million.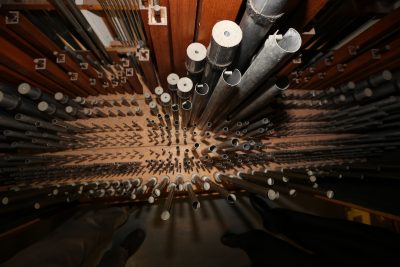 Given its superior craftsmanship, the organ rarely needs maintenance. A few times, professionals have tuned the thousands of "whistle" pipes, a task that involves varying each pipe's length a "teeny weeny, weeny microscopic part of a millimeter," Jones explained.
Jones tunes the 264 "reed pipes," pipes with a brass reed inside that vibrates and emits a musical note when air is blown through, similar to a clarinet. He gently taps the brass reed's tuning wire up or down to tune it – a task that takes a couple of hours to tune all 264 reed pipes before major performances.
"Everything here is in pretty good shape. But the organ could use a good cleaning. That's something we'll do at some point in the future," he said, adding that professionals will need to be hired. "There's an accumulation of dust. The German guys say we get dust accumulation here in 10 years like what they would see in 50 years in Germany. I don't know why."
A World-Class Organ
Not surprisingly, the instrument serves as a drawing card for potential students, Professor Jones said.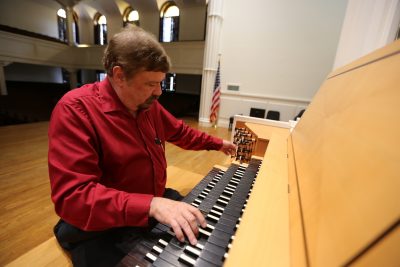 Silviya Mateva grew up playing the piano and took up the organ during her last few years of high school, even though her home country of Bulgaria doesn't have many organs. "It's an Eastern Orthodox country," she explained.
She arrived at Stetson in January 2005 as an undergraduate. Professor Jones picked her up at the airport and brought her straight to Lee Chapel.
"I hadn't been in DeLand for more than 30 minutes and Dr. Jones showed me inside the organ," she recalled, "all the mechanics behind it that aren't visible to the audience. People can't see how complicated it is.
"I was quite overwhelmed that I was going to get to practice on it on a regular basis."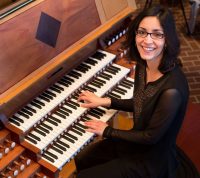 Mateva went on to earn a master's degree from the Eastman School of Music in New York and a Doctor of Musical Arts degree from the University of Oklahoma. Like many of Professor Jones' former students, she is a full-time church musician — at St. Philip's Episcopal Church in Ardmore, Oklahoma, where she plays an electric-action pipe organ.
"I have experienced many other instruments, but to this day, this is one of my favorites," she said of Stetson's Beckerath Organ. "The tone quality and the action quality and the case are really world class."
-Cory Lancaster
Great Organists at Stetson Series
The concert series is free and open to the public. Each concert begins at 7:30 p.m. in Lee Chapel inside Elizabeth Hall on Stetson's DeLand campus.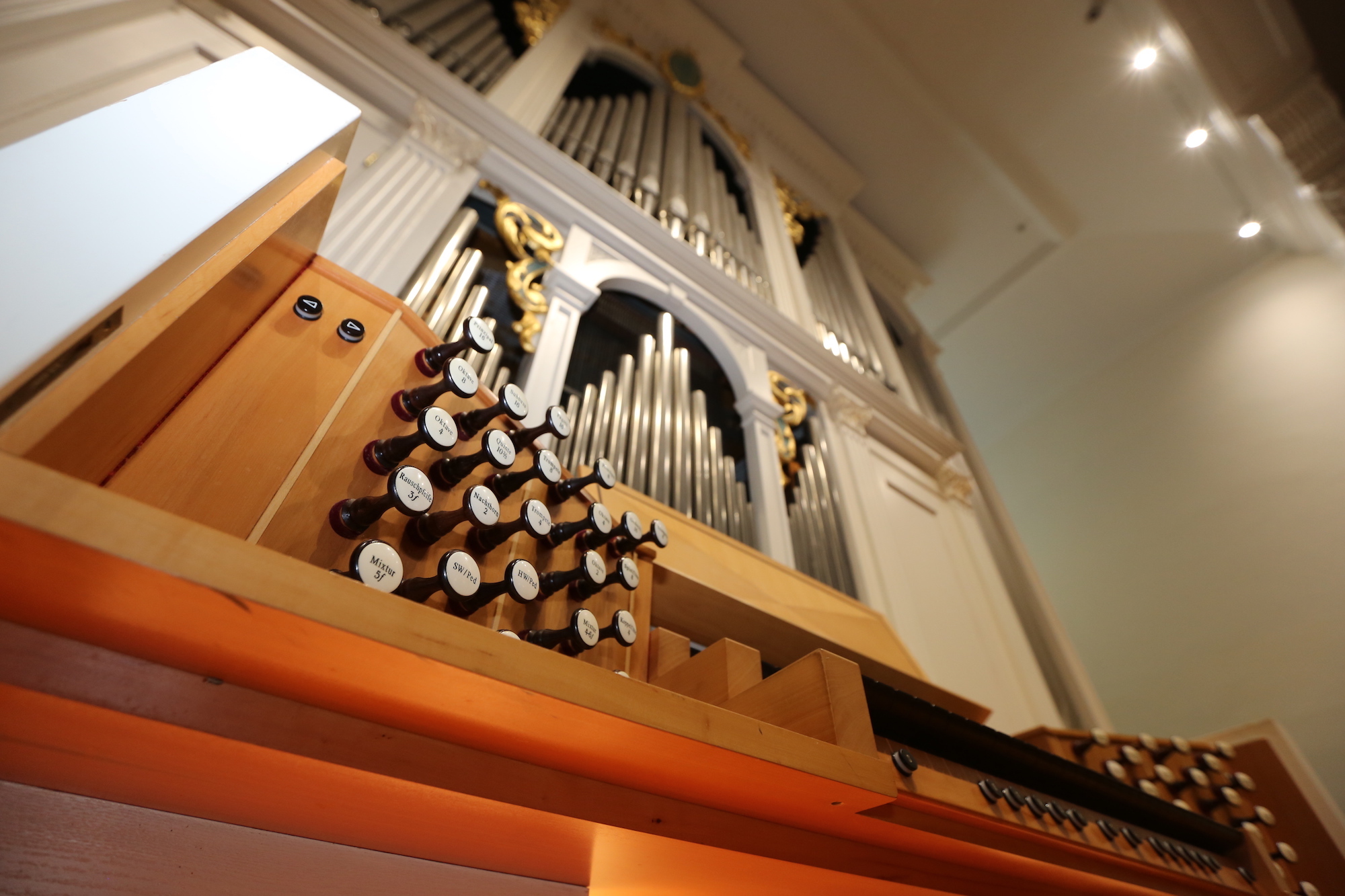 Sept. 19, 2017
Simon Thomas Jacobs
Winner of St. Albans International Organ Competition
Nov. 7, 2017
Chelsea Chen
Organist and Artist-in-Residence, Coral Ridge Presbyterian Church
Jan. 23, 2018
Jonathan Moyer
Assistant Professor of Organ, Oberlin Conservatory of Music
March 20, 2018
Boyd Jones
Price Professor of Organ and University Organist, Stetson University
April 10, 2018
Jack Mitchener
Director, Townsend-McAfee Institute of Church Music, and Professor of Organ, Mercer University
Concert Series presented by The School of Music
Stetson University
(386) 822-8950 • stetson.edu/music