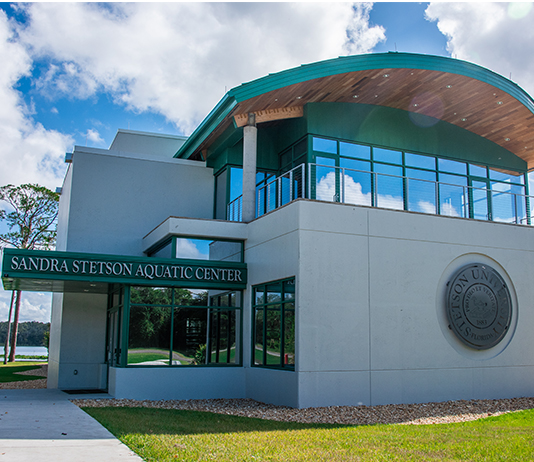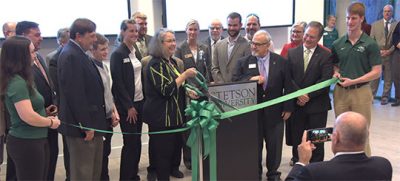 Editor's note: This story was originally published Feb. 15, 2019.
Stetson University President Wendy B. Libby, Ph.D., stood at the podium in front of a standing-room-only audience and attempted to thank everyone involved, from adjacent neighbors, community members and local government officials to the St. Johns Water Management District and her own Stetson Community.
Libby, beaming, also pointed to Stetson's commitment to environmental sustainability and the university's strategic map, which has an overarching goal of finding innovative solutions to complex challenges.
Minutes later, with the sun poised to set, Libby and a host of key contributors cut the ribbon on the Sandra Stetson Aquatic Center — launching a new era for both Stetson's intercollegiate rowing program and academic field research. Notably, it was the second ribbon cutting for a major addition to the university within a month.
Construction of the nearly $7 million, two-story aquatic center, which began with a ceremonial groundbreaking in April 2017 on 10 acres along scenic and historic Lake Beresford, seven miles from Stetson's DeLand campus, was officially opened.
Appropriately on this Valentine's Day, Feb. 14, 2019, smiles, congratulations and well-wishing were omnipresent.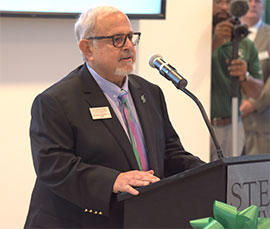 "Wow," said Stetson University Trustee Richard George '76, who followed Libby at the podium. "We have here an iconic facility that will serve our students and the Central Florida community in a 21st-century manner for generations to come.
"This is a partnership among our scholar athletes; the institute's environmental science students; political, economic and social science students; business students; our future lawyers; and others who value the importance of environmental sustainability, health and community engagement. It's a broad-brush interdisciplinary effort. And it's part of our DNA at Stetson."
In a special video presentation, project architect Preston T. Philips praised Charles Perry Partners Inc., the project's construction manager, for taking his team's designs and turning "them into three dimensions, giving Stetson Rowing and the [Institute for Water and Environmental Resilience] a new home." Also, Philips called the support of the university's administration "unwavering," and he saluted Al Allen and Matt Adair of Facilities Management at Stetson, who "shepherded the project through a myriad of design and product reviews, county approvals and budget analyses."
Mostly, Philips thanked Sandra Stetson, great-granddaughter of John B. Stetson, the university's namesake. The center bears Sandra Stetson's name by virtue of a $6 million donation. A lifelong guardian of the environment who has had members of her family involved in rowing, she proved to be the ideal match of university ambition and charitable spirit.
The Sandra Stetson Aquatic Center now provides a permanent home for Stetson's intercollegiate rowing program, which was established in 1988. In 2013, Stetson joined the Metro Atlantic Athletic Conference. On the first floor, there is a storage bay for dozens of crew boats and training equipment. The crew boats can measure up to 58 feet.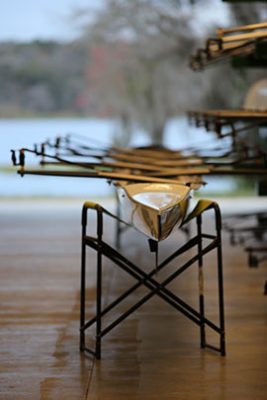 Additionally, the center will serve as a warm-weather training site for high school and college rowing teams. In March, Libby noted, five prep schools arrive to use the "flat waters" of Lake Beresford, which connects with the St. Johns River. The aquatic center is directly across the water from the Lake Beresford Yacht Club, founded in 1944.
"Sandra Stetson's generous donation has completely changed the face of rowing at Stetson, and it's changed the face of rowing in Florida," said Katie Thurstin, head coach of men's and women's rowing, at the podium. Thurstin talked about the growth of the rowing program — she called it a "journey" — which began three decades ago when two students, Betsy Cowan and Katherine Bryan, serendipitously crossed paths on campus and became fast friends.
The second floor houses Stetson's Institute for Water and Environmental Resilience and supports academic uses, including classrooms, a conference room and the Institute Field Station, along with events such as symposia.
The institute was conceived in 2014 to promote interdisciplinary learning and research, advance policy development, develop leadership for solving challenging environmental issues and demonstrate sustainability as a core Stetson value. There are four primary focus areas: springs restoration, Indian River Lagoon restoration, climate adaptation and sustainability. Plans for the field include making it one of the premier environmental science and policy research stations among undergraduate universities in the Southeast.
"This has been a long time coming! … I'm just awash with everything that has happened here over the last several years," exclaimed Clay Henderson '77, the institute's executive director.
Henderson looked back to initial discussions in 2013 and to the university's commitment to an institute a year later. He retraced the planning and zoning processes, the award of an environmental ECHO grant from Volusia County and having students make important recommendations to the facility's vision. Just a few months ago, Henderson added, further visioning took place regarding botanical gardens on the site. Finally, he pointed to the ceiling and cited that the wood had been dredged from the bottom of the St. Johns River, symbolic of commitment to the environment.
"Our vision is for this facility to be 'a model,'" he concluded.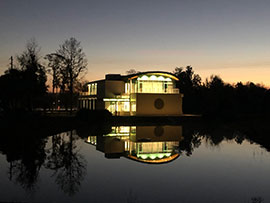 Outside of the aquatic center, a boardwalk, some 30 feet from the water's edge, is constructed of durable Brazilian wood to resist weathering. Parking is limited, and the public areas — including a pavilion and restrooms — are governed by Volusia County park hours. There is non-motorized public recreation access to the lake.
In front of the building, on the end opposite the lakefront, a fountain serves as a welcome, with a Stetson seal similar to the one adorning the newly expanded Carlton Union Building.
Much of the landscaping was credited to the "magic" of David Rigsby, Stetson's manager of grounds.
"This building and site send a great message for Stetson. The setting is beautiful," said Allen, Stetson's associate vice president of Facilities Management. "… This is an iconic building."
– Michael Candelaria