Phi Beta Kappa inducts 35 Stetson students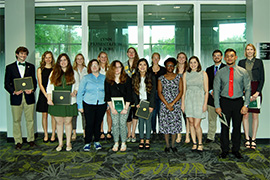 The Stetson University chapter of Phi Beta Kappa recently inducted 35 students from numerous majors within the College of Arts and Sciences into the nation's oldest and most prestigious undergraduate honor society.
In 1982, Stetson was awarded a chapter of Phi Beta Kappa, which focuses on freedom of inquiry and expression, disciplinary rigor and breadth of intellectual perspective. Fewer than ten percent of institutions nationally have been awarded chapters, and Stetson was the first private university in the state of Florida to be so honored.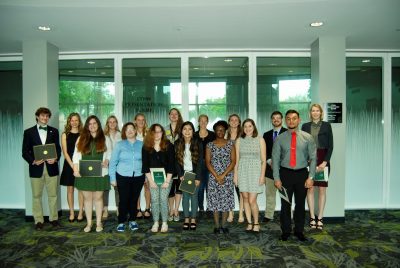 "We inducted a fabulous group of high-achieving students," said Assistant Professor of Philosophy Melinda Hall, Ph.D., the chapter president. "They are heading out of Stetson on their way to Ph.D. programs, MFA programs, and great jobs. I was so proud to see young adults I had in class as first-year students inducted. Also this year, our first married couple was inducted together – Anika and Barrett Hand. What an incredible honor for all of the students, but also for the faculty and their families who are so proud of their work."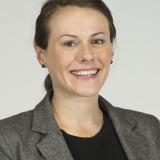 Membership in Phi Beta Kappa recognizes academic merit and scholarly distinction in the liberal arts and sciences. To be considered for membership, students must achieve a high grade point average (3.75 or higher) in a B.A. or B.S. degree program in the College of Arts and Sciences.
Students must complete a broad program of liberal study in General Education, including courses in Quantitative Reasoning and Modern Languages (through the 201 level). Finally, they must meet the standards of academic seriousness and good character expected of members of Phi Beta Kappa. Students typically are elected to membership in the spring of their senior year, though students with exceptional records are considered in the spring of their junior year.

The Chapter regularly hosts Phi Beta Kappa Visiting Scholars and engages in other activities in support of liberal study. Each year, the Chapter recognizes an outstanding faculty member in the liberal arts and sciences with the John Hague Teaching Award. This award is named in honor of Emeritus Professor of American Studies John Hague, who with President Pope Duncan led efforts to establish a Phi Beta Kappa chapter at Stetson.
-Vanessa Beaty
Please join us in celebrating the 2019 inductees:
• Slavina Ancheva, Bachelor of Arts in Political Science and Economics
• Rebekah Anderson, Bachelor of Arts in Religious Studies
• Estefany Arenas, Bachelor of Arts in International Studies
• Fatima Asad, Bachelor of Science in Molecular Biology
• Caitlyn Bishop, Bachelor of Arts in Psychology and Social Science
• Nathan Michael Bodger, Bachelor of Arts in Religious Studies
• Cody Carrigan, Bachelor of Science in Economics
• Isabelle Coppa Wandenkolk, Bachelor of Science in Health Sciences
• Porter Claude Crapps, IV, Bachelor of Arts in Religious Studies
• April Dotson, Bachelor of Arts in Environmental Studies
• Carolin Esser, Bachelor of Science in Psychology
• Kaleigh Fidaleo, Bachelor of Arts in Psychology
• Christopher Anthony Guerra, Bachelor of Science in Biology
• Victoria Elizabeth Guillard, Bachelor of Arts in Sociology
• Anika Irene Hand, Bachelor of Arts in English
• Barrett Eugene Hand, Jr. , Bachelor of Arts in Russian, East European and Eurasian Studies, and Political Science
• Claretta Holsey, Bachelor of Arts in English
• Linsey Michelle Hughes, Bachelor of Arts in International Studies and History
• Kelsey Lauren Maglio, Bachelor of Arts in Philosophy
• Samantha Morgan McPherson, Bachelor of Science in Aquatic and Marine Biology
• Makayla Michelle Mitchell, Bachelor of Arts in Environmental Studies
• Tram Thi Ngoc Nguyen, Bachelor of Science in Mathematics and Economics
• Elizabeth Paige Nicks, Bachelor of Arts in Psychology
• Abigail Ramsbottom, Bachelor of Arts in Spanish and Art
• Georgia Helena Reed, Bachelor of Arts and Psychology
• Rachel Marisa Regester-Goumas, Bachelor of Science in Molecular Biology
• Ashlee Renich-Malek, Bachelor of Science in Aquatic and Marine Biology
• Marissa Luz Rodriguez, Bachelor of Arts in English
• Ariana Santana, Bachelor of Arts in Art and Economics
• Patrick Sheridan, Bachelor of Arts in History
• Kahri Smith, Bachelor of Science in Biology
• Lauren Spratt, Bachelor of Arts in Political Science
• Melissa Kaye Trible, Bachelor of Arts in Psychology, and Communication and Media Studies
• Alison Elizabeth Van Gundy, Bachelor of Arts in Social Science
• Zoe Maxine Weaver, Bachelor of Arts in Global Development