Class of 2019: Stetson Degree Opens Doors for Dale Peterson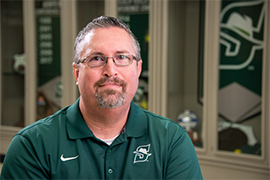 Dale Peterson, Stetson's newly appointed Enrollment Operations manager, speaks some Spanish these days.
But when the 44-year-old, 2019 Stetson graduate decided to pursue his first undergraduate degree four years ago, he was almost tripped up by having to learn Spanish. Well, that and another "foreign language" – business calculus.
The DeLand native was working in Volusia County government's Environmental Management as a hazardous waste compliance officer, "inspecting businesses to make sure they were disposing of their hazardous wastes properly and not just pouring it down the drain or in the backyard," he says. "I was told 'You're doing a great job, you're excelling.' "
However, when Peterson asked about advancement in the department, "I was told 'The only way you will get a promotion is if you have a degree,' " he says. "I was disappointed."
When the recycling and hazardous materials coordinator position opened at Stetson several months later, Peterson applied and landed the job. He also learned he qualified for Stetson's tuition benefits policy, which grants tuition for certain programs to eligible faculty, staff and their immediate family.
Peterson applied for enrollment, eager to pursue a degree in business systems and analytics in the School of Business Administration. But he saw two potential problems.
"Two classes made me think 'How am I going to get through these?' " Peterson says. "The first one was Spanish. I'm 44 years old and now you're telling me I need to learn a foreign language? The other class I thought was impossible was business calculus. I hadn't been in a math class in 25-plus years and I have to complete business calculus?"
Peterson investigated other majors to see "if there was any degree that was slightly interesting to me that did not have the business calculus or the foreign language requirement. But I love analytics. I love looking at data and finding useful information in that. So I told myself, 'If that's what I want to do, I gotta buckle down and tackle those classes.' "
Peterson's trepidation was soon assuaged. "I have been so blessed with so many amazing professors," he says. "I could sit and talk about this for days."
One was Maria Servigna, an adjunct professor of Spanish.
"Any lady who can teach a 44-year-old Southern boy Spanish deserves the Nobel Peace Prize," Peterson says. "She would sit with me after the entire class was gone and explain these fundamentals of the Spanish language over and over again. I would do it wrong and she would correct me. She's got a heart of gold and deserves sainthood for her patience."
Peterson also scaled business calculus under the guidance of Daniel Marulanda, adjunct professor of math.
"He was able to take complex formulas and functions and, again after class, would sit and explain these functions to me step-by-step in simple and easy-to-understand ways," Peterson says.
He also gives a shout-out to his tutors: "I knew all of the tutors in the math department on a first-name basis because I spent so much time in the Student Success Center. I have to give credit to them."
The work paid off. "I'm excited to say that in both my Spanish class and my business calculus class I was able to get an 'A,' " Peterson says.
His hard work paid off in an even greater way soon after graduation: He was promoted to a new position as Stetson's Enrollment Operations manager, effective June 17.
"I ran into Avery Ellis (now former data specialist in enrollment management) and he said he wanted to recommend me for this job," Peterson says. "I interviewed and it worked out. The job is ensuring the integrity of all of the enrollment data, like application data for students, making sure that the data flows through the system like it's supposed to.
"What's nice about the current position is that it allows me to actually use my degree that I just earned, because I will do a lot of analytics on the data that I'm reporting on. It was a perfect marriage for my degree to move right into this position. I'm very excited."
Ask Peterson about his campus experiences outside of the classroom and, being a non-traditional student with a job at the university, his perspective differs from that of many students.
During his tenure as manager of the recycling program, he supervised 14 Stetson work-study students – a facet that he says was "one of my favorite things about working at Stetson." He would "joke around with my wife and say they keep me young."
That dynamic played out inside the classroom, too.
"Going into class as a 44-year-old man, into a class with — you know, I was looking at them as kids," Peterson says. "For me it was intimidating. But the Stetson student population didn't treat me as being the 'old guy.' I was never treated differently. The whole Stetson population deserves thanks from me for that."
This fall Peterson will enter the MBA program at Stetson while continuing his job as enrollment operations manager. Long-term, he's mulling over the possibility of "getting into the classroom in more of a professor role, as a teacher in high school or community college, or even possibly staying here at Stetson as an adjunct professor."
In the meantime, one of those younger students this fall will be very familiar to him.
"My oldest son Noah will be starting here at Stetson in the fall to study aquatic biology," Peterson says. "At first he accepted Embry-Riddle (Aeronautical University in Daytona Beach), and he stopped me one day and said, 'Dad, I just feel like my heart of hearts is telling me I need to go to Stetson.' I was super excited. So, it will be a father-son attending Stetson at the same time. I'm curious how many times that's happened in Stetson's history. I'm looking forward to seeing him on campus with me."
— Rick de Yampert