Big Man on Campus – John B. statue arrives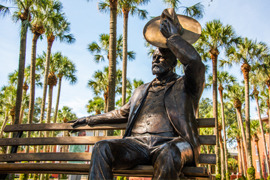 Stetson President Wendy B. Libby, PhD, brushed the beard of the new big man on campus — and smiled broadly.
"I haven't had this much fun in 10 years!" Libby said as she reclined on a bench against her new friend, the larger-than-life bronze statue of John B. Stetson, the renowned hat maker and the university's early benefactor and namesake.
The donor-funded sculpture, weighing approximately 1,600 pounds including the bench, was installed in Palm Court on Thursday. A crew from Stetson's Facilities Management assisted sculptor Erik Blome, who had driven his piece down from his Chicago studio and foundry.
For a time, Blome joined Libby on the bench as she gleefully and playfully proclaimed she was using her presidential powers to have the first photo opp with John B., who is portrayed tipping one of his famous hats.
For much of the day, the sculpture hovered in the air on a fork lift, as Blome and crew prepared to install it on a previously laid slab of granite. Passersby marveled at the work. The consensus, as reflected in numerous comments by Libby, faculty and students: "It's big!"
Blome's sculptures include Dr. Martin Luther King, Jr. in Milwaukee, Rosa Parks in Montgomery, Alabama, and hockey great Wayne Gretzky outside the Staples Center in Los Angeles. He said these statues of legendary figures "should be a little bit larger-than-life, in my opinion."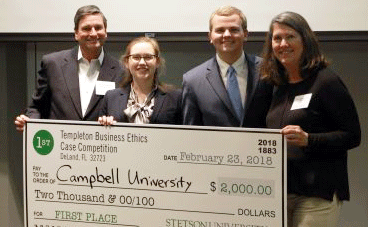 The Stetson piece was commissioned with the support of former university Trustee and Double Hatter Troy Templeton and his wife, Sissy.
"Originally, they said they wanted a life-size figure and I immediately said, 'No, you want something bigger than life-size,' " Blome said. "Something at 110% or 115% just to make it feel like it belongs on a campus. If you make it life-size, a statue always looks pedestrian, diminutive. It looks like it belongs in an art fair. It just doesn't feel like it's a memorial or a commemoration."
He crafted the Stetson statue at 130 percent, basing the size on an estimate drawn from historical clues that the university benefactor stood 6 feet tall. No definitive records of his stature could be discovered.
"Larger-than-life is what you really want to get at," Blome said. "I think people react to that much more positively, too.
"There's no one bigger than him," Blome added with a chuckle.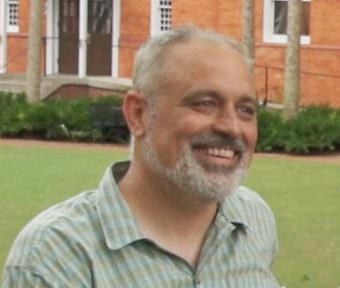 Stetson University's roots go back to 1883, when DeLand town founder Henry DeLand founded DeLand Academy, which was chartered in 1887 as DeLand University.
Stetson, who had founded his renowned hat company in 1865, gave his first donation — $3,500 — to the school in 1886. As he continued contributing not only financial support but also his business savvy to the administration of the school, Stetson was elected to the Board of Trustees in 1887, and he became president of the board in 1889.
That same year the trustees changed the name of the school to John B. Stetson University in appreciation of his support.
A John B. Stetson statue on campus "has been a dream of mine," Libby said, since she began her presidency in July 2009; Libby has announced she will retire in spring 2020.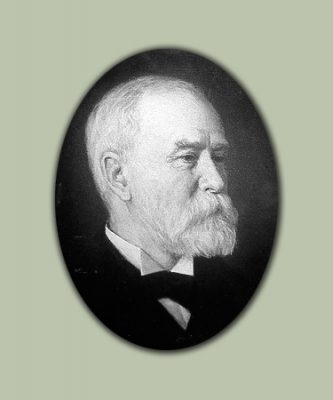 The dream began to take shape when Troy and Sissy Templeton "started to get interested in May of 2018," Libby said. "They are art lovers and this idea captured their imagination. They've given to many other things for Stetson for nearly 30 years: they've given scholarships. They've sponsored our ethics competition. They've given us the fountain that's on the east side of the CUB, and now this. I can't even begin to express my thanks from the university to them for this."
When two passersby stopped to admire the statue, Libby turned to address them: "What do you think? You can sit on it and have your picture taken."
Professor Robert Sitler, PhD, director of the Latin American and Latino Studies Program, strolled by and stopped to check out John B.: "It's really amazing. Quite impressive."
Kenneth Neely, a senior finance major, and Sylvia Vellios, a senior environmental science major, were among a group of students who stopped to admire the sculpture, too. Both students said they were familiar with Stetson's role during the early days of the university.
"He saved our university," said Neely, noting that, as a student ambassador, "it's part of my job to know the history of Stetson."
"It looks really nice," added Vellios. "I think it's really cool that we're going to be able to take pictures with him. We want to be some of the first people to get pictures with him, so we're going to come back later."
"I think this really speaks to who this university is," Libby said. Refering to the tip of his hat, she added: "This sort of welcoming, this 'come join us' is really special."
Blome said he plans to return this fall when the sculpture is dedicated. The dedication ceremonies for the statue and the new Templeton Fountain outside the Carlton Union Building are set for Oct. 17-18.
— Rick de Yampert