Stetson University in the News, Aug. 15-22, 2019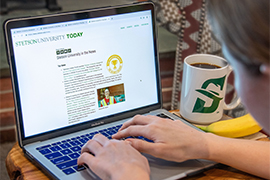 Top Stories: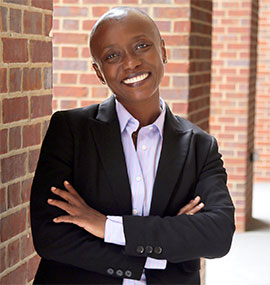 • Roland and Sarah George Professor of Finance Stuart Michelson, PhD, was quoted throughout the Aug. 20 US News and World Report article "7 Best Balanced Funds to Pick Right Now."
• College of Law Dean Michèle Alexandre was featured in a profile on WTSP (CBS affiliate) on Aug. 15, which highlighted her goals of opening doors and increasing access for students, as well as fostering collaboration throughout Tampa Bay.
• Stetson Director of Assessment and Operational Effectiveness Colin MacFarlane was featured in the "Around Town" segment of the Daytona Beach News-Journal. MacFarlane will discuss the art of tattooing at the DeLand Regional Library on Sept. 5.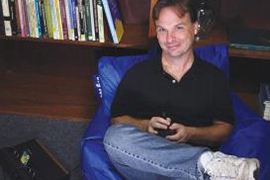 • Professor of Psychology Christopher Ferguson, PhD, published the article "Gamers are the Easy—But Wrong—Target After Mass Violence" at Quillette on Aug. 20. Ferguson discussed the lack of evidence linking video games and real-life violence and contested the notion that gaming culture encourages hate. Ferguson also was quoted in the Click Lancashire article "Social media isn't the problem – the side effects of using it are." According to Ferguson, "The idea that social media might have indirect effects is a fairly intuitive one."
• Law Professor Frederick Schaub, also an alumnus, has been assigned as a prosecutor in the manslaughter case against Michael Drejka, as reported in the Tampa Bay Times on Aug. 22. The case garnered national attention regarding Florida's "stand your ground law" and issues of race after Drejka shot Markeis McGlockton during an argument over a handicap space. Additionally, opening statements from the trial can be viewed on CourtTV.
• Law Professor Judith Scully is quoted an August 16 WUSF story discussing whether the Drejka trial could set legal precedent on how Stand Your Ground is applied in Florida's legal system.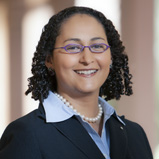 • Law Professor Ciara Torres-Spelliscy published an article on the Brennan Center for Justice website, titled "Election Security Lessons from DEFCON 27," recapping her experience at the largest hacking conference in the United States. In addition, Torres-Spelliscy's article, titled "How the Supreme Court is rebranding corruption," was shared on the Mike Norman Economics Aug. 8 blog, as well as the Real Economics Aug. 18 blog. And an abstract of her forthcoming article in the Harvard Law & Policy Review, titled "Deregulating Corruption," was featured in an Aug. 15 post on the Election Law Blog.
Other News:
• Law Professor Kirsten K. Davis wrote the Aug. 22 Appellate Advocacy Blog post "An ethos for giving feedback to new legal writers: Expert coach, not rival writer."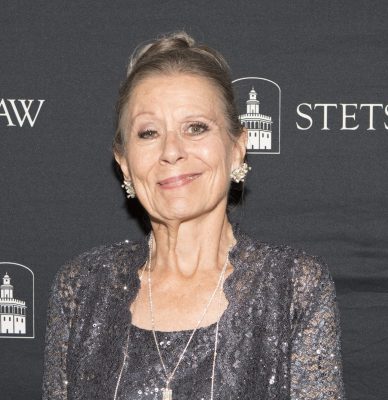 • Law Professor Rebecca C. Morgan wrote the Aug. 16 Elder Law Prof Blog post "Medical Aid in Dying in NJ on Hold." Morgan also wrote the Aug. 18 Elder Law Prof Blog post "Observation status trial," along with the Aug. 21 Elder Law Prof Blog post "Medicare Abroad? Don't Retire Abroad Without Thinking This Through." In addition, Morgan wrote another August 21 Elder Law Prof Blog post, titled "Recent Developments on Guardianship Laws."
Alumni News:
• Kristian Haggerty was featured in an Aug. 20 Hollywood Life article for her role on the reality TV show "Bachelor in Paradise."
• Alumnus Darcy Hoffman was hired by SourceLink as chief strategy officer, according to a press release by Eerie News Now. Hoffman will be responsible for the creation and implementation of marketing ecosystem solutions.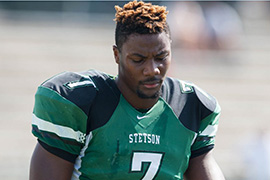 • Former Hatter star Linebacker Donald Payne was signed to the Baltimore Ravens to the team's 90-man roster, according to an Aug. 16 Baltimore Sun article.
• Alumnus Cameron Woodward was featured in the Coastal Breeze Newsarticle "Leadership Marco 2019: Meet the Class." Woodward is an associate lawyer at the law firm of Woodward, Pires, and Lombardo, P.A.
• Alumna Katherine Rohrer, PhD, was featured in a Gallipolis Daily Tribune article "Gala-polis' heads to Ariel stage." Rohrer, an accomplished mezzo-soprano, will kick off the new opera season with "Opera Gala-polis" under the direction of Maestro Steven Huang.
• Law alumna and Florida Attorney General Ashley Moody is joining the Board of Directors for the Special Olympics Florida, as announced in an Aug. 20 press release featured in Business Insider and other trade publications.