U.S. Poet Laureate to Read at Stetson Tonight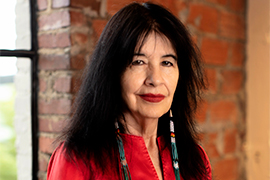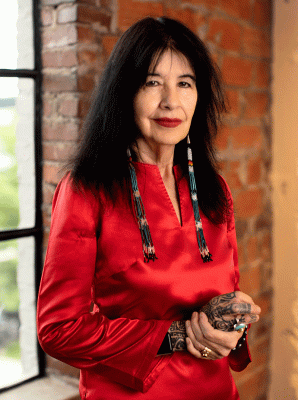 Joy Harjo, the first Native American to serve as U.S. Poet Laureate, exhibits nearly as much diverse talent as she does excellence.
Harjo, announced in June by the Library of Congress as the 23rd Poet Laureate Consultant in Poetry, has appeared on HBO's "Def Poetry Jam" and in venues across the United States and internationally. She is a musician, too, who plays saxophone with her band, the Arrow Dynamics Band, and has released four award-winning CDs of original music. Also, Harjo is a literary award-winner.
On Oct. 22, Harjo brings that extraordinary portfolio of accomplishments to Stetson's Carlton Union Building when she gives a reading, followed by a book signing.
The one-hour event, part of the Sullivan Reading Series and made possible by the Atlantic Center for the Arts Master Artists-in-Residence Program, is free to attend and open to the public. It begins at 7 p.m.
More accolades: Harjo has received fellowships from the Guggenheim Foundation, the Witter Bynner Foundation, the National Endowment for the Arts and the Tulsa Artists Fellowship. She's won, among others, the PEN Open Book Award and the Arrell Gibson Lifetime Achievement Award from the Oklahoma Center for the Book. Recent honors include the Jackson Prize from Poets & Writers (2019), the Ruth Lilly Poetry Prize from the Poetry Foundation (2017) and the Wallace Stevens Award from the Academy of American Poets (2015). And in 2009, she received a Native American Music Award (NAMMY) for Best Female Artist of the Year.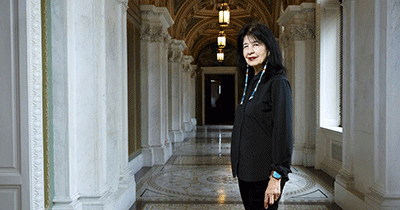 Harjo, born in Tulsa, Oklahoma, and member of the Muscogee Creek Nation, called her role as U.S. Poel Laureate a "tremendous honor."
"I share this honor with ancestors and teachers who inspired in me a love of poetry, who taught that words are powerful and can make change when understanding appears impossible, and how time and timelessness can live together within a poem," she said at the time of the Poet Laureate announcement.
"I think the culture is bringing me into it with poetry — that it's part of me," Harjo commented in a subsequent interview with NPR. "I don't think about it. … And so, it doesn't necessarily become a self-conscious thing — it's just there. … When you grow up as a person in your culture, you have your culture and you're in it, but you're also in this American culture, and that's another layer."
Librarian of Congress Carla Hayden pointed to Harjo's impact as an indigenous storyteller who explores themes such as traditions, social justice and feminism.
"Joy Harjo has championed the art of poetry — 'soul talk' as she calls it — for over four decades," Hayden said. "To her, poems are 'carriers of dreams, knowledge and wisdom,' and through them she tells an American story of tradition and loss, reckoning and myth-making. Her work powerfully connects us to the earth and the spiritual world with direct, inventive lyricism that helps us reimagine who we are."
-Michael Candelaria