Stetson Law wins Chester Bedell competition for 24th time in 38 years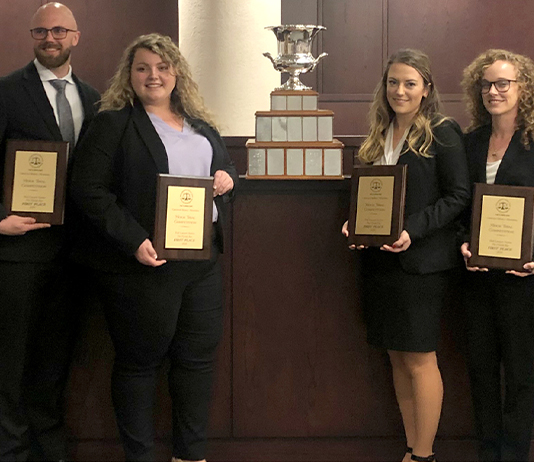 The Stetson University College of Law Trial Team of Drew Trautman, Amy Trentalange, Megan Tiralosi and Rachel Wise won the Chester Bedell Mock Trial Competition on Jan. 22-24 in Tampa, Florida.
Megan Tiralosi also won the best advocate award. A second Stetson team of Olivia Bergert, Justin Bell, Magner Tiuso and Molly Goodwill made it to the quarterfinal round.
This marks the 24th time in 38 years that a Stetson team has won the competition. Hatters claimed the inaugural trophy as well in 1983. The Trial Lawyers Section of the Florida Bar conducts the prestigious competition for mock trial teams from across the state annually, and distinguished members of the judiciary preside over the final round.
All eight students sacrificed their winter break to prepare for the competition, and the winning team was ultimately made better by having practiced against their schoolmates, said Julia A. Metts, director of Trial Programs and professor of practice.
"Iron sharpens iron, and that is how Stetson stays consistent," she said. "Together we make each other better. Together we push towards a goal of personal and professional growth. Together we advocate with a purpose!"
Stetson's program in trial advocacy is nationally ranked No. 1 by U.S. News & World Report. To learn more about the advocacy program, visit stetson.edu/law/advocacy.