Stetson Football Sets a Team Record – Off The Field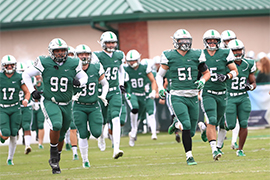 The Stetson University football program was one of five members of the Pioneer Football League to place at least 60 members of the 2019 squad on the annual PFL Academic Honor Roll.
The Hatters set a program record, placing 60 players on the honor roll for the first time. The previous program high was 59 players on the 2013 squad, which was the first year in the return of Stetson football.
Over seven seasons, Stetson has placed a total of 356 players on the PFL Honor Roll, an average of 50.9 per year.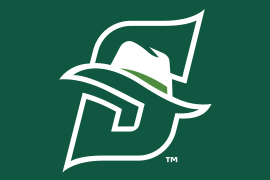 The PFL saw more than 500 student-athletes recognized on its honor roll for a seventh consecutive year. The University of Dayton (85), Drake University (65), Butler University (63) and Davidson College (60) joined with Stetson, with each placing 60 or more student-athletes on the honor roll. In addition, Dayton, Drake and Stetson each placed a program-record number of student-athletes on the league's honor roll.
Pioneer Football League athletic directors and coaches established the honor roll in 2001 as a way to recognize the league's outstanding student-athletes. To date the league has recognized more than 8,300 student-athletes on the PFL Academic Honor Roll.
The PFL Academic Honor Roll consists of student-athletes who participated in football at member institutions during the fall semester and posted a 3.0 grade-point average or higher during the semester while enrolled full-time in accordance with NCAA rules.
Members of the Stetson team named to the 2019 honor roll included:

OL Bradley Alexander, Senior, History
DE Antonio Collintino Andrews, Senior, Entrepreneurship
WR Connor Becker, Freshman, Business Administration
WR Kyle Benedict, Freshman, Finance, Entrepreneurship
DB Ben Blair, Freshman, Business Administration
WR Bensley Bornelus, Junior, Health Sciences
OL Ernie Bourk, Freshman, History
OL Alex Brown, Senior, International Business
DB Chase Brown, Junior, Communication & Media Studies
OL Andrew Butler, Freshman, Business Administration
WR Michael Carley, Freshman, Health Sciences
TE Dominic Carlucci, Freshman, Business Administration
LB Tallin Coates, Freshman, Health Sciences
OL Billy Corte, Sophomore, Finance
LB Jamieson Craske, Senior, Sport Business/Professional Sales
QB Gaven DeFilippo, Graduate, Masters of Business Administration
OL John Endara, Freshman, Physics
K Cameron Gillis, Freshman, Business Administration
TE Kyle Godlewski, Senior, Business Administration
OL Steven Godwin, Sophomore, Health Sciences
OL Wilson Grooms, Sophomore, Sociology
OL Jordan Halfinds, Senior, Sport Business
DL Edward Hernandez, Freshman, Marketing
TE Jonathan Hoback, Freshman, Computer Science
LB Grant Hodges, Senior, History
LB Josh Hughes, Freshman, Computer Science
LB Christian Jolley, Freshman, Marketing
WR Justin Jordan, Junior, Business Administration
DB Peter Katz, Senior, Management
WR Quinton Lane, Freshman, Business Administration
DB Dwight Lawrence, Sophomore, Marketing
EQ Michael Lawson, Junior, Health Sciences
K Noah Ledingham, Freshman, Business Administration
TE D'Andre Lewis, Junior, Communication & Media Studies
DL Jeffrey Lu, Junior, Molecular Biology
RB Jalen Mason, Junior, Psychology
DB Adam Masterson, Freshman, Finance
QB Max Mazur, Freshman, Applied Mathematics
K Jonny Messina, Senior, Health Sciences
WR Jeremiah Nails, Graduate, Masters of Business Administration
OL Alek Nikolich, Freshman, Health Sciences
LB John Pascale, Freshman, Discovery (Undeclared)
WR Austin Perlman, Senior, Health Sciences
QB Alex Piccirilli, Junior, Finance
DE Fermon Reid, Junior, Finance
OL Steven Rehrig, Sophomore, Finance
TE Brady Rhodes, Freshman, Computer Science
OL James Rhodes, Freshman, Business Administration
DE Bryson Richards, Junior, Business Administration
RB Shamar Rush, Freshman, Political Science
OL Avery Samuels, Freshman, Discovery (Undeclared)
WR Dylan Sigman, Freshman, Business Administration
DE Hayden Smith, Sophomore, Health Sciences
QB Preston Staples, Freshman, Economics
LB Kollin Stuart, Freshman, Business Administration
OL Jacob Sullivan, Senior, Molecular Biology
DB Jordan Williams, Freshman, Health Sciences
DE Jason Winston, Senior, Political Science
LS Michael Wojciechowski, Freshman, Finance
LS/QB Colin Wray, Junior, Sport Business