Changes to Dining Services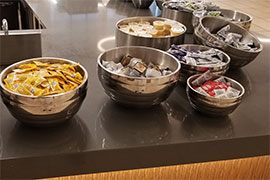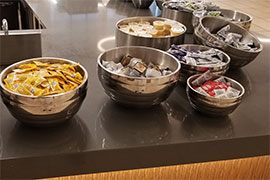 Like the entire university, Dining Services is taking measures to curb the spread of the coronavirus.
Beginning Monday, March 16, the Commons will remain open but operate under reduced hours from its normal 7-2 a.m. The new hours haven't yet been determined, but service is expected to begin at 7 a.m.
Also, the other dining places on campus — the Coffee Shop, BYOB and Einstein Bros. Bagels — will have reduced hours or might even be closed.
Those changes follow the university's announcement that March 14 will be the final day for face-to-faculty classes for undergraduate and graduate students during the spring semester. In DeLand and Celebration, classes are canceled on Monday and Tuesday, March 16-17. In DeLand and Celebration, normal class schedules will resume, via remote instruction, on March 18.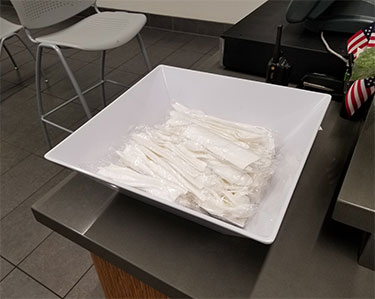 During the week of March 2, immediately following Spring Break, the Commons, where most students on campus eat, began a move toward general flu/infection prevention, such as changing out serving tongs more regularly than under normal conditions.
Then on March 13, prevention efforts were heightened with, for example, the introduction of a single-service salad bar with individually wrapped dressings, prepackaged cutlery kits, disposable plates and stations with individually wrapped condiments.
"We're taking every precaution that we can on our end to make sure we don't contribute to the spread of any viruses," said Candra Reid, senior director of Dining Services at Chartwells Higher Education Dining Services, which contracts with Stetson.
In addition, those efforts are likely to mean fewer food offerings, perhaps four or five food stations instead of the usual eight.
Also, with students having the option of moving off campus, Reid anticipates reduced dining demand, although she is uncertain about numbers. While a typical lunchtime at the Commons accommodates approximately 750 to 800 students, the total was down to roughly 250 on March 13.
"We're assessing things based on the needs of the students," Reid noted. "It's kind of a waiting game for us to figure out."
All students must indicate their intent to remain on campus, or to move out, by March 20. Students who decide not to remain in on-campus housing must complete checkout by March 23.
That's the time Reid believes dining on campus will truly come into focus during these uncertain times.
"We are dealing with this day by day, hour by hour, to see what the changes might be," she said.
-Stetson Today