Stetson Postpones Commencement Ceremonies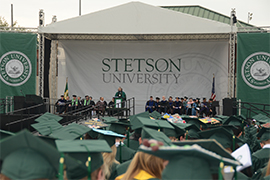 Stetson President Wendy B. Libby, PhD, postponed Commencement ceremonies in DeLand and at the College of Law in Gulfport on Thursday, March 19, saying coronavirus precautions will prevent the university from holding the large gatherings in May.
"Recent guidance from the [Centers for Disease Control and Prevention], restricting gatherings to no more than 10 people for the next eight weeks and practicing social distancing, makes it impossible for the university to celebrate your achievements at a formal, in-person graduation ceremony in mid-May," Libby wrote in an email to students, faculty and staff on Thursday.
"I am heartbroken, but am writing to inform you, Class of 2020, undergraduate and graduate, that we must postpone your commissioning event, honors and award receptions and commencement ceremonies at this time," she said.
Stetson has adopted a number of proactive measures to help stop the spread of coronavirus. Although no students, faculty or staff have tested positive for the virus, the university moved all classes online, beginning Wednesday, for the remainder of the semester.
Campus events and athletic competitions have been canceled. Students have until Friday, March 20, to decide whether to remain in residence halls or move back home. Those who decide to return home have until March 23 to move out.
During a webinar for Stetson staff on March 19, Libby said a university team will explore all options for rescheduling Commencement. Graduating students will be contacted for their suggestions on how and when Commencement could be held, as well as holding other celebrations for graduating seniors, such as the Undergraduate Awards and Recognition Ceremony.
Libby emphasized that, despite the decision, graduating students still will earn their degrees on time.
"Although the celebrations are postponed, your achievements are not," she wrote in the email. "All students successfully completing their coursework and other requirements within the prescribed period of time will be graduates of Stetson University. Delaying the celebrations will not delay your degree."
That was welcome news for senior Isabelle Palmer, a digital arts and psychology major. As fears of the pandemic grew in recent weeks, she said her biggest fear was that graduation would be delayed. That would have upended her plans to start graduate school in the fall.
"Luckily, I live off-campus with my family in DeLand, so I will be in the area and able to participate whenever Commencement eventually happens," said Palmer, also a music minor and concertmaster. "I won't be as negatively affected as many other students, but of course it's sad to see so many events cancelled, including my last concerts with the Stetson Symphony and Chamber orchestras."
Keith Metzger, a senior majoring in communications, said the announcement disappointed him and his family. He is the first in his family to attend college and graduate, and his family had planned to attend from Jacksonville.
"It was a long time coming and they looked forward it," he said. "It's all so abrupt. It's not ideal, but it's definitely the safest option. It would be irresponsible to have a full-on graduation."
Metzger wasn't sure if he and his family would return for Commencement at a later time. Instead, they might have a little graduation ceremony for family and friends back home, with Metzger wearing his cap and gown.
Jaycie Cohen, a senior theater arts major, said her family already had booked hotel rooms and made plans to attend Commencement from West Palm Beach. But they, too, thought the postponement was the right decision.
"Ultimately, we know it's for the better and the safety of our community," she said. "We are very grateful that they have made this decision, as I myself have an immune deficiency. So, it is a very dangerous time for me right now."