Commencement 2020 set for Dec. 12-13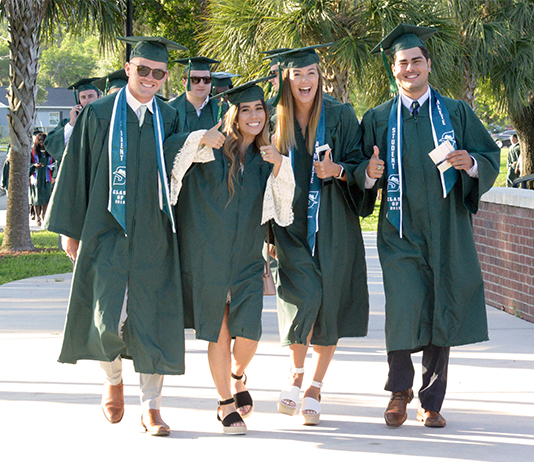 Commencement 2020 will move outdoors to the Stetson Green on Saturday and Sunday, Dec. 12-13, with enhanced safety precautions that will give graduates the honor and recognition of walking across the stage.
Commencement was delayed in May due to the pandemic and will be moved from the Edmunds Center to the Stetson Green for the safety of participants and guests. Five undergraduate ceremonies are planned, based on the student's degree, and one ceremony will be held for master degree candidates. Visit the Commencement website for full details.
"Graduates will have their names read and their moment to shine, walking across the stage," said Julie Hunter, director of University Events.
"Every single graduate's name is going to be read aloud, regardless of their in-person participation. Students who are not in-person will be recognized on screen with their name and a photo if they have provided it," she said.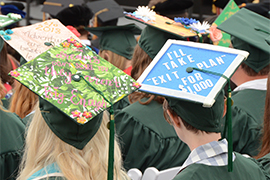 The ceremonies will honor graduates from July 2019, December 2019, May 2020, July 2020 and December 2020. Those unable to attend for health, safety, travel or job concerns can participate virtually. Or graduates can opt to participate in the May 2021 Commencement.
The six December ceremonies will occur rain or shine. By scheduling multiple, smaller events over the two days, the university can ensure physical distancing for attendees. Face coverings must be worn at all times, and graduates will not shake hands with the university president and other top academic officials as they walk across the stage. Master's degree candidates will not receive the traditional hooding at their ceremony.
The schedule of events, outlined on the Commencement website, comes after months of planning and input from graduates and university administrators. The Safer Campus Task Force has reviewed the safety protocols for the ceremonies, which intentionally will be held after the fall term ends Nov. 25, when fewer students, faculty and staff are on campus.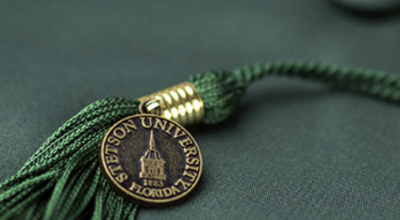 Each ceremony will feature student speakers for each degree category and prerecorded music, including the school's alma mater. Undergraduate and graduate candidates will each receive two guest tickets for family members or friends to attend their ceremony. These tickets will provide touchless entry to minimize health and safety concerns.
No receptions or other gatherings will be hosted on campus during the weekend, and no eating or drinking will be allowed during the event. All the precautions are needed, Hunter added, to keep "everyone safe."
"The health and safety of our graduates, faculty and guests during these ceremonies is our top priority," she said.
Graduates can visit the Commencement website for more information. Stetson employees are asked to volunteer to support the ceremonies. To volunteer, please contact University Events at [email protected].