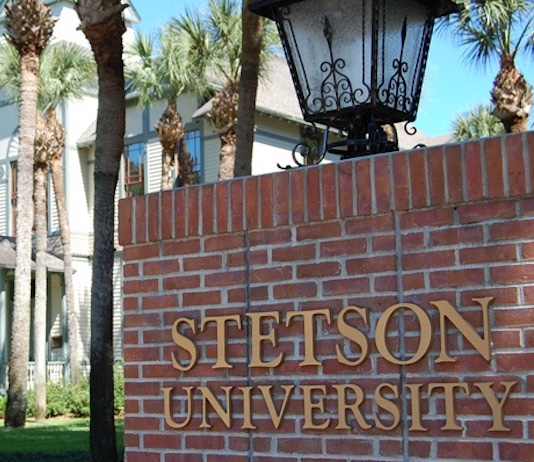 Stetson President Christopher F. Roellke, PhD, wasn't on campus when these Hatters began making their mark as students and alumni. Yet, he certainly got to learn about them this past Saturday, Nov. 7, during Homecoming 2020.
As part of "Coffee with the President," an annual tradition at Stetson, Roellke hosted his first Homecoming Awards program, including the Distinguished Alumni Awards, Outstanding Young Alumni Award, Doyle E. Carlton Award, George and Mary Hood Award, and Distinguished Service Award.
Distinguished Alumni Awards
Steven Alexander '85
A native Floridian, Steven Alexander graduated with a degree in finance, followed by a degree in accounting from Florida Southern College and a mini-MBA from the Rollins College Crummer Graduate School of Business.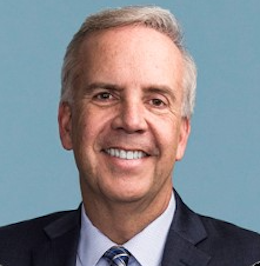 Alexander worked for nine years in the Orange County Comptroller's Office, eventually becoming treasurer, before joining PFM Asset Management LLC in 1996. Within six years, he was named managing director of PFM's Orlando office, overseeing the Asset Management practice across the Southeast.
Alexander holds the designations of Certified Treasury Professional, Certified Government Finance Officer and Certified Public Pension Trustee. He serves on the Investment Policy Certification Committee for the Association of Public Treasurers of the United States and has served as a Government Finance Officers Association Standing Advisor for the Treasury and Investment Management Committee. He is a member of the Association of Governing Boards of Universities and Colleges. Also, he is a Certified Executive Coach and holds executive certificates in leadership, nonprofit management and endowment investing from some of the most respected institutions in the nation.
Civic-minded and having a desire to better his community, Alexander currently is a board member of the Central Florida Coalition for the Homeless, the Orlando Economic Partnership and the Orlando Regional Chamber, among others.
Further, Alexander has long been a champion for Stetson, where he's served as a Stetson Trustee since 2012 and previously was as a member of the School of Business Administration Advisory Board. Also, the Alexander family was instrumental in the successful completion of the university's recent fundraising campaign.
Kimberly Carlton Bonner '86
Kimberly Carlton Bonner, an eighth-generation Floridian, grew up on her family ranch, which she now manages with her mother and sister. Her connections to Stetson run deep, with her father, grandfather, sister and niece, as well as other family members, all being counted as alumni.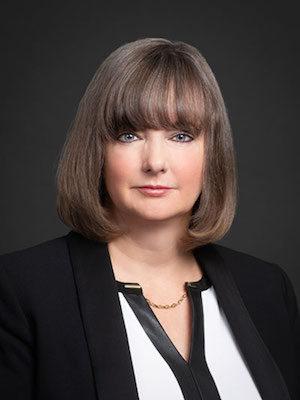 Bonner earned a degree in history before continuing on to the University of West Florida, where she earned a master's in history. She also holds her Juris Doctorate degree from Pepperdine University College of Law and a Master of Judicial Studies degree from the University of Nevada-Reno.
Beginning her career as an assistant state attorney, Bonner soon moved to a private practice and then to Washington, D.C., where she served as a staff attorney for the U.S. Department of Agriculture. Returning to Florida, she was in-house counsel for a large insurance company and in 2002 was appointed as a Sarasota County judge. She was re-elected unopposed for two terms as a county judge, and in 2012 was unanimously elected president of the Florida Conference of County Judges. She was appointed as a circuit judge of the 12th Judicial Circuit in 2013.
On July 1, 2019, Judge Bonner became the first woman to hold the position of Chief Judge of the 12th Judicial Circuit, unanimously elected by her fellow judges.
In 2020, Florida Supreme Court Chief Justice Charles Canady appointed Bonner to a statewide task force that addresses the courts and re-opening during the COVID-19 pandemic.
Bonner serves as chair of the Education Committee for the Florida Conference of Circuit Judges and has been involved in judicial education for several years. In addition, she is involved civically with organizations such as the National Association of Women Judges, American Judicature Society, Daughters of the American Revolution, local historical societies and Sarasota County 4-H.
In her "spare time," Bonner writes books and short stories and is a published author.
Yvonne Chang, MBA '09
Yvonne Chang earned a Bachelor of Science in electrical engineering from George Mason University and an Executive MBA from Stetson. She is multicultural and multilingual (Cuban American and Chinese American, and speaks fluent Spanish and some French and Cantonese).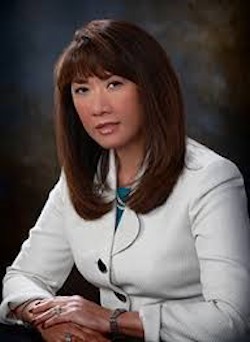 Chang began her professional career as an electrical engineer with VSE Corp., a U.S. Department of Defense contractor in Virginia, working on the design and production of military defense systems. She joined The Walt Disney Co. in 1998 and has since held executive roles within various business entities: Walt Disney World Resort, Walt Disney Parks and Resorts (Domestic and International Business Segments) and, most recently, Disney Vacation Development. Her areas of responsibility have included multimarket business development, diversity and inclusion, public affairs, internal communications, business intelligence, and operations. Her current role is director, Business Operations. Before Disney, she held leadership roles at AT&T and Lucent Technologies.
Committed to community service, Chang has volunteered and served on a number of community and industry boards, including the Hispanic Chamber of Commerce of Metro Orlando, Hispanic Business Initiatives Fund, Orlando Magic Youth Foundation, Disney/SBA National Entrepreneur Center, Coalition for the Homeless, Second Harvest Food Bank of Central Florida, Women Unlimited Inc., African American Chamber of Commerce of Central Florida and the American Resort Development Association. For her industry achievements and community service, the American Resort Development Association recognized her with the Circle of Excellence Woman on Her Way Award.
Chang also has served Stetson. Immediately following graduation, she joined the School of Business Administration Board of Advisors and later was board chair. Currently, she is a Stetson Trustee and chair of the Marketing and Enrollment Committee on the Board of Trustees. In fall 2012, she was the keynote speaker for Stetson's convocation ceremony.
Outstanding Young Alumni Award
The Outstanding Young Alumni Award is presented to up to two alumni of Stetson who are 35 years of age or younger. The award recognizes contributions to society, to a profession or to the university. Recipients must demonstrate significant accomplishment or promise in their fields; leadership; or civic, cultural or charitable involvement.
Courtney Williams Edgcomb '12
As a student, Courtney Williams Edgcomb served her DeLand community as a Bonner Scholar — embracing and truly living out the program's motto, "Let your life speak." Soon after graduation, she began working with a nonprofit in Volusia County. Her dedication to service led her to the United Way, where she joined as a resource development manager and quickly rose through the ranks. Within six years and at only 27 years of age, she was named president of United Way of Volusia-Flagler Counties.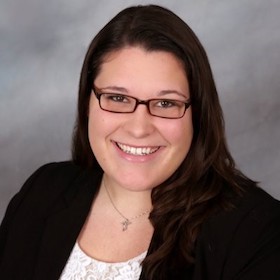 While working tirelessly to improve her community and grow in her career, Edgcomb also earned a master's degree in management from Troy University. Edgcomb is credited with the launch of Generation Impact, an initiative aimed at engaging young professionals to become involved with United Way, and her organization's transition to Community Impact. She is a 2014 graduate of Leadership Daytona and a member of the Alumni Council. In 2020, she was named the Daytona Beach News-Journal's Young Nonprofit Professional of the Year.
Derek Jansante '11
Derek Jansante (he/him/his) graduated cum laude from Stetson with his Bachelor of Business Administration. As a student, Jansante served in numerous student-leadership positions, most notably as vice president and president of the Student Government Association. He also participated in the Omicron Delta Kappa National Leadership Honor Society, Beta Gamma Sigma International Business Honor Society and Pi Kappa Alpha International Fraternity.
Upon graduation, Jansante moved to Washington, D.C., to work for the LGBTQ Victory Fund & Institute, an organization dedicated to electing openly LGBTQ public officials in the United States. After three successful election years, including the election of the first openly LGBTQ U.S. Senator, he sought a return to higher education. He took on the role of alumni relations coordinator at George Washington University, and while working, he earned a Master of Arts in Education and Human Development, specializing in higher education administration.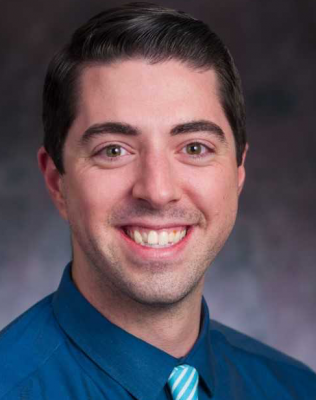 In 2016, Jansante transitioned to American University and served as an academic advisor in the Kogod School of Business and an adjunct faculty member in the pilot of American University's first-year experience course. He was promoted to assistant director of Kogod Honors & Advising in 2018 and then to director of Undergraduate Programs in the Kogod School of Business in 2019. Jansante is known to produce outstanding results for students, staff and faculty with a positive and collaborative attitude. Since 2016, he has been recognized by American University with the Outstanding New Academic Advisor Award, Outstanding Collaboration in Advising Award and Kogod Staff Award.
A passionate advocate for higher education access, affordability and student success, Jansante has begun applying to doctorate programs to study higher education finance and strategy.
Jansante has been a committed and enthusiastic member of Stetson University's Alumni Association Board of Directors since 2013. He concluded his second term in 2020 after serving as chapter chair and regional vice president. A proud Hatter, he continues to support Stetson by speaking with prospective students and their families, planning D.C. alumni events, and joining campus events and conversations.
Doyle E. Carlton Award
The Doyle E. Carlton Award is presented to a graduate or friend of Stetson in recognition of devotion to Christian higher education and in appreciation for his/her extraordinary contribution to the life and development of Stetson, the city of DeLand and the state of Florida.
Janelle Watson '59 and William "Bill" Watson '59
Just a few years after graduating from Stetson, the Janelle and Bill Watson embarked on their longtime dream of owning a realty company. Founding the William A. Watson Corp. in 1965 was the beginning of Watson Realty. Combining hard work and sacrifice with the commitment to legendary service, the company grew into one of northeast Florida's most respected real estate companies.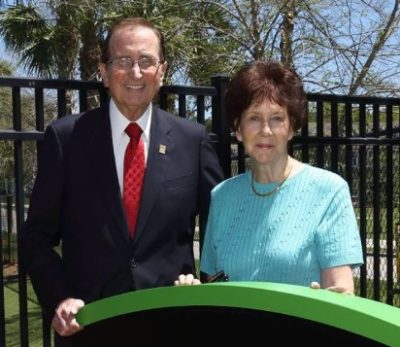 At Stetson, the young couple attended chapel once a week, and the Watsons chose to run their family business based on solid Christian ethics and values. Once, for example, Bill Watson was told by a manager that "the company was getting a reputation all over town for spending money to fix problems that weren't their fault" Always looking to do the right thing, Watson simply replied, "Isn't that great?"
The Watsons are well known in their Jacksonville community for generosity. In DeLand, they have extended their philanthropic reach through Watson Field, the beautiful football practice field that lies along Amelia Avenue on campus. Also, Watson Realty Corp. and Watson Mortgage Corp. sponsored the first sales lab, the Watson Sales Lab, which is housed at Stetson's School of Business Administration.
George and Mary Hood Award
The George and Mary Hood Award is given in honor of the late Dr. George Hood, former dean of students, professor and director of Student Counseling Services, and his wife, the late Mary Turner Hood, longtime assistant to President and Chancellor J. Ollie Edmunds, PhD. The award is presented annually to a member or friend of the Stetson community in recognition of his/her passion for, and commitment and contributions to, the university and its core values.
The Hon. Luis A. Maldonado '01
Luis Maldonado was a first-generation student. At Stetson, he had mentors who helped him reach his potential. He graduated in 2001, earning his degree in English, magna cum laude. That year, he was selected as a commencement speaker for his class; he also was honored with the Algernon Sydney Sullivan Award, the June Brooks Award for Social Activism and Public Service, the Ann Morris Essay Prize, and was named one of the state's top 20 student leaders by Florida Student Leader Magazine.
After graduating, Maldonado continued his education at the University of Florida, where he earned his JD degree cum laude. As he did at Stetson, Luis earned awards and recognition for his hard work inside and outside of the classroom.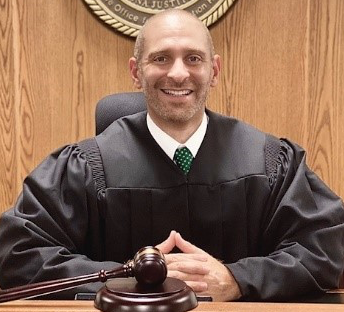 Upon graduating from law school, Maldonado began his career working with the Legal Aid Society of the Orange County Bar Association for two years. In 2006, he joined the U.S. Immigration and Customs Enforcement as assistant chief counsel. He then became an associate legal advisor for the National Security Law Section within ICE in Washington, D.C. He returned to the Orlando office of ICE in 2011 as deputy chief counsel. In 2016, Maldonado relocated to Atlanta, where he served as an associate counsel with U.S. Citizenship and Immigration Services. In March 2020, he was appointed an immigration judge for the Department of Justice's Executive Office for Immigration Review.
Maldonado has always remained involved at Stetson. He was a graduate of Leadership Stetson's inaugural class and served as a member of the College of Arts & Sciences Advisory Board for six years before joining the Stetson University Board of Trustees in 2017.
In memory of a professor who made a significant impact on him, Maldonado established the Dr. Iliana Mankin First Generation Student Endowed Book Fund, which served as the inspiration for Stetson's annual Book Award campaign. In addition to this endowment, he has contributed to the Stetson community as a guest speaker for the English Department's Third Thursday Speaker Series, delivered a keynote address for the Multicultural Student Council banquet, and has supported Stetson's Master of Fine Arts of the Americas, the Linda P. Davis Endowed Scholarship, the Dr. Wendy B. Libby Endowed Scholarship, the Karen Schmitt Roberts Internship Impact Fund, the health and science initiative, and the History and English departments.
Also, he is a Hatter Booster, having purchased lockers for the women's lacrosse team, and contributed to the men's and women's cross country teams, as well as the women's indoor volleyball team.
Distinguished Service Award
The Distinguished Service Award is presented annually to a graduate or friend of the university in recognition of their personal commitment to the ideals and objectives of the Stetson University Alumni Association and dedicated service and advancement of the goals of the university.
Nancy K. Daves '72
Nancy Daves earned a degree in humanities from Stetson. She is a retired international marine conservation professional, now active in local environmental and civic issues, and is a member of the Advisory Council of the Institute for Water and Environmental Resilience.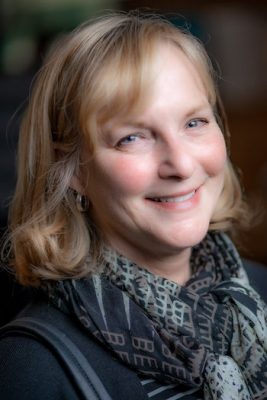 Daves had a distinguished 22-year career with the National Oceanic and Atmospheric Administration Fisheries Service after working in the business and nonprofit arenas. At NOAA, she worked to establish a structure for constituent groups to provide input to the implementation of the Marine Mammal Protection Act, coordinated all agency activities concerning international wildlife trade, and initiated a capacity-building program for developing countries to improve their marine conservation.
After retiring from NOAA, Daves quickly became involved as a volunteer to several organizations. At Stetson, she serves as a member of the College of Arts & Sciences Advisory Board, and also serves on boards of the Tybee Island Marine Science Center, NewPower PAC, Sierra Club of Georgia, The Ocean Foundation, and Georgia Interfaith Power & Light.
Richard C. George '76
Richard "Rich" George, a political science graduate, began his public career serving in key management positions as a Volusia County government administrator with an emphasis on growth management and public land acquisition. His most recent government position was as Seminole County's Deputy County Administrator.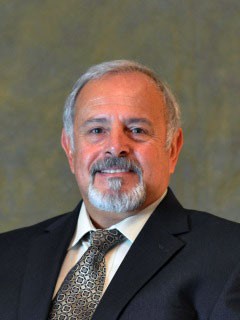 Since 1988, and until its sale in 2019, he had been president of R. George & Associates Inc., a DeLand-based company that designed and built libraries, media centers, computer centers and specialized spaces. In addition to serving as consultants around the country, R. George & Associates completed more than 1,500 projects in Florida, including the expansion and renovation of Stetson's duPont-Ball Library and the Stetson College of Law Library.

George has served on the Stetson Greek Alumni Advisory Board and the College of Arts and Sciences Advisory Board, as well as taken various active roles with the Museum of Florida Art in DeLand. George was elected to the Board of Trustees in May 2012 and chaired the Facilities Management Committee.
He and his wife, Lilis, have contributed to many initiatives at Stetson, including construction projects at the CUB and the Sandra Stetson Aquatic Center. Additionally, they support athletics, club sports and the duPont-Ball Library, and established the Richard and Lilis George Endowed Fund to the Institute for Water and Environmental Resilience.