Stetson Business Ethics Team Takes First Place at Collegiate Ethics Case Competition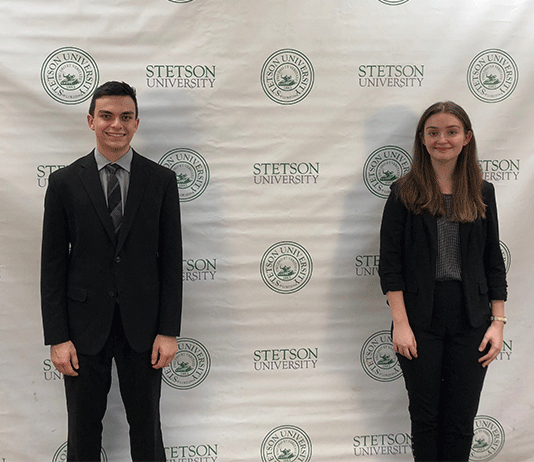 Stetson University students won first place in the 18th Annual Collegiate Ethics Case Competition held this past week and hosted by the Eller College of Management at the University of Arizona. This international competition, regarded by many as the premier undergraduate competition in business ethics, invited 30 teams including some of the top public and private business schools hailing from the United States, Mexico, Europe and Canada, and was conducted virtually.
Team members were Abby Jagos and Zachary Blum, who are in their second year as members of the Stetson Business Ethics Case Competition (BECC) Team, with Jagos serving as team captain this academic year. The competitively selected BECC Team consists of 19 students, each of whom will participate in at least one of the seven major competitions scheduled for this academic year.  
Blum and Jagos were supported by team alternates Rebecca Hett, a junior from St. Augustine; Willem Slater, a junior from Orlando; and Kaley Urban, a senior from DeBary. Faculty advisors for the BECC Team are Dr. Jim Beasley, Dr. John Tichenor and Dr. Areti Vogel, with Beasley serving as lead coach for this competition. Earlier this fall, Dr. Jon-Michael Carrick served as guest coach of a BECC team (Josh Finkelstein, Isabelle Ghofrani, Rebecca Hett and Mark Manglardi) that participated in the VCC Case Competition hosted by Universidad Panamericana.
"Participation in the Collegiate Ethics Case Competition was a wonderful experience that will benefit me in my professional growth," said Jagos, a senior accounting major from Orlando.  "The opportunity to sharpen my research, analytical, presentation, and problem-solving skills in such a competitive environment will give me an edge in a job market where employers are seeking persons with this kind of training."
The Stetson team won their bracket against five other teams, including the University of Florida, University of Idaho, Boston College, Universidad Panamericana and Northern Illinois University. In the finals, Stetson competed against four other bracket winners, including Iowa State University, United States Naval Academy, Georgetown University and Concordia University.    
"The intellectual challenge I encountered in this competition moved me to a new level in the development of skills that will guide my continuing education in global business practices and issues. My experience with the Stetson BECC Team has widened my perspective on how to approach business challenges," said Blum, a junior from Port Orange, majoring in International Business.
Stetson was the smallest university to field a team in the national competition, being one of eight private institutions that participated. The University of Florida was the only other participating institution from Florida.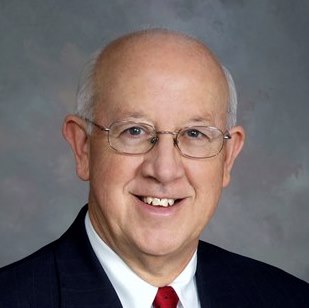 Three weeks prior to the event, the teams were given a business case on 5G implementation in the European Union. Teams were asked to assume the identity of consultants to the European Commission and charged with evaluating the Toolbox prepared by the EU to guide member states in the advance toward 5G. Additionally, the consulting teams were asked to recommend whether Huawei Technologies should be included among the vendors for the implementation. The teams then delivered a 20-minute presentation on the financial, legal and ethical implications of the challenge facing the Commission. 
"The outstanding performance of Abby and Zach on this international stage is both illustrative of the capability of our students and supportive of the core values of the university," said Beasley, professor of management.  "They have brought honor to themselves and to their university."