"Oscar Bluemner at Stetson: Exhibition History" on display through April 3
Homer and Dolly Hand Art Center, Stetson University
Jan. 14-April 3, 2021
Twenty-three years ago, Vera Bluemner Kouba, the daughter of modern artist Oscar Bluemner, bequeathed more than 1,000 pieces of her father's art collection to Stetson. Thanks to a generous gift by philanthropists Homer and Dolly Hand and the Volusia ECHO grant, the Hand Art Center was built in 2009 to display and house Bluemner's artwork and other exhibits.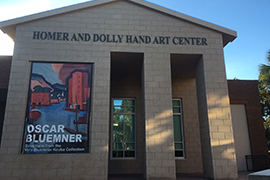 Beginning in January, the "Oscar Bluemner at Stetson: Exhibition History" display will highlight the crucial role of the Kouba collection's curators, who have preserved Bluemner's legacy.
Kouba gifted her artwork, archival materials and ephemera to Stetson because she knew the university would not only maintain and display the collection, but also would safeguard her father's reputation. The display illustrates how Stetson, especially the first Bluemner curator, Roberta Smith Favis, PhD, professor emerita of art at Stetson, honored Kouba's wishes.
The exhibit, curated by Katya Kudryavtseva, PhD, assistant professor of art history, includes display posters, catalogs and original artwork associated with Bluemner's exhibitions at the Hand Art Center and other venues.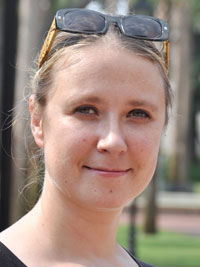 The display will provide visitors with an opportunity to appreciate the visual vibrancy and diversity of the collection and gain an understanding of the importance of museum exhibitions in stewarding Bluemner's artistic heritage.
Note: The Hand Art Center's Spring 2021 virtual exhibits can viewed online for free at HandArtCenter.org.