At the Super Bowl: Touchdown, Business Students!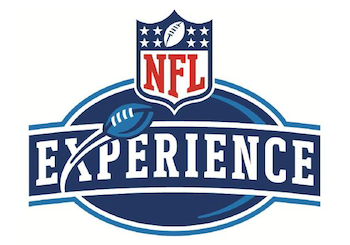 In the week leading up to Super Bowl LV in Tampa — days before the hometown Buccaneers defeated the Kansas City Chiefs on Feb. 7 — Stetson business students scored their own victory.
Approximately 20 of them were able to volunteer at related adjacent events as Super Bowl ambassadors, learning lessons from behind the scenes about what it takes to stage and promote a global spectacle.
"When you're working a large-scale event like that, you actually see the business side of it, all the elements that we talk about in business school," explained Sara Gramata, MBA, assistant professor of practice in marketing and director of Stetson's Sport Business Program. "That makes it all connect the dots for students."
With nearly 100 students in the Sport Business Program, Gramata routinely seeks opportunities for students to "engage in hands-on learning beyond the four walls of the classroom." Last spring, such an opportunity arose when the Tampa Bay Sports Commission was seeking volunteers as part of its role in organizing Super Bowl events. Along with residents of the area, college students were invited to participate.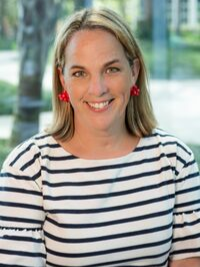 Gramata, who previously worked for numerous sports-related organizations, knew that meant students would see marketing, finance, accounting, customer service and more in action. Or, as she described, "They could really get their hands dirty and learn the business behind the game."
In all, there were events at four sprawling outdoor sites (with appropriate social distancing). Among them was the Super Bowl Experience, the NFL's interactive football theme park held along the Tampa Riverwalk.
That's where sophomore Darrien Steadwell spent most of his volunteer time, working four-hour shifts daily. After some brief training, he mostly was tasked with customer service, answering questions and being a "helpful person," said Steadwell, who is majoring in general business.
"It was an awesome experience," he continued. "And it was neat being part of everyone's Super Bowl experience. … I jumped at the opportunity."
Steadwell gained new insight about customer service.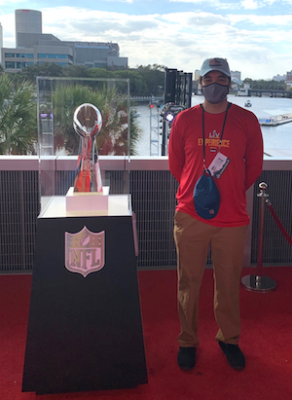 "The most tangible thing I learned was just kind of taking a step back and realizing that even being a little part of something can have a big impact of people's experiences — how to be friendly and have great customer service, and making sure you're doing everything you can to help [the attendees]," he said. "To some people, the work may not look major, but you could actually be leaving a bigger impact than you could have imagined on people's lives."
Ashley Landry learned about thinking on her feet.
"I definitely do feel it was a worthwhile experience, just to see how fast-paced the environment is," she said. "You have to adapt so quickly in the sports industry. … Just learning how to adapt to your surroundings and be able to think quickly."
Landry also learned about the importance of protocols and procedures, particularly when other people are involved. For the Tampa Bay region, the Super Bowl was the first official mass gathering in nearly one year.
"It was like we were the 'face' of a new start," she explained. "So, we had to make sure everybody was following the rules, trying to keep everybody safe and keep ourselves safe."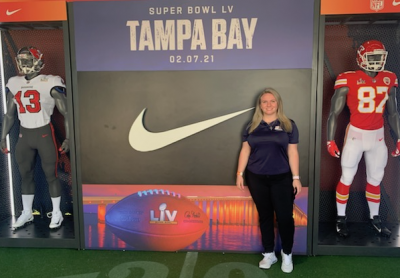 An athlete throughout her life, Landry is majoring in sport business with minors in business law and marketing. (In her sophomore year, sport business was transitioned to a minor, but her graduating class was allowed to complete that major.) She hopes to pursue a career as "an attorney or an agent for a team or for an athlete, or something like that."
And she believes her own NFL experience will boost her resume.
"I feel like it's a big deal because there aren't a lot of people who can say, 'I volunteered with the NFL, or I was a part of the 2021 Super Bowl experience.' … I will definitely use it [on my resume]," Landry said.
As such, even though the students weren't actually able to attend the game at the end of their week, the Super Bowl was a win for them.
"From a student's perspective," Gramata concluded, "it was great for them to see how this is really a business."
-Michael Candelaria