Flags at Half-Staff and COVID-19 Vaccination Reporting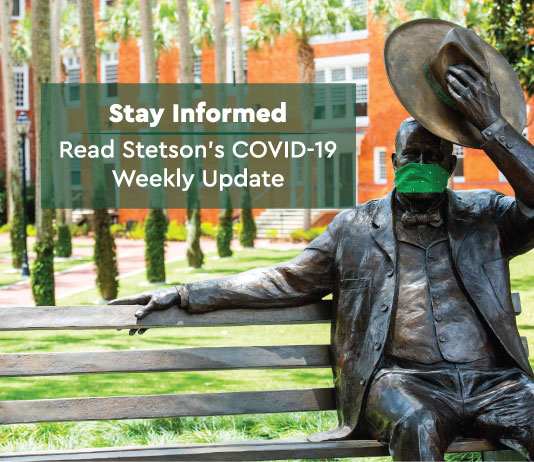 Safer Campus Task Force Updates
Weekly Update Feb. 24, 2021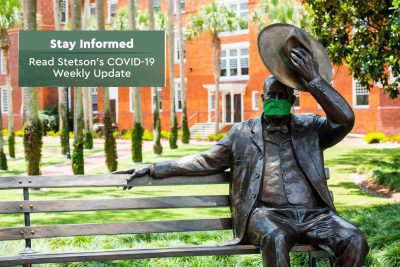 Stetson Flags Lowered to Half-Staff
Stetson University lowered its flags to half-staff to honor the more than 500,000 lives lost nationally to COVID-19. We extend our condolences to the thousands of families across America impacted by this tragedy and mourn the loss with our Stetson family. All flags will remain at half-staff until sunset on Friday, Feb. 26.
Let Us Know if You Have Been Vaccinated! ­
Stetson's Safer Campus Task Force strongly encourages COVID-19 vaccines to protect yourself, your family and the community. Currently, COVID-19 vaccinations are highly recommended for all Stetson community members. Individuals are encouraged to report their vaccination status to Stetson by using this form. At this time, COVID-19 vaccines are not mandatory for our population. As you know, vaccine availability is still a nationwide concern and the vaccines are authorized through FDA emergency use only. We will continue to review guidance from agencies like the Centers for Disease Control and Prevention, the American College Health Association and the Department of Health on this important matter to help in our future decisions on mandating vaccines for different groups, such as our residential population.
Quarantine for those who have been vaccinated:
The Centers for Disease Control and Prevention has updated quarantine guidelines for COVID-19 vaccinated individuals. Vaccinated persons with an exposure to someone suspected or confirmed positive for COVID-19 are not required to quarantine as long as they meet the following criteria:
They have received the full series of COVID-19 vaccines (2 dose series, or 1 dose for single-dose vaccine) and it has been at least two weeks from completion.
They are within 3 months following receipt of the last dose in the series. ­­
They have not developed any symptoms consistent with COVID-19 infection since exposed.
At this time, vaccinated persons should continue to follow current guidance to protect themselves and others, including wearing a mask, staying at least 6 feet away from others, avoiding crowds, avoiding poorly ventilated spaces, covering coughs and sneezes, washing hands often, and attending COVID-19 testing regularly. For more information regarding current COVID-19 vaccines, visit the CDC website.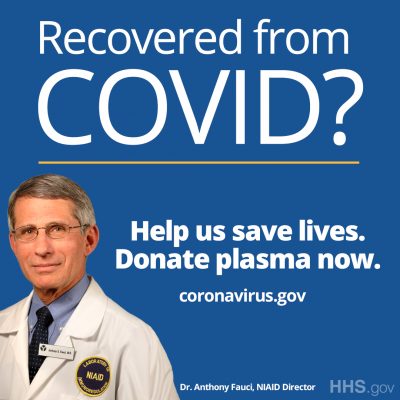 Plasma Donations Help Fight COVID-19
Hospital patients across the country are desperately battling against COVID-19. You can take action to help defeat this virus and save lives. Let's take the fight to COVID-19! 
Here's how it works: Your body made antibodies to help it fight the virus. Those antibodies are found in your blood plasma. That plasma – called convalescent plasma – can be transfused into patients struggling against the virus or used to develop another potential treatment. It's a special power that makes you unique, so we can't do this without you.    
Stetson University is connecting fully recovered COVID-19 patients like you with opportunities to donate plasma. It's easy! Visit the campaign website to learn if you're eligible and find the donation center nearest you. You've got a lot of fight in you. Let's help others fight COVID-19, too!
FREE COVID-19 Saliva Testing
Weekly SalivaDirect PCR-based COVID-19 testing is offered on campus and is free for students, faculty and staff with a Stetson ID. No insurance is required. Testing will be provided every Wednesday, 8:30 a.m.-3:30 p.m., in the Rinker Field House, Hollis Center. Registration closes at noon on the Tuesday prior to testing dates. Walk-ins will not be permitted.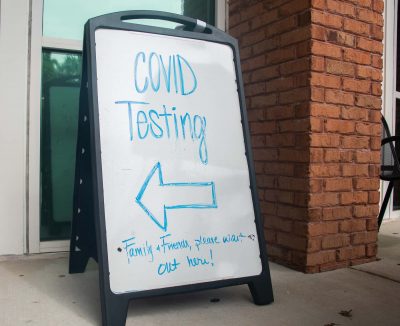 Upcoming COVID-19 testing dates and registration links:
Wednesday, March 3 – Register (registration deadline March 2 at 12 p.m.)
Wednesday, March 10 – Register (registration deadline March 9 at 12 p.m.)
With the exception of water, do not eat or drink for 30 minutes prior to your appointment. For more testing information and appointment dates through May 5, please visit the COVID-19 Testing page.
Latest COVID-19 On-Campus Asymptomatic Test Results
Feb. 19 – 13 PCR tests of student-athletes and Athletics staff, 0 positive, 0% rate
Feb. 18 – 70 PCR tests of student-athletes and Athletics staff, 0 positive, 0% rate
Feb. 17 – 162 PCR and rapid antigen tests of student-athletes and Athletics staff, 0 positive, 0% rate
Feb. 17 – 481 PCR tests administered, 6 positive, 1.25%
A full list of Stetson University's test results is available on our  COVID-19 Tracking  page.