Reflecting on Self and Others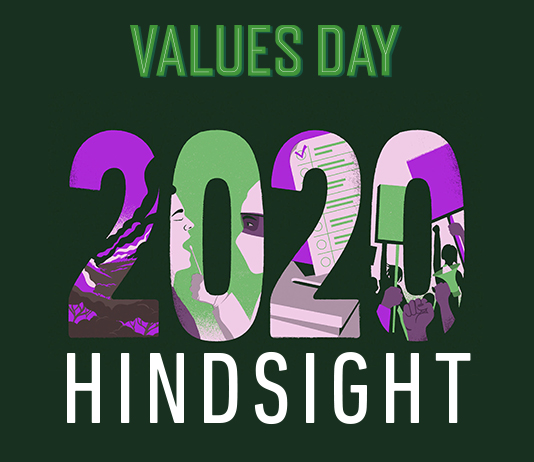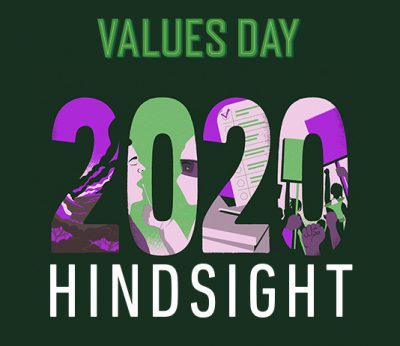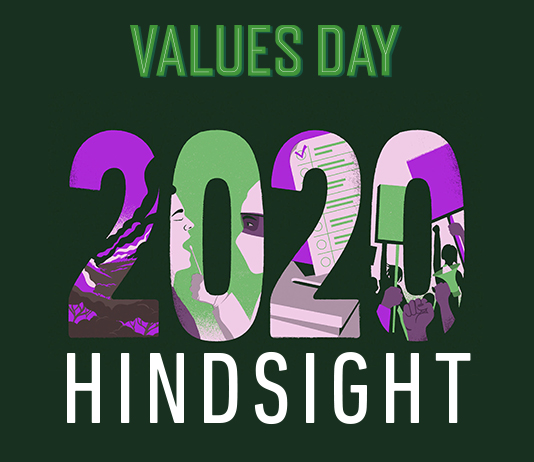 As a panelist on the Values Day webinar hosted by President Christopher F. Roellke, PhD, Daisy Grimes took this year's theme of "Hindsight 2020" back more than a half-century.
"When I came to Bethune-Cookman College in 1966 as a student, you dared not, as a Black student, go to DeLand, and you dared not walk on Stetson's campus," said Grimes on Thursday, Feb. 11. "We were told you may get killed, lynched … ."
Then Grimes added, "I'm pleased to see Stetson doing this now."
Grimes was referring not only to Values Day and the President's webinar — with its focus on racial injustices and healing — but also to her current work as a member of the Volusia Remembers Coalition. The local group seeks to memorialize lynching victims and cultivate racial healing and reconciliation.
Grimes was joined on the webinar panel by two fellow members of the Volusia Remembers Coalition: Andy Eisen, PhD, visiting assistant professor of history; and Rina Tovar Arroyo, assistant vice president for Development and Alumni Engagement. The panel also included Sharmaine Jackson, PhD, JD, assistant professor of sociology and director of Africana studies.
Values Day, an annual tradition at Stetson with roots dating back to the early 1990s, is usually held in September, but the event was postponed in fall 2020 due to pandemic concerns. Rescheduled, the day featured 22 workshops and activities, with all but two of the events held virtually. A total of 1,027 people registered for the day's events.
"Values Day is a single day dedicated to the university's commitment to its core values: personal growth, intellectual development and global citizenship," explained Roellke at the beginning of his webinar, which drew more than 200 attendees and was the 19thwebinar he has hosted this academic year. "Values Day is also part of the continuing dialogue among students, faculty and staff, as well as members of our community, so that we can share, learn and appreciate the university's core values."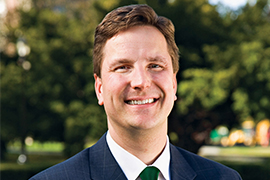 Workshops, which were moderated by faculty, staff and students, included such topics as "Optimistic Observations from 2020 and the Moment of Singularity"; "But You Always Said Accessibility Was Impossible: Disability Justice and COVID-19"; "Academic Dishonesty and How to Avoid It"; "Connecting Through Kindness"; "Flawless? Problems in Presenting Perfect Pedagogy"; "Storytelling as Art and Artifact: A Jewish Perspective"; "Get Out: The Volusia Sandhill Ecosystem"; and "Student Input Needed: How can we strengthen Stetson's relationship with the DeLand community and ensure DeLand is inclusive and welcome to all?"
Theatre Arts students created "The Past is Prologue: Confronting the Classics on Race, Gender and Identity," a performance of classic and original monologues designed to "force us to confront the long legacy of racism, sexism and overall practice of 'othering' that has operated with impunity in the performing arts for centuries," according to its official description.
Similarly artful, there was Uncouth Hour, an especially popular regular event on campus — a virtual open-mic night held on Thursdays. Students were invited to read poetry and prose, perform music, and display other artistic talent.
Conversations About Race
Many of the workshops sought not only to reflect on issues involving the pandemic, social upheavals and racial injustices of the past year, as well as the university's relationships with DeLand and Central Florida, but also to generate ideas and propose actions to better serve all in the future.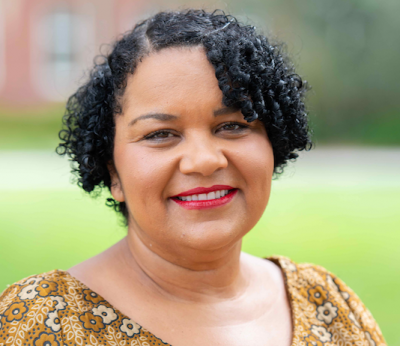 During the President's webinar, Jackson said she is "a big proponent of story" to address race in the 21st century. To that end, she created "Race in the 21st Century," her own webinar series (available on YouTube), which has featured discussions by Stetson students and faculty, and members of the DeLand community — in "my attempt to think about how to have a conversation about race that isn't oppositional and that can break through to people that race organizes every single aspect of our lives," Jackson noted.
Also, the President's webinar included questions submitted online. Among them: "How do we have the hard conversations in a way that is respectful, and that allows people to make mistakes?"
"First of all, expect that you're going to make a mistake," Jackson answered. "If we had the answers, we wouldn't be having a conversation. Accept that we have different ways of communicating, and everyone communicating on the same page is going to take some time. Who's at the table? Sometimes we stack the table; we set the agenda a certain way to contain and control conversations. That is because it's safe. Get uncomfortable — that means being able to be vulnerable. The importance of apology. Forgiveness, compassion, letting things go to break cycles; that is oftentimes the hardest one. It's hard for me, it's hard for others."
Eisen, co-director of the Community Education Project, Stetson's higher education in prison program, related how historical research conducted by incarcerated students at Tomoka Correctional Institution led to the recovery of the names of 200 people enslaved at Spring Garden Plantation. That site is now DeLeon Springs State Park. That research led to the exhibition "Slavery and the Struggle for Freedom in East Florida" on display through March 31 at the Enterprise Heritage Center & Museum.
Roellke cited the Community Education Project's efforts, as well as the university's collaboration with the nearby Greater Union Life Center to restore DeLand's century-old J.W. Wright Building, which was once the cornerstone of a bustling African-American business and entertainment district.
"I have to say I am truly energized by the conversation today because I think there's tremendous power in our own community in place-based education," Roellke commented. "There is tremendous power in that real side-by-side work with people who don't necessarily look alike, but who can do it together to promote not only a rich education but extraordinary collaboration. Maybe I'm getting too evangelical, but it is precisely through this form of education that Stetson has great potential to make a contribution both inward-looking and outward-looking."
Roellke concluded the webinar with this: "It is clear that, based on the chat, based on the content, based on the emotion that we brought to the table here today," that issues of racial justice and racial healing are "an ongoing conversation that we must have."
COVID-19 and Homelessness
Rajni Shankar-Brown, PhD, associate professor and Jessie Ball duPont Endowed Chair of Social Justice Education, led a workshop called "A Call to Action for Human Rights: Examining the Impact of the COVID-19 Pandemic on Children and Youth Experiencing Homelessness."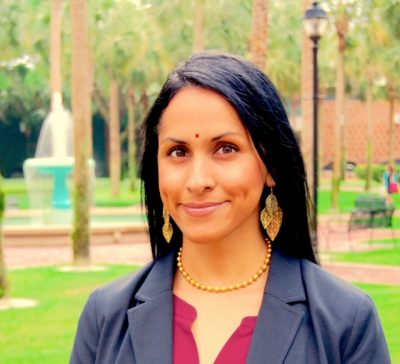 Shankar-Brown, who also is on the Executive Board of the National Coalition for the Homeless, said there are various methods of calculating the number of homeless people in the Unites States, but there is "no one perfect system." Data from two years ago placed that number at 3.5 million, which "could possibly be growing as much as 45%" because of COVID-19. Also, an estimated 40 million people are at risk of eviction. Of recent evictions, more than 80% were women, many single moms, while 78% were Black, and more than half of those households included children, she pointed out.
Throughout the workshop, Shankar-Brown read posts submitted by 137 participants via a virtual chat room, which included such comments as "shocked," "sad," "angry," "devastated" and "I realize it could have been me."
"What are action steps all of us can take?" Shankar-Brown asked. "One is debunking the myths and misconceptions. This is huge. I think having these conversations like we are having on Values Day is imperative."
One misconception is that all homeless people don't have jobs, when data shows up to 40% do, she added.
And she encouraged involvement, such as helping others through the Stetson Student Homeless Coalition and Hatter Pantry, which provides food and personal hygiene items to students in need. Shankar-Brown emphasized the importance of macro efforts, including equity-centered public policy along with ongoing micro and community-engaged efforts. She encouraged participants to love more, and engage in collective and mindful action. 
"We must never forget that we still have agency," she concluded. "We still have ways we can be part of the change that is needed in our world."
Interfaith Healing
The workshop "Big Words: TIME" was moderated by Lindsey Carelli, associate director of interfaith initiatives; Sam Friedman, director of Stetson's Jeffrey and Diane Ginsburg Hillel House; and the two university chaplains: Sensei Morris Sekiyo Sullivan and Pastor Demetris Pressley. Also, breakout groups were moderated by four Interfaith Values Fellows: Ihsaan Fanusie, Tahiyya Khan, Leah Marisi and Brianna Vash. As Interfaith Values Fellows, those students work with the Office of Religious and Spiritual Life to promote interfaith learning and cooperation.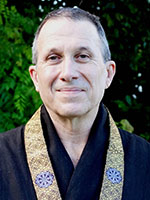 Sullivan, a Buddhist, opened the workshop with a participatory "centering exercise" that used relaxed breathing and awareness of one's present surroundings to reduce the stress caused by "rumination about things in the past or worries about the future," he said. He then related a Zen parable about a mongoose finding joy in discovering a wild strawberry even as it is caught between two tigers, which represent the past and the future, Sullivan revealed at the end of the tale.
Friedman related wisdom from the Talmud, an ancient text of Rabbinic Judaism and a source of Jewish religious law and theology.
"The Talmud teaches us that the best time to plant a tree was 20 years ago, which is not exactly helpful today," Friedman said. "But the second-best time to plant a tree is today. So, if you have something that you care about, I would encourage you to focus on what you want to accomplish, figure out what your goal is, what the end looks like, and find the people who can help you get there."
Pressley quoted from Ecclesiastes in The Bible: "For everything there is a season, and a time to every activity under the heaven: A time to be born, a time to die. A time to plant, and a time to harvest. A time to kill, and a time to heal. A time to tear down, and a time to build up. A time to cry, and a time to laugh. A time to grieve, and a time to dance. A time to scatter stones, and a time to gather those stones together. A time to embrace — and as of now we've had a time to turn away with social distancing," he improvised with a laugh.
"During this time we have not only a pandemic and quarantining, but we are also in a time where our differences have been magnified to the point where we are actually separated," Pressley continued. "We are living in a time where the political polarizing moments have challenged us in ways that we never thought would come up again."
Such was the ongoing dialogue throughout the wide assortment of formats and forums during Values Day. Some of dialogue made participants laugh or cry. Most of it, in retrospect, made people think.
–Rick de Yampert
Editor's note: This article will be updated during the week of Feb. 15 with videos of various Values Day events.