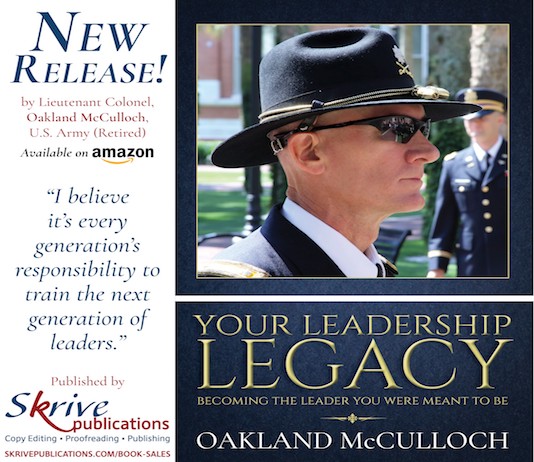 Retired Lt. Col. Oakland McCulloch, who has been at Stetson since 2011 and has built his own legacy of ROTC success, now is an author. His book, "Your Leadership Legacy: Becoming the Leader You Were Meant to Be" was published in February.
"Today's leaders have a responsibility to inspire the leaders of tomorrow," said McCulloch, who is the recruiting operations officer for the Eagle Battalion ROTC program, which includes Stetson and three other universities.
Prior to that role, McCulloch had a decorated 23-year career in the U.S. Army and held various civilian jobs — all with an accent on servant leadership.
In his book, published by Skrive Publications, McCulloch shares common-sense principles that every current and aspiring leader can use. Experiences from his childhood and adult careers frame the leadership legacy he has personally passed down to many others. As McCulloch likes to say, "Great leadership handed down from generation to generation is what develops great nations."
In May 2019, McCulloch was named national Recruiter of the Year by the U.S. Army Cadet Command. He was selected from among 273 Army ROTC programs at major universities throughout the United States. The Eagle Battalion is one of the nation's largest ROTC units.
"Your Leadership Legacy: Becoming the Leader You Were Meant to Be," available on Amazon, comes in hardback, paperback and e-book.
-Michael Candelaria