Dean of Students Schoenberg receives state award for "extraordinary leadership during COVID-19"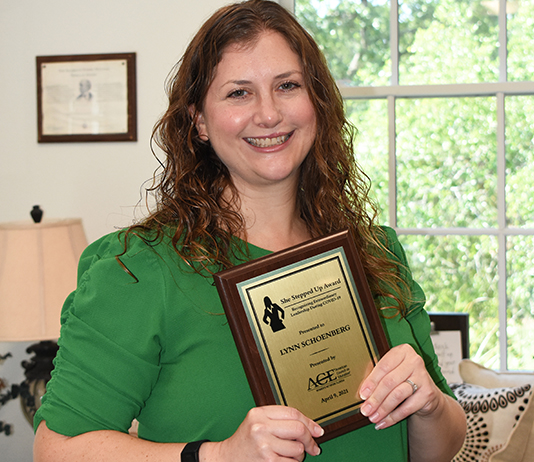 Lynn Schoenberg, dean of Students and co-chair of Stetson's Safer Campus Task Force, has been selected for a state award "recognizing extraordinary leadership during COVID-19."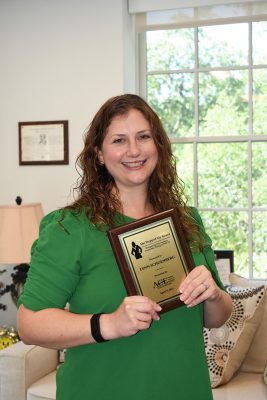 Schoenberg and task force Co-chair Theresa J. Pulley Radwan, professor of law, both received the "She Stepped Up Award: Recognizing Extraordinary Leadership During COVID-19," from the American Council on Education Women's Network of Florida. They were among six women in higher education in Florida honored with the award at the organization's annual conference in April.
As co-chairs, the two women have overseen Stetson's health and safety procedures during the pandemic, leading a task force of staff, faculty and students from the DeLand campus and College of Law.
Schoenberg said she was shocked to learn that she had been selected for the honor. The notification arrived by email "on a tough day, so it really helped me to keep my eye on the big picture," she recalled.
"I sincerely appreciate that folks took time to acknowledge myself and Terri in this way, especially as women leaders in these challenging times," said Schoenberg, who attended the conference to receive the award. "Terri is absolutely amazing and it has been a true gift to partner with her in this work.
"We were not just co-chairs focused on COVID, but also moms and spouses and humans trying to live through a pandemic like everyone else. Terri's mom wisdom helped me tremendously. I also want to say that the efforts of this past year have spanned our entire community and if it was not for everyone's individual contributions, we could not have made this work," she added.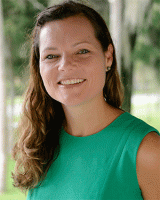 Lua Hancock, vice president of Campus Life and Student Success, serves on the executive board for the ACE Women's Network of Florida. As soon as the organization put out a call for nominations for the She Stepped Up Award, she immediately thought of the two co-chairs.
"Their humble and professional leadership of the Safer Campus Task Force has been of tremendous service to the community," Hancock said. "The whole SCTF has worked tirelessly, on top of their regular job duties, to stay on top of health guidance, watch health trends in our community, and consult and decide upon mitigation measures and processes to keep our community safe while also protecting the learning environment that is core to Stetson."

ACE Women's Network of Florida created the She Stepped Up Award this year to recognize women who played a pivotal role in leading their respective institutions during the challenges of the past 14 months. The executive board reviewed nominees and selected the winners whose leadership made a difference in the lives of students and/or employees on their campuses, said Lisa Jones, state chair for the organization.
Schoenberg took on the co-chair role in addition to serving as dean of Students and overseeing the areas of student counseling, health service, wellness and recreation, community standards and campus dining, as well as leading the on-call team for DeLand students and the HattersCare team.
"She loves this community, as can be seen in her stellar leadership," Hancock said.
The ACE Women's Network is a national system of networks within each state, Puerto Rico and the District of Columbia that aims to advance and support women in higher education.