Shellie Robinson Named Head Softball Coach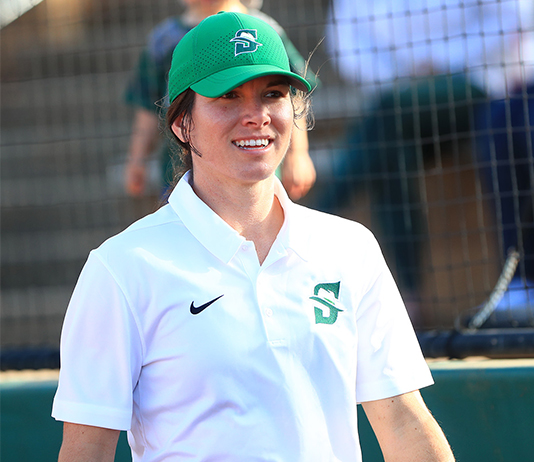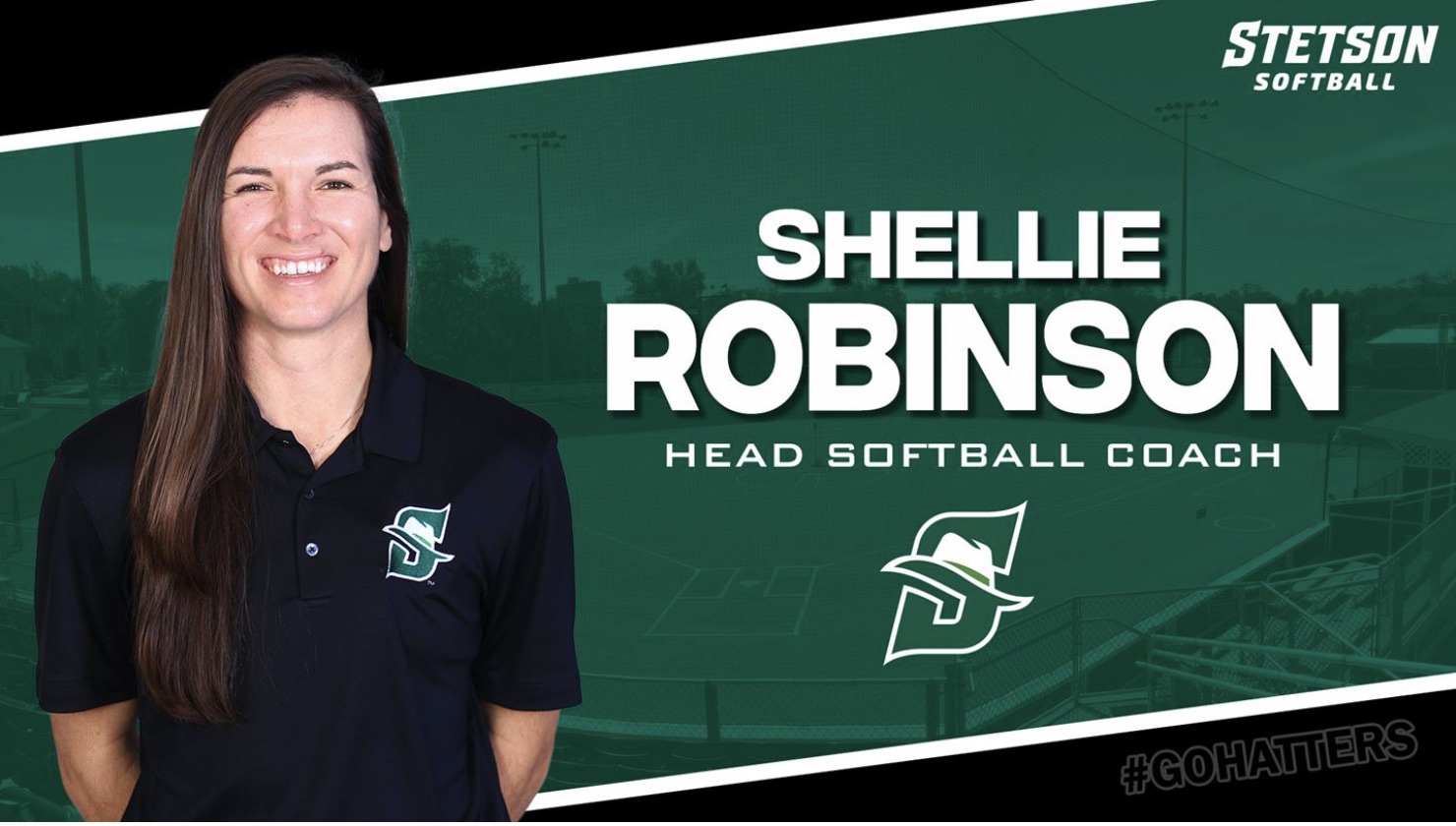 If, as the expression goes, "Home is where the heart is," then Patricia Wilson Field is the perfect place for Shellie Robinson to be.
Robinson, a DeLand native, was named the seventh head coach in Stetson University softball history on Monday, July 26. The former NCAA All-American and National Pro Fastpitch star served the past two seasons as an assistant coach to Frank Griffin, who retired in May following a 25-year career with the Hatters.
Now one of the youngest head coaches in Division I, Robinson, 28, is ready to pour her passion and energy into leading her hometown team.
"The opportunity to lead the Stetson Softball program is truly a dream come true," Robinson said.  "DeLand is home for me, and the past two years have really shown that there is nowhere else I would rather be. The passion that I have for this team, this university and this community is unmatched. I am ready to get to work and hit the ground running."
Stetson Associate Athletic Director Mike McKercher led the search to fill Stetson's highly-coveted softball position.
"After an extensive national search, everything pointed to Shellie Robinson as the right person to be our next head softball coach," McKercher said. "One thing she made clear from the beginning of the process is her passion and dedication to the Stetson softball program, its student-athletes and the DeLand community. The vision she has for the program and for the student-athlete experience was evident throughout the interview process, as was her eagerness to make the program successful on and off the field. I can't wait for Shellie to get started, and I look forward to watching her teams consistently compete for ASUN championships."
Robinson takes over a program steeped in tradition.  Stetson's Fastpitch dates back to 1985, when the Hatters played games at DeLand's Johnson Park. The team moved to the Sperling Sports Complex in 1988 and eventually onto campus after Patricia Wilson Field was constructed in 2003.
Overall, the Hatters have won over 1000 games in 37 seasons on the diamond.  Stetson has captured five ASUN Tournament Championships and advanced to two NCAA Regionals. The team's most recent conference championship came in 2014. Patricia Wilson Field is a seven-time National Field of the Year award winner.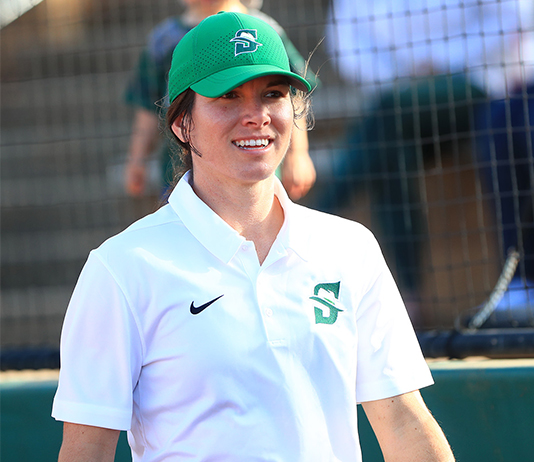 "I would like to thank Mike McKercher and the entire search committee for giving me this opportunity," Robinson said. "There was a pool of highly successful and decorated candidates, so it is a true honor to be selected. I would also like to thank my family and friends who have supported me through this process and encouraged me day in and day out. Without their love and support I would not be where I am today. Finally, I want to thank Coach Griffin for giving me the opportunity to come to Stetson two years ago. It was an honor to coach under him, learn from him and get to know him more as a person. I am forever grateful to Frank."
Robinson's work ethic and determination as a player brought her success at every level. At DeLand High School, Robinson earned numerous honors, including FHSAA 6A Offensive Player of the Year, Orlando Sentinel Central Florida Player of the Year, BrightHouse Networks Player of the Year, Daytona Beach News-Journal Athlete of the Year and Volusia County Player of the Year.
In college, Robinson produced what would eventually become a Hall of Fame career at USC Upstate. During her four seasons with the Spartans, Robinson batted .389, hitting a school record 70 home runs and collecting 198 RBI. The catcher/outfielder was a two-time ASUN Player of the Year, an ASUN Freshman of the Year, and a third team NFCA All-American. She helped USC Upstate reach the NCAA Tournament in 2013, 2014, and 2015.
After graduating from Upstate in 2015, Robinson was drafted 23rd overall by the Akron Racers in the National Pro Fastpitch draft. She played three seasons for Akron, earning all-NPF honors in 2017. She ranked among the league leaders in runs, hits, home runs, RBI, batting average, slugging percentage, on-base percentage and stolen bases that season while helping Akron reach the NPF Championship series.
In 2018, Robinson hit seven home runs with the Cleveland Comets, bringing her NPF career total to 24.
In addition to playing professionally, Robinson served as an assistant coach for North Greenville University from 2015-18. She helped guide the Crusaders to their first conference championship in school history in 2017. She also completed her MBA from North Greenville that same year.
Robinson got her first taste of coaching at the Division I level in 2018 when she served as an assistant coach at Furman University. She then returned to DeLand and joined the Hatters in 2019, spending the past two seasons learning from Griffin.
"Stetson Softball has been successful in the past under Frank's leadership, and without him we would not have the immaculate facilities that we do now," Robinson said. "I look forward to building upon that foundation and creating a culture of athletes who not only win on the field, but off the field as well.  I want them to be successful academically and to be good, hard-working people. The future of Stetson Softball is bright."
Robinson will now look to assemble her coaching staff.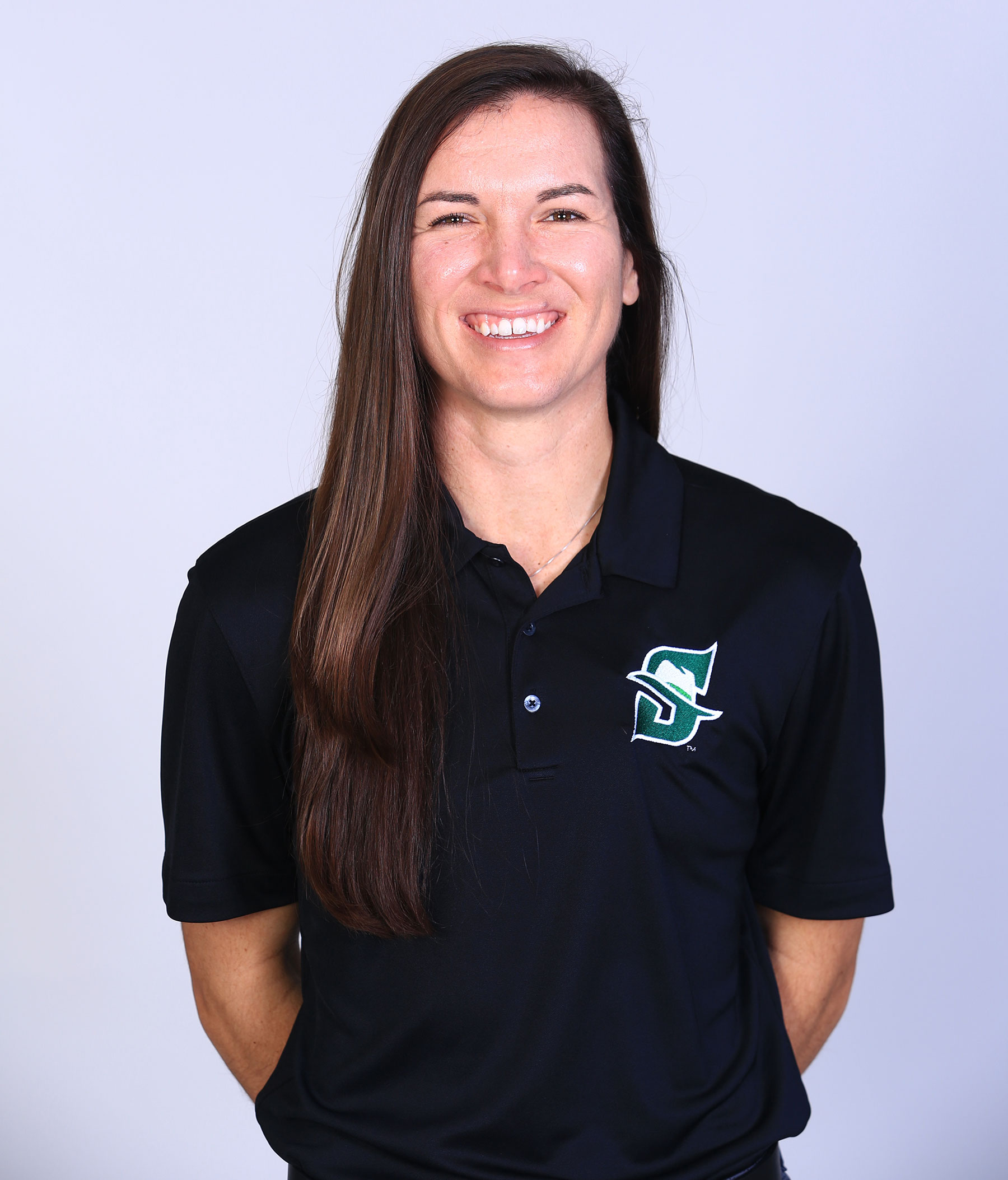 Personal
Born: 1993 in DeLand
Education
B.S., Exercise and Sport Science, USC Upstate (2015)
MBA, North Greenville (2017)
Coaching Timeline
2015-17 – Assistant Coach, North Greenville
2018-19 – Assistant Coach, Furman
2019-21 – Assistant Coach, Stetson
2021- Head Coach, Stetson
WHAT THEY ARE SAYING
Frank Griffin, Stetson Head Coach 1997-2021:
"I am so thrilled for Shellie and for the team.  I think she will do a great job, and the team will respond to her well.  She is young and full of energy, and she's really a go-getter.  The program is in great hands."
Chris Hawkins, USC Upstate Head Coach:
"I am thrilled to see Shellie become the head coach at Stetson.  She definitely knows how to win in the ASUN.  Upstate won either the ASUN regular season or tournament every year she was here.  She is a winner and will work extremely hard to compete for championships in the ASUN.  I am a proud coach!"
Sarah Hall, North Greenville University Head Coach:
"I am so excited for Shellie and her team. She has worked so hard and deserves this opportunity. She is not only a great coach and teacher of the game but an even better person.  Stetson got a good one!"
Brian Levin, Southern Miss Head Coach:
"I had the pleasure of coaching Shellie in the NPF, and I can tell you she is a consummate professional. She has an incredible work ethic. Shellie knows the game, and I know she has been a tremendous role model and mentor for the young women in the Hatters softball program as an assistant coach. You will not find a person of greater character than Shellie Robinson. Great job on the decision to promote her to Head Coach!"