Assistant Professor Lou Paris Wins Entrepreneurship Advisor Award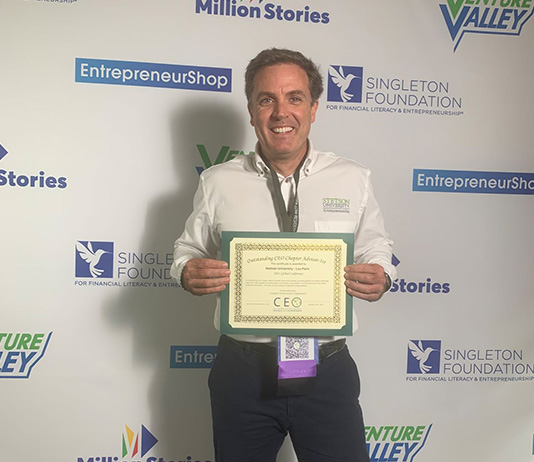 Lou Paris, MBA, director of the Prince Entrepreneurship Leaders Program, has received the Outstanding Collegiate Entrepreneurs Organization Chapter Advisor of the Year Award. Paris was presented with the award during the 38th Annual Collegiate Entrepreneurs Organization (CEO) Global Conference and Pitch Competition, Oct. 28-30, in Tampa.
"I'm honored and humbled to receive this remarkable recognition that adds to Stetson University's prestige," said Paris, who is an assistant professor of management at the School of Business Administration.
This year, the Prince Entrepreneurship Leaders Program had seven students participate in CEO's pitch competition during the conference.
Stetson senior Chipper Stempkowski of Altamonte Springs was one of seven finalists. He pitched his YourCEtracker app during the in-person competition.
"I was ecstatic about being a finalist during the Collegiate Entrepreneurs Organization's pitch competition," said Stempkowski, who is majoring in management. "I did well during the event thanks to Professor Paris and Dr. Kevin Taylor's guidance. The achievement also shows how dedicated the Prince Entrepreneurship Leaders Program is at Stetson University. Our program is small, but has a huge heart."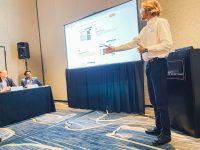 Stempkowski is an Eagle Scout and the Boy Scouts of America (BSA) Central Florida Council's program specialist. He created the BSA's online merit-badge system, which provides scouts with a way to enter their accomplished tasks for rank advancement during the COVID-19 pandemic.
His BSA project sparked the YourCEtracker, which sends subscribers notifications and reminders before an organization's accreditation or employee's professional certification lapses for $2 a month. The app also has a dashboard that features certification statuses and can track continuing education credits.
Stetson's Prince Entrepreneurship Leaders Program coached and prepared Stempkowski for the pitch competition by providing him with advice, memorization techniques and tips for creating his business pitch.
"Chipper did an amazing job of describing his business and providing the judges with responses to their questions during the pitch competition," said Paris. "CEO is the largest and most prestigious collegiate organization in the entrepreneurship field. Becoming a finalist takes an enormous amount of effort."
Besides Stempkowski, the other six Stetson students were:
Business pitch: TableYes, a digital platform for streamlining restaurant wait lists
Student: Finn Anthony
Class ranking: Junior
Major: Marketing
Business pitch: Herbtastic, a double-sided, red rake that rakes and removes the leaves off the herb stem, and can be used on any herb
Student: Kendall Buck
Class ranking: Junior
Majors: Entrepreneurship and Management
Business pitch: Frisbowl, a flying disc that connects to a pet's bowl
Student: Chris Chappell
Class ranking: Sophomore
Major: Entrepreneurship
Business pitch: A no-name platform that allows used car buyers to complete paperwork online
Student: Sebastian Garcia
Class ranking: Senior
Major: Business administration
Business pitch: A no-name collapsible ice tray
Student: Anh Nguyen
Class ranking: Senior
Major: International business
Business pitch: LuxComporum, an online marketplace for classical music on the radio and in videos and video games
Student: Alexander Ortiz
Class ranking: Sophomore
Major: Music composition
The Joseph C. Prince Entrepreneurship Program launched its Leaders Program four years ago. Entrepreneurship students participate in a selection process before they can join the elite group, which is limited to 10 to 15 dedicated team members. Criteria includes having a business idea, developing and taking the company concept as far as possible, and accepting and processing feedback from entrepreneurship faculty and experts.
The Leaders Program provides students with valuable, entrepreneurial experience through participation in six business-pitch competitions during the academic year. Competitions normally favor business products that have intellectual property, a utility or design patent, and profit potentials.
The Collegiate Entrepreneurs Organization Global Conference and Pitch Competition also included an exhibit hall, keynote presentations, mentoring sessions, networking and workshops.
Besides Stetson, the final pitch competition included students from the University of Tampa, University of Southern California, University of Iowa and other higher-education institutions who presented business pitches and participated in a question-and-answer session with a panel of judges.
– Sandra Carr