AIR Guatemala: Seeds for Life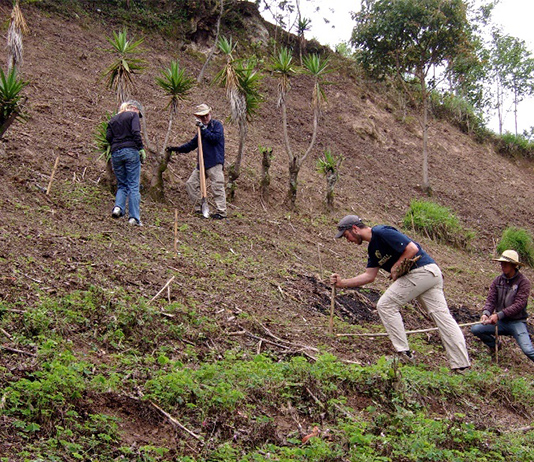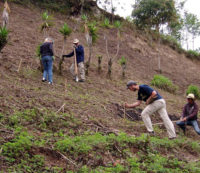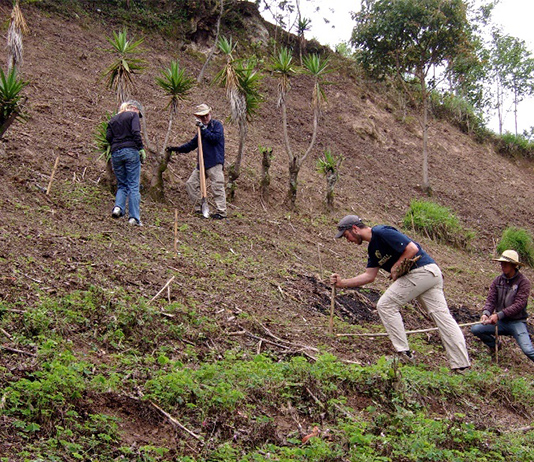 Editor's note: This article appears in the Spring 2022 issue of Stetson University Magazine, now available online and heading to mailboxes.
In 1991, Anne Hallum, PhD, was teaching political science at Stetson when the university announced it needed a professor to take a few students on a trip to Guatemala.
Experiencing some upheaval in her life at the time, she "recklessly" volunteered. Hallum did not own a passport, and she did not speak Spanish. Also, she knew little about Guatemala.
She learned quickly.
Two years later, Hallum established the Alliance for International Reforestation Inc., also known as AIR Guatemala, which today is recognized globally for its work in education and agroforestry, improving the livelihoods of smallholder farmers in the developing world and benefiting the environment.
And nearly 30 years after the organization's first roots sprouted, the nonprofit work continues to flourish under the nurturing eye of Hallum, who today is a Professor Emeritus at Stetson.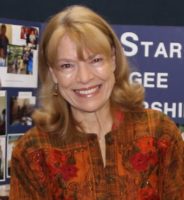 Hallum remembers that fateful first flight.
"Before we even landed, I looked out the airplane window and asked where the trees were," she recalls. "I immediately noticed the deforestation … the mudslides and barren mountains. The environmental devastation was shocking, but when we traveled to the villages and met the locals, I was inspired by their strength. I felt called to return to Guatemala, but only if I were doing something positive."
Nueva Concepción, a Guatemalan town adversely affected by soil erosion and food shortages, left a particularly dramatic impression.
"[In the town] I held this little girl, and she was so weak she couldn't hold her head up," Hallum describes. "I asked the mother how old she was, and she said she was 3, and I had a 3-year-old child at the time who was active and vibrant. I was haunted by the difference."
Not long after Hallum returned home, a student suggested they form an organization that would help counter the devastation they had seen. With expertise in environmental politics, Hallum knew all too well that climate change and deforestation were critically important issues to be addressed. So, she didn't need much prodding.
Student and professor went to a restaurant in downtown DeLand and came up with the idea for AIR.
"Meeting the wonderful people of Guatemala changed my life," Hallum continues, "and I was determined to return. I knew if we could train local farmers in sustainable agriculture and establish tree nurseries, it would improve both human and environmental health for the long term."
During her sabbatical, Hallum returned to Guatemala and began managing AIR's early growth in Guatemala and Nicaragua by hiring professional local staff in those countries while fundraising in the United States. She was able to com­bine the service work in rural regions of those countries with her own academic research and find ways for Stetson students to earn academic credits in independent studies, such as immersion Spanish, environmental activism, Latin American studies (Mayan culture), and religion and the environment.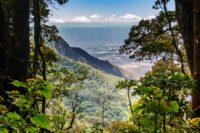 In 2000, Hallum's husband, Jan Wilgers, joined by Fred Hoffmann of DeLand and Stetson graduate Cecil Paul Jones, designed and built AIR's training center, funded by Presbyterian churches. The center has become a well-known headquarters in Guatemala for farmer training and rural development.
Over the years, the AIR organization has developed a multidimensional approach of farmer training, reforestation, school programs and tree nursery businesses. Self-sustaining projects led by residents ensure continuous growth within each community being served.
The results: more nutritious food crops, improved soil, cleaner water sources and greater environmental conservation.
Since 1993, AIR Guatemala has trained approximately 5,000 rural families in their own communities; planted 7.2 million native trees; constructed 880 fuel-efficient stoves; and incorporated education programs, scholarships, tree nurseries and gardens in 38 rural schools.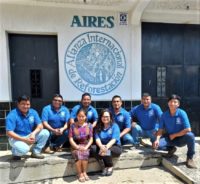 "We do it the right way, which is slowly," explains Hallum, who now lives in Atlanta, working (nonsalaried) as president of the organization. "The trees last because we do five years of farmer training and don't leave the village until the farmers understand the value of the living trees. The mountains are still reforested, the soil is better, and the farmers are not using dangerous chemicals on their crops. Slower is longer-lasting. It takes time for the planet to heal, and I'm grateful we've been doing it in a sustainable way."
In 2013, AIR Guatemala received the Momentum for Change Award from the United Nations Conference on Climate Change in Warsaw, Poland. In 2017, it received further acclaim from the United Nations as one of the winners of the Equator Prize — one of only 15 organizations chosen as the most effective development organizations in the world.
For Hallum, who left her professorship for volunteer work with AIR Guatemala in 2012, the recognition is gratifying but not the goal.
"Right now, I'm in my office looking at the awards we've won for doing this work," she notes, "and it means everything to me because we're doing good work, and the work is resulting in positive change — and making positive change is what it's all about."
In other words, while awards are nice, changing lives is everything.
CREATING TRANSFORMATIONAL STUDENT EXPERIENCES
Clearly, Hallum hasn't succeeded alone, and she'll be the first to say it. She points to strong partners, highlighted by David and Leighan Rinker, longtime ardent Stetson benefactors who have helped to support AIR Guatemala since 2000.
The partnership actually began in 1999 when David offered to support student trips with Hallum through the Marshall E. Rinker Sr. Foundation. David learned of Hallum's early experi­ences working in Guatemala, and he simply wanted students to benefit from learning through study abroad and cultural exchange.
The travel expenses for each of the students have been covered by a Marshall E. Rinker Sr. grant. Annual grants total approximately $9,000 each summer for hotels, food, ground transporta­tion, small stipends and continual supervision by AIR Guatemala staff members for a period of three to eight weeks.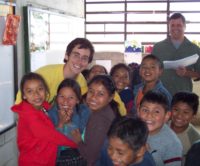 Thirty-eight selected students — based on grades, a reflective essay and an interview — have now participated in these immersive experiences in Guatemala and Nicaragua, thanks to the Rinker grants.
The pandemic, of course, halted travel in the past two years. Hallum is now planning to host larger groups of Stetson students, but for shorter stays with AIR Guatemala, in the form of "alternative spring breaks."
In the past, students have built stoves with Mayan families and the AIR staff; they have actively engaged at rural schools; and they've planted fast-growing trees on deforested slopes.
Meanwhile, the students grow, too.
"When the trips were eight weeks long, a pattern developed," Hallum says. "At the beginning of the trip, students were excited, but they would get homesick, push through for a few days and suddenly become totally immersed in the experience. Something clicked, and it was amazing to watch. They realized they weren't tourists and instead were part of something bigger than themselves.
"It's challenging, but incredibly rewarding."
And those experiences make a difference.
Matt Morton '06 was an impressionable 19-year-old when he spent six weeks with AIR in Guatemala. He later received a full scholarship to Oxford in England, spent more than four years with the World Bank, has been an international advocate for troubled youth and is now a research fellow at the University of Chicago.
Caity Peterson '11 participated as a first-year student and learned the "sheer joy of an exhaust­ing day of service, especially outdoors." She then worked in Colombia for Conservation International, received a doctorate in ecology at the University of California-Davis and now is an associate director and research fellow at the Public Policy Institute of California.
There are numerous other examples of personal and professional transformation.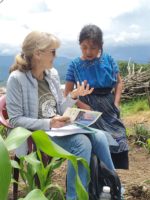 In addition, the organization is having a sort of second-generation impact. In 2017, Adam Darragh '08, then a campus minister at Louisiana State University and a filmmaker, brought students to volunteer with AIR Guatemala because of its impact on his life.
"When I look back on this journey, I feel joy and gratitude to have been able to do it," Hallum says. "Some of these forests are back to being full. When you feel called to something and you do the work, and then you see the results, it's an incredible feeling."
A recent trip to Guatemala, while driving with her staff, even left Hallum unsure.
"I didn't recognize where we were," she explains. "And they told me that when I was there last it was barren mountains. I didn't even recognize it. There were trees AIR had planted all over the place, and it was lush. That was one of the best days of my life."
The mission isn't complete.
"I always feel like there's much more to do," Hallum says. "I look at Brazil and see how we're destroying the lungs of the world, and I get discouraged. But I look at the photographs of what we HAVE done, and it makes me realize I've done all I can do as one person."
Still looking ahead, a thankful Hallum has relished her past.
"Stetson not only allowed me to start this journey — with sabbaticals, traveling over the summer and changing my research focus — the university encouraged this journey," she concludes. "And I will always be grateful for that."
-Jack Roth