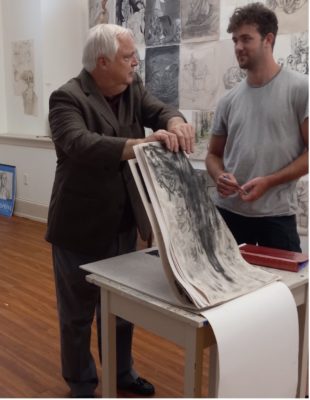 The benefit of a mentor? Simply, it's that one person who changes the course of our life.
All it takes is one act of kindness, one encounter, one hour of your time, one conversation with a student, and they are changed forever. How precious is this gift?
You be the judge.
Charles Gillespie, PhD, has generously supported Stetson for more than 20 years. From his gifts to the Gillespie Museum to his pencil drawings that adorn several walls around campus to his financial support, none compares to his recent gift of time to a senior Art student on campus.
With the help of our Development staff, Gillespie recently had lunch with that student, Mario Saponaro, at the Hat Rack café. Gillespie also toured the campus Art classrooms, reviewed Saponaro's portfolio, and posed questions regarding his technique, artistic vision and plans for his Senior project.
Both benefited from their time together.
The mentor came away from the encounter with admiration for the student's talent and enthusiasm, and graciously decided to support Saponaro's efforts this semester and his senior project in the spring.
Gillespie gifted and delivered a roll of Italian drawing paper, a large portfolio and a special pencil eraser to Saponaro to help him meet current challenges and unlock his potential to scale his drawings.
Coming together brings us forward together.
If you would like to champion a student this fall, please call Melissa Atwell at 386-822-7481 or email her at [email protected]