Stetson Athletics Selects Six to Hall of Fame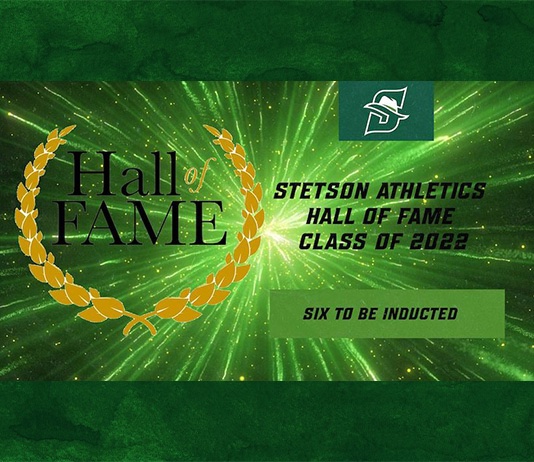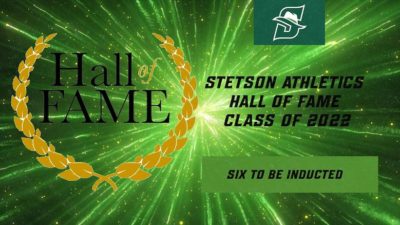 Stetson Athletics has announced the selection of six former Hatter student-athletes for induction into its Hall of Fame.
The Class of 2022 includes baseball player Robert Crews '11; women's tennis player Julie Johnson Lepre '94; softball player Amanda Lindsey '10; indoor and beach volleyball player Kaley Melville '14 '17; football player Donald Payne '16; and women's basketball player Jama Sharp '15.
 
The new members will be inducted on the evening of Oct. 29, during an official ceremony at the Wayne Sanborn Center in DeLand. Also, the honorees will be recognized during Stetson's Homecoming football game against Drake that afternoon.
Robert Crews, 2008-2012, Baseball
A Freshman All-American and two-time all-conference selection, Crews had a terrific career both in the field and at the plate. In 228 career games, he batted .316 with 42 doubles, 23 home runs, and 137 RBI. Crews scored 180 runs and collected 282 hits, totals that still rank seventh and eighth, respectively, in the Stetson record book.
Julie Johnson Lepre, 1991-1994, Women's Tennis
A two-time first team all-conference selection, Johnson locked down the No. 1 singles position for the Hatters in the early 1990s. During her Hatters career, Johnson won 57 singles matches, including a school-record 38 victories at that No. 1 position. Johnson is being inducted into the Athletics Hall of Fame posthumously.
Amanda Lindsey, 2007-2010, Softball
The all-time strikeouts leader in school history, Lindsey fanned a whopping 828 batters during her four-year career, surpassing the previous mark by more than 200 punchouts. The right-handed hurler compiled a career record of 70-46 with a miniscule 1.48 ERA. She earned two NFCA All-Region Honors. Her resume included three no-hitters and one perfect game.
Kaley Melville, 2011-2015, Volleyball, Beach Volleyball
A phenomenal athlete on the court and in the sand, Kaley Melville's highly decorated career included ASUN Pair of the Year, ASUN Pair of the Tournament and two ASUN First Team All-Conference honors. As a standout on the Stetson indoor volleyball team, Melville led in kills for four consecutive seasons.
Donald Payne, 2012-2016, Football
Payne, a three-time All-American, three-time Pioneer Football League Defensive Player of the Year\ and four-time First Team All-PFL selection, was a defensive superstar in his four seasons with the Hatters. Payne then signed as a free agent with the Baltimore Ravens, becoming the first Hatter to join the National Football League. He went on to play three seasons with the Jacksonville Jaguars, 2017 to 2019.
Jama Sharp, 2011-2015, Women's Basketball
A two-time ASUN First Team all-conference selection, Sharp helped lead the Hatters in an era of unprecedented success. She played in all 133 games of her career — missing none — and scored a total of 1,261 points. In addition to all-conference awards, Sharp earned selections to the ASUN All-Academic team, the ASUN all-tournament team, the ASUN Winners for Life team and, in 2020, the ASUN All-Decade team. 
For complete coverage of the new inductees, see the story on GoHatters.com here.