3 Selected for Pro Bono Honor Roll at Stetson Law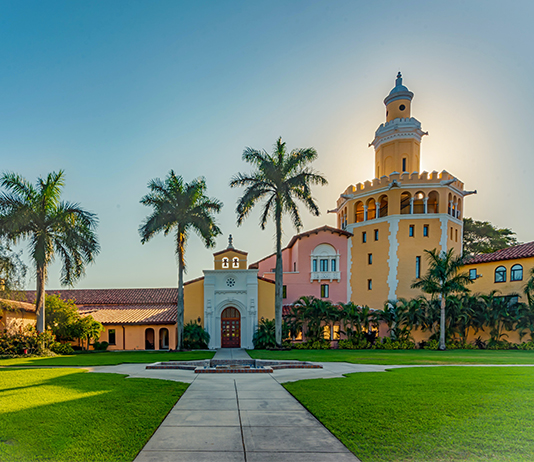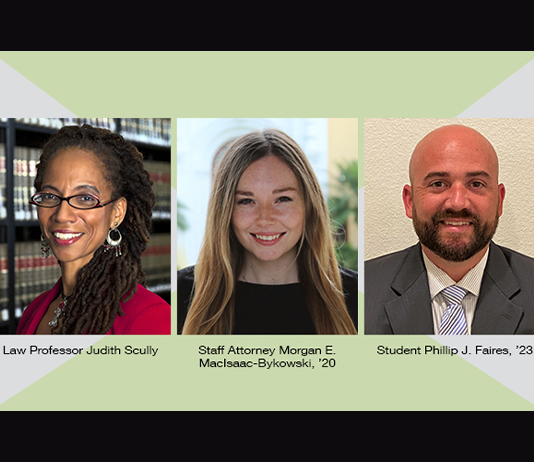 At Stetson Law, the spirit of service is a core part of the culture. Students, who are required to perform at least 60 hours of pro bono work in order to graduate, give generously of their time and energy, as do faculty and staff.
That's why it's no surprise that a Stetson Law student, staff member and faculty member have been named to the American Association of Law Schools' inaugural Pro Bono Honor Roll. The award aims to recognize "the pro bono work of individuals engaging in, expanding and/or supporting their law school community" through relevant volunteer work, according to the AALS website. The organization defines eligible pro bono work as legal in nature, not performed for pay or credit, serving underrepresented or underserved individuals or groups and for students, supervised by a licensed attorney.
Stetson Law's inaugural honorees are:
Law Professor Judith Scully
Stetson Law Veterans Law Institute Staff Attorney Morgan E. MacIsaac-Bykowski, '20
Student Phillip J. Faires, '23
A sense of duty
For those charged with identifying who should be recognized with this honor, members of the AALS Section on Pro Bono and Access to Justice look for individuals who use their legal knowledge, skills and talents to expand access to justice.
"As members of the legal profession, we have a lot of privilege and a lot of responsibility," said Angela F. Schultz, Assistant Dean for Public Service at Marquette Law School and 2022 Chair of the AALS Section on Pro Bono & Access to Justice. "We are tasked with ensuring justice is accessible to all members of our communities and not just those who can afford to hire private representation. A pro bono practice is one important part of closing the justice gap."
Schultz commended the students, staff and faculty listed on the AALS Pro Bono Honor Roll for committing themselves to the highest ideals of the legal profession by engaging in, expanding and/or supporting their law school communities through pro bono service.
"We admire you," she said.
Thousands of hours committed
Since earning her J.D. from Stetson Law in 2020, MacIsaac-Bykowski has spent countless hours in service to the Veterans Law Institute's clients, which are veterans and their families. She has directly assisted in over 70 cases and helped train and supervise nearly 60 students – who themselves have provided over 13,000 hours of pro bono legal work to clients. She regularly publishes articles pertaining to veteran law, serves on several committees that work to support veterans and assists in drafting amici curiae briefs as part of the National Law School Veterans Clinic Consortium. Three of these briefs were submitted to the Supreme Court of the United States, two to the United States Court of Appeals for the Federal Circuit and one to the United States Court of Appeals for Veterans Claims.
She said what inspires her to carry out this work for no compensation is the sacrifice of veterans in her own life who showed her the immense value of service.
"The women and men I advocate for now are some of the strongest, bravest and most steadfast people I have encountered," MacIsaac-Bykowski said. "I see them fighting for their well-deserved benefits for years without relief – but they never give up. They are my motivation. I have the opportunity and ability to advance their interests and feel honored to be trusted with this work."
Learn more about Stetson Law's pro bono program and the many ways students can fulfill their pro bono requirement.
– Media contact: Kate Bradshaw
[email protected] | 727-430-1580