New scholarship designed to support LGBTQIA community at Stetson Law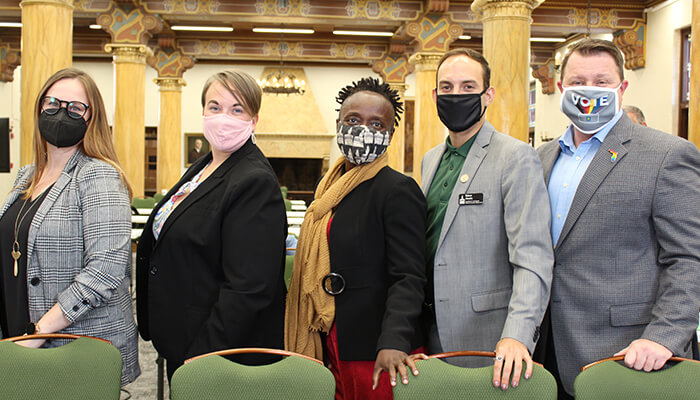 For Immediate Release
Contact: Stetson Law Communications
[email protected]
727-562-7398
GULFPORT, Fla. – Stetson Law's Lambda Legal Society has created a new endowed scholarship for dedicated members of Lambda who demonstrate a commitment to advocating for the LGBTQIA+ community in their studies, on campus, or in their work.
"We're excited to have this new opportunity for LGBTQ+ and allied students on our campus," said Edson Abadia, president of Lambda.
The organization hosted a special signing ceremony on Oct. 19, 2021, featuring the Lambda's executive board, Stetson Law Dean Michèle Alexandre, and alumnus Nathan Bruemmer, J.D.'17., who serves as the LGBTQ Consumer Advocate for the Florida Department of Agriculture and Consumer Services.
"This scholarship means a lot for the Stetson community because it is providing opportunities and recognition of students who support the LGBTQ community and who are doing really great advocacy work, which is such an important part Stetson's mission," said Jen Rex, a 3L and vice president of Lambda. "So, we're really glad to be able to support students who are doing great things."
The scholarship will benefit a rising second or third-year law students in the full-time or part-time J.D. program in good academic standing. To be considered, students must list their studies, on-campus extracurricular activities, or work experience related to how they have advocated for the LGBTQIA+ community and how they plan to work in this regard in the future. 
"I'm thrilled to see an investment in diversity and inclusion, specifically for LGBTQ students. Recruiting that kind of talent here for Stetson says so much," Bruemmer said. "The law has changed; advocacy has changed as we see cases pending and decided every year while we're in law school and the ability to invest in our future and the profession is an amazing thing."
The Lambda Legal Society Pride Scholarship will be funded with a minimum gift of $25,000.  In order to reach the goal, members of the Lambda Legal Society will work with local non-profit advocacy groups to develop a list of potential donors, as well as alumni, law professors, staff, and the community, corporations and foundations, to fund the endowment in two years.  The scholarship will exist in perpetuity at Stetson University College of Law once the minimum of $25,000 is reached.  Any individual, corporation, foundation, or group may make gifts to the principal of the Lambda Legal Society Pride Scholarship. 
"Stetson Law is thrilled about continuing the legacy that has begun to open the doors to LGBTQIA members of the community," Alexandre said. "The legal profession is a profession of access. This scholarship, and building on it, will make sure that students of all backgrounds – including those from all neglected areas who might also be LGBTQIA identifying will have the same opportunity to make a difference. I just could not be more excited because that is the work that we are here to do."
The Lambda Legal Society provides a forum for exploring the legal issues faced by people in the LGBTQIA+ community.  The goal of Lambda is to educate young attorneys about the unique issues that the community faces. Lambda also promotes international social justice and recognizes that the issues faced by people who identify as LGBTQIA+ are influenced by other parts of their identity.  Students need not identify with any particular label to belong. 
In February 2021, the Stetson University College of Law Lambda Legal Society became a part of the National LGBT Bar Association Law School Affiliate. In June 2021, it celebrated the inaugural raising of the Progress Pride Flag on campus.
---
Post date: Nov. 10, 2021

Media contact: Kate Bradshaw
[email protected] | 727-430-1580