Professor Simcox Co-Publishes New, Clinic-Focused Veterans Law Textbook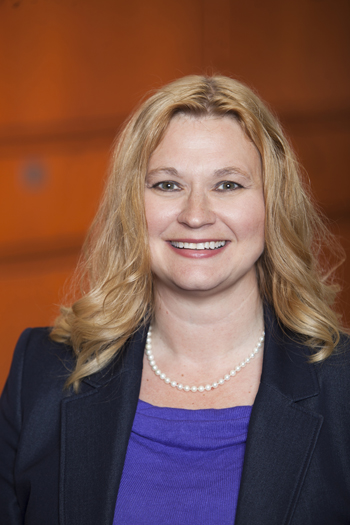 After roughly five years of intensive research and writing, Law Professor Stacey-Rae Simcox has published a unique book that could benefit countless veterans.
A collaboration with William & Mary Law School Professor Emeritus David E. Boelzner, the book is called Veterans Benefits: Law, Theory, and Practice. Published through Carolina Academic Press, it aims to serve as "a useful and complete resource for teachers of veterans law, particularly in the practical context of preparing student advocates in law clinics to assist veterans with their claims for benefits."
It concisely maps out the incredibly complex VA claims system and shows students how to navigate it.
A practical focus
What makes the book particularly useful to students working in veterans law clinics at law schools across the country is that it gives them concrete examples that invite students to apply what they are learning to real-world client situations.
"A clinical course requires practical application of statute, regulation, case law, and analysis to a real-life client's legal issues," Simcox, who is director of Stetson Law's Veterans Law Institute, said. "This book is unique because it provides students with a number of client vignettes to allow the student to apply what they are learning to a practical client scenario, just as they would in practice."
Another useful attribute for their intended audience: the most important cases in this area of law are summarized so students spend less time dissecting and analyzing each case and more time working on behalf of their clients.
"That allows students and instructors to move more quickly through understanding complicated material toward applying what they have learned," Simcox said.
An ever-changing landscape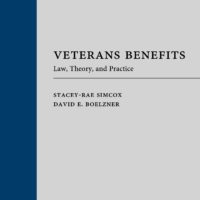 One of the biggest challenges Simcox and Boelzner had was making sure the text reflected the major congressional changes to veteran benefits and the way the U.S. Department of Veterans Affairs administers them.
One example: In 2019, VA implemented a statute passed in 2017 that overhauled the appeals process for VA decisions, which meant they had to significantly alter the book. Another happened just as they went to press, when Congress passed the PACT Act, which added a number of presumptive conditions for veterans who served in the Middle East, Camp Lejeune, and Vietnam.
"Every time these changes happened, they had to be accounted for in the book to make sure it had the most up-to-date material for students," Simcox said. "That slowed the process down dramatically."
Bridging a legal gap
Part of what makes veterans law clinics at law schools such a critical resource for veterans going through the VA claims process is a federal policy barring them from hiring an attorney until the agency has examined evidence and issued a decision affirming or denying the claim. This often leaves veterans without an advocate during a critical part of the disability claims process.
Since their work is unpaid, students working through veterans law clinics at their law schools are uniquely positioned to assist – provided they have a solid grasp of the system's nuances.
"Our hope is that this book will help law students and other advocates gain a deeper understanding of veterans law and help achieve better results for our veterans and their families," Simcox said. "And on a personal note, as a veteran myself, I consider it a great privilege to give back to my fellow veterans in this small way."
Both authors thank Judge Michael Allen, a former Stetson Law professor was also director of the college's Veterans Law Institute, in their acknowledgements. An early collaborator on the book, Allen was appointed a judge of the U.S. Court of Appeals for Veterans Claims in August of 2017. His appointment to the bench was an important development for veterans, given his extensive knowledge of federal courts as well as constitutional and administrative law, Simcox said.
Learn more about Veterans Benefits: Law, Theory, and Practice.
---
Post date: Jan. 23

Media contact: Kate Bradshaw
[email protected] | 727-430-1580