Prof. Palmer on Helping Holocaust Survivors Recover Swiss Bank Funds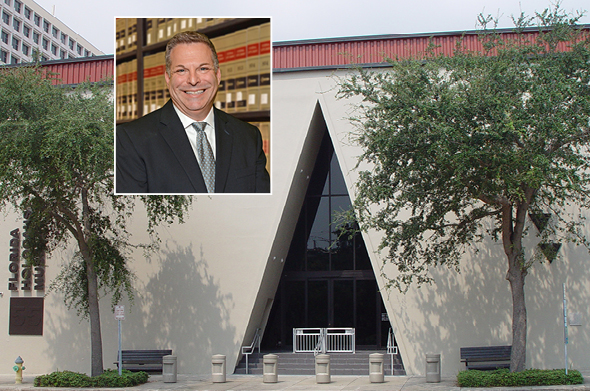 Before a packed room at The Florida Holocaust Museum, Stetson Law Professor Jason Palmer gave a compelling talk on the process of helping families of Holocaust victims reclaim assets from Swiss banks.
Palmer, who teaches international litigation and arbitration, legal writing, civil procedure, and law and sexuality – among other courses – wove together strands of history, collaboration, and heart-wrenching stories of families seeking justice in the wake of unprecedented atrocity as part of the museum's Lawyers of Conscience lecture series.
"Not only did I spend five years of my life in Zurich, Switzerland, working on these matters and working on international mass claims processes, but I also have a personal connection, with a family member who was a Holocaust survivor and very close friends whose parents were Holocaust survivors," Palmer said. "So the work that the museum does is very important and the topic is personal."
An international collaboration
As a claims judge for the Claims Resolution Tribunal (CRT) for Dormant Accounts in Switzerland, Palmer adjudicated claims for dormant Swiss bank accounts of victims of Nazi persecution. The process was the result of legal challenges to Swiss banks that had accumulated great wealth in part from assets deposited there by individuals who later became victims of the Holocaust or were separated from their wealth when the Iron Curtain was established.
Relatives of Holocaust victims were asked to submit claims if they believed a loved one had deposited assets in a Swiss bank prior to the war. If they could prove their relation to the person who established a now-dormant account, tribunal officials awarded them with an amount of money comparable to the original deposit, with appropriate interest and fees added as of the date of the award.
Thousands of people from around the world had legitimate claims – all of which were investigated by a team of about 100 young legal professionals – lawyers, paralegals, translators – committed to doling out justice.
"Over the course of both CRTs, over $720 million was distributed to victims of the Holocaust," Palmer said. "It was really an amazing enterprise made up of people basically in their late twenties to late thirties."
A challenging legal landscape
Determining whether a claim should be paid required claimants to provide documentation to justify their claims – but since adjudicators could not rely on documents like death certificates (given there often wasn't one), they had to get creative.
In one case, a claimant whose grandparents had made a deposit had only one way to demonstrate the validity of her claim: describing the place her grandparents lived, from her memories of visiting them as a little girl. The adjudicators used old maps to determine that her description of the town – the church down the street, a nearby playground – matched the layout of the town listed in the address used to open the account.
There were also challenges with multiple account holders sharing a name, and with determining which nation's laws applied at a time when shifting borders kept an account holder's citizenship in flux.
In some cases, the process helped reunite families whose connections had been lost to the war.
When an account was awarded that was determined to be owned by a victim of Nazi persecution, a computer model subsequently helped Palmer and his team to determine an equitable adjustment to the account amount which was also awarded to the claimant. While they couldn't guarantee the claimants were being given the exact amount that was deposited, the CRT did its best. "It wasn't perfect justice," Palmer said. "It wasn't the exact amount, but it was to right a historical wrong."
An enduring Stetson Law connection
The event was not just the first edition of Lawyers of Conscience since before the start of the COVID-19 pandemic; it also marks the tenth anniversary of the series. Museum board member Rachael Worthington noted that the inaugural speaker of the series in 2013 was former Stetson Law Dean Bruce Jacob.
Jacob, who spent 13 years as Stetson Law dean (1981-1994), focused on the Nuremberg medical trials, which prosecuted Nazi doctors who carried out cruel experiments on Holocaust victims.
Palmer's evening lecture was open to the general public, but the professor also led a CLE seminar on the same topic for legal professionals earlier in the day.
Learn more about The Florida Holocaust Museum.
---
Post date: March 3

Media contact: Kate Bradshaw
[email protected] | 727-430-1580