Alumna Anisha Patel Sworn in as FL Bar YLD Chair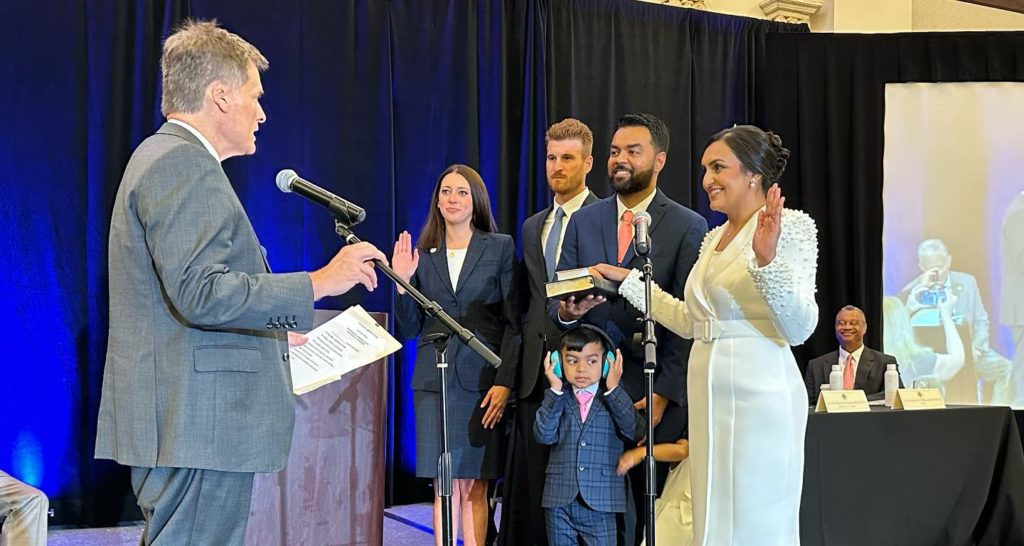 At the Florida Bar Annual Convention in Boca Raton, Stetson Law Alumna Anisha Patel '15 was sworn in as president of the Florida Bar Association Young Lawyers Division.
It's the latest in a string of leadership roles and achievements for Patel, who will succeed outgoing YLD President Iris Elijah in the role. She was elected to serve a one-year term as president in 2022 and sworn in June 23. She officially takes the reins July 1 – and has big plans for the division when she does.
These goals will build on impactful work Patel has already done in leadership roles within YLD, including as vice chair of the division's Diversity and Inclusion Committee alongside Elijah. The duo spearheaded an initiative to highlight the division's diverse membership through the "#YLDisME" Campaign.
Being sworn in as YLD president is a milestone for both Patel and the division.
"To say my professional dreams came true today would be a gross understatement, and I am so incredibly proud to be the first Indian American president of the Young Lawyers Division," Patel said.
Big plans, transformative impact
Prior to being elected to her new role, Patel campaigned on a desire to help inspire a cultural shift within the legal profession toward a more inclusive, compassionate culture that aims to foster sustainable careers for YLD members.
"My goal for the YLD this year is to reach as many of our young lawyers as possible," she said. "The YLD's theme is 'Professionalism in Practice.' Consistent with The Florida Bar's core function, it is the YLD's role to ensure that young lawyers are given the tools and education they need to exhibit the highest standards of professionalism, remain out of the disciplinary system, and, ultimately, excel in the legal profession. The YLD will be working on multiple new initiatives designed to achieve this, and I am planning to visit every law school in Florida, including my own alma mater, to share these resources."
A mother of two who advocates for balance in a profession known for burnout, her recent work includes contributing to the YLD's Parental Leave Guide.
Effective leadership early on
When she enrolled at Stetson Law, Patel had already earned a law degree from the London School of Economics. Upon moving to the U.S. to join her husband two years later, she wasn't able to practice law in the U.S. – so she enrolled in Stetson Law's J.D. program and worked as a paralegal at Hill Ward Henderson, the firm where she now practices.
While at Stetson Law, Patel's involvement with YLD began with three years on the board of Stetson Law's YLD Law Student chapter. The Florida Bar honored the group for a 2013 event it organized titled "Balancing Law and Life." In 2014, the chapter won a Florida Bar award for best student chapter.
The experience is what inspired her to stay involved.
"When I passed the Bar and started practicing, I knew that I really wanted to join the YLD board to continue giving back to the community, and to really make a difference for young lawyers," she said.
When she was a member of a Moot Court team, they won Best Brief at the 2014 Robert Orseck Memorial Moot Court Competition. She was also a part of the Stetson Law Review.
More Stetson Law leaders recognized
As part of the Florida Bar convention, Stetson Law alumni were recognized for their leadership in a multitude of areas.
The Virgil Hawkins Florida Chapter National Bar Association, led by president and Stetson Law alumna Valeria Obi '13, and the Florida Hispanic Bar Association were honored with the Florida Bar's Group Professionalism Award for their Civil Litigation Boot Camp. A half-day program that took place at The Florida Bar's Winter Meeting in Orlando, it aimed to help attorneys grow their litigation skills and equip them with key professional advancement tools. Obi is one of several Stetson Law alumni to serve in a leadership role in the Tampa-based Virgil Hawkins chapter.
"As we work to foster new generations of Stetson Lawyers, we place particular emphasis on leadership skills," said Stetson Law Interim Dean Theresa Pulley Radwan. "That is why it is so rewarding to see our alumni rise to such important leadership roles so early in their careers."
Radwan was also honored with the Florida Bar Standing Committee on Professionalism's Law Faculty/Administrator Award during the convention.
---
Post date: June 27

Media contact: Kate Bradshaw
[email protected] | 727-430-1580