SLAA Awards Honor 7 in 2023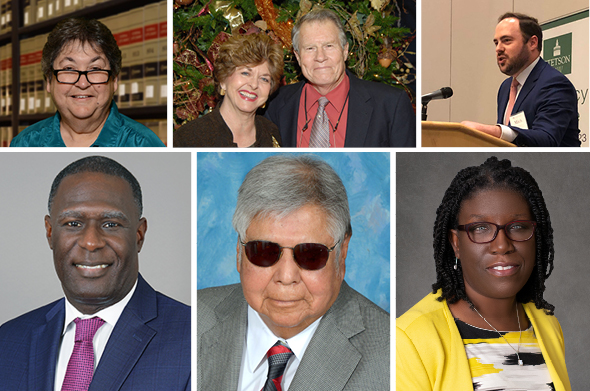 To recognize individuals dedicated to the legal profession, the community, and the College of Law, the Stetson Lawyers Alumni Association (SLAA) held its annual awards ceremony in June of 2023. The event aims to honor alumni and others who have distinguished themselves in their work and service.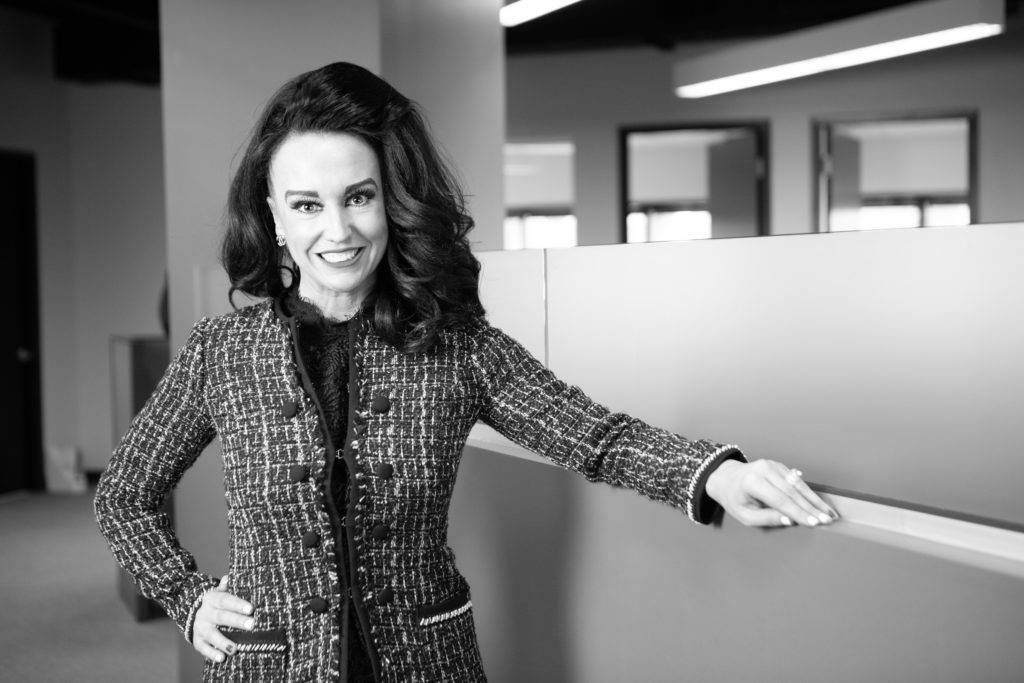 Led by incoming SLAA President Brittany Maxey-Fisher '07, the event took place during the Florida Bar Association's Annual Convention in Boca Raton. In all, six awards honoring seven individuals were given over the course of the evening.
"Each year, the Stetson Lawyers Alumni Association presents awards to alumni and friends of the College of Law who have helped to advance the goals of the College of Law and have served the law school and the legal community with distinction," Maxey-Fisher said.
The honors include: the Distinguished Alumni Award, the Ben Willard Award, the Paul May Meritorious Service Award, the Outstanding Alumni Representative Award, the Distinguished Service Award, and the President's Award.
Distinguished Alumni Award – Kimberly Rodgers '98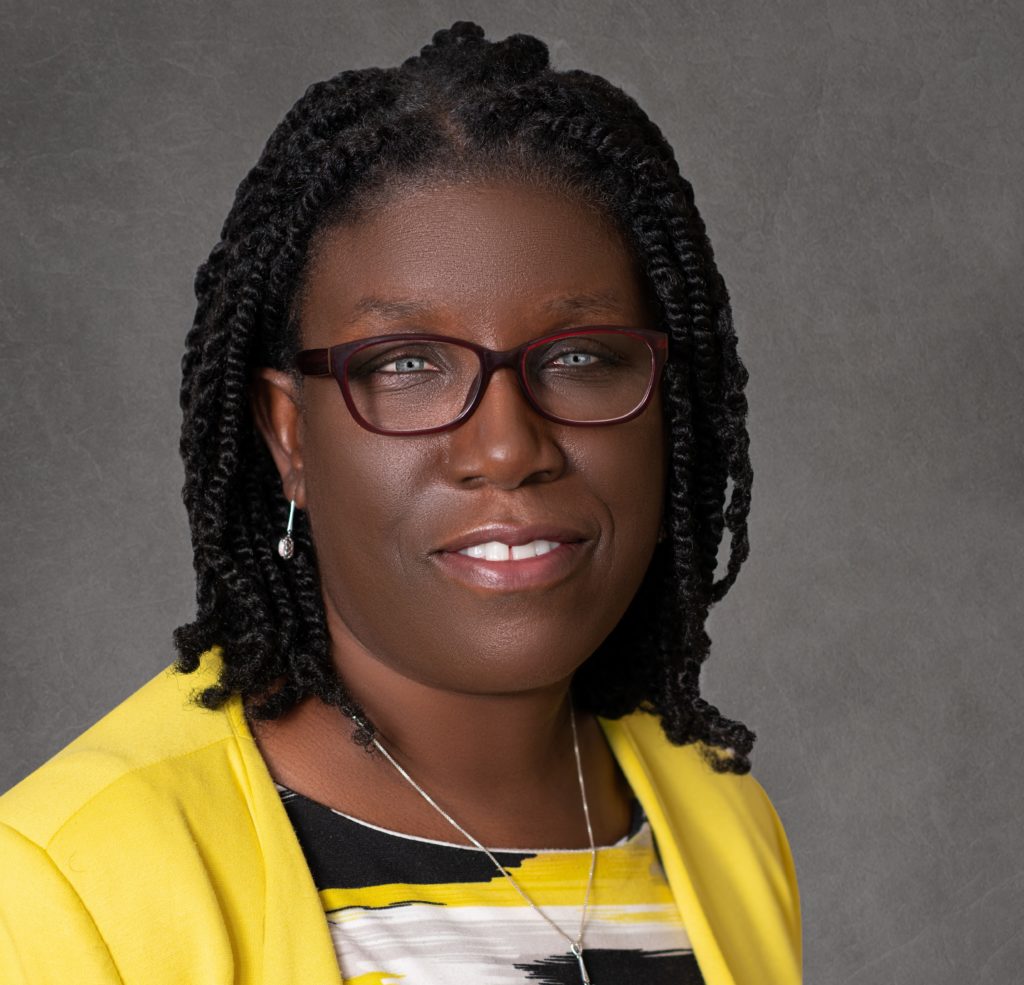 Honoring alumni who excel in their chosen profession and in their service to humanity, the 2023 Distinguished Alumni Award was given to 1998 Stetson Law alumna Kimberly Rodgers, who has spent nearly two decades advocating for individuals who could not otherwise afford legal representation as executive director of the Community Law Program.
"Mrs. Rodgers has worked tirelessly and passionately for vulnerable residents of St. Petersburg as an attorney and Director of the Community Law Program for almost two decades," said Maxey-Fisher. "Mrs. Rodgers utilizes all means of pro bono and philanthropic support to ensure the legal needs of the community's most vulnerable citizens are met."
Rodgers, who served on the board of the Stetson Lawyers Alumni Association, said that the award was truly an honor.
"Public service has been an integral part of my life since childhood," Rodgers said. "As attorneys, we have the unique privilege and power to use our voices and skills to make a difference in the lives of others less fortunate, and I am so thankful to have received this award for doing something so necessary in our community and so fundamental to my personal story."
Ben Willard Award – Jim Shore B.A. '77, J.D. '80
Recognizing alumni whose tireless efforts and humanitarian work have demonstrably benefited Floridians, the Ben Willard Award for 2023 was given to Stetson Double Hatter Jim Shore.
Since 1982, Shore has served as the General Counsel of the Seminole Tribe of Florida. The first member of the tribe to practice law, Shore fights to preserve the Seminole Tribe's natural resources and protect its water rights – including the impacts of Everglades restoration and Lake Okeechobee water management. The American Bar Association Section of Environment, Energy, and Resources gave him its Government Attorney of the Year Award in 2020 for his work in that arena. He was also instrumental in the purchase of "Hard Rock International" by the Seminole Tribe.
"Mr. Shore is a humble and relentless advocate for the Seminole Tribe of Florida and for Indian Tribes across the country," Maxey-Fisher said.
Shore was inducted into the Stetson Law Hall of Fame in 2010.
Paul May Meritorious Service Award – The Honorable David Seth Walker '65 and Joan LoBianco Walker '71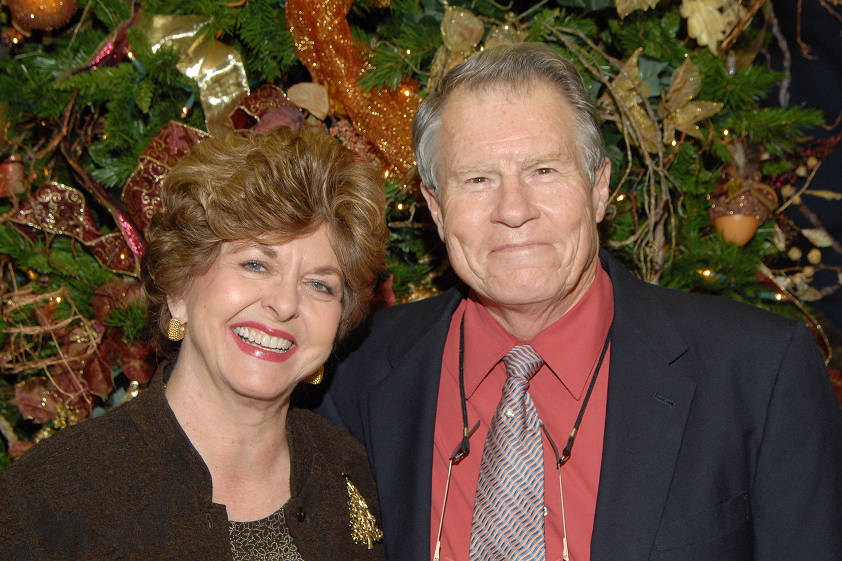 Given to alumni for showing continued support for the College of Law through both time and gifts, the 2023 Paul May Meritorious Service Award was given to Judge David Seth Walker and his wife, Joan LoBianco Walker.
Judge Walker served as an active judge for 32 years, then a senior judge for an additional 13 years. He was one of the youngest judges to be sworn in at age 30. Mrs. Walker had a law practice which focused on family law. They worked hard while raising three children.
"The Walkers have worked diligently for justice over the years serving the community and they have remained connected to Stetson College of Law." said Maxey-Fisher.
Recently, they created a Law Review Award to honor the Stetson Law Review Editor-in-Chief each year and provide a stipend for their efforts.
Judge Walker stated that he is "very filled with gratitude" for the opportunities he had due to his legal education from Stetson Law.
"We were surprised, flattered and honored to receive the Paul F. May Meritorious Service Award," the Walkers said in a statement. "It has been a privilege to be permitted to serve our legal and civil communities and we have received far more in benefits then we would ever be able to repay."
Outstanding Alumni Representative – Howard Williams '12
Recognizing dedication and service to SLAA through involvement in local alumni activities, the Outstanding Alumni Representative award for 2023 was presented to Howard Williams.
An Assistant Federal Defender with the Federal Public Defenders office in the Middle District of Tampa, Williams has worked as a Senior Assistant Public Defender with the Sixth Judicial Circuit in Pasco County. He was named Public Defender of the year for the Pasco County Office and also worked in private practice for three years in general civil litigation.
Despite a busy schedule, Williams has stayed involved in the legal community and Stetson Law. An active member of SLAA, he regularly mentors students. He also supports students through the Black Lawyers Student Association and, with fellow alumni and friends, is always seeking ways to increase access to a Stetson education.
"Mr. Williams is passionate about Stetson and about future attorneys' growth and success," Maxey-Fisher said. "We are lucky to have him as an alumnus."
Williams, who also teaches trial advocacy as an adjunct professor at Stetson Law, serves as a judge for Trial Team competitions, and was a Parliamentarian of the George Edgecomb Bar Association in Tampa, said he is honored and humbled to receive such a great award from his alma mater. 
"Stetson has provided me so many opportunities and I just want to make sure I am doing my part to ensure others can walk through the door that so many alumni helped me through," he said. "Service to the community is the debt you pay for all the blessing bestowed upon you."
Distinguished Service Award – Sally Waters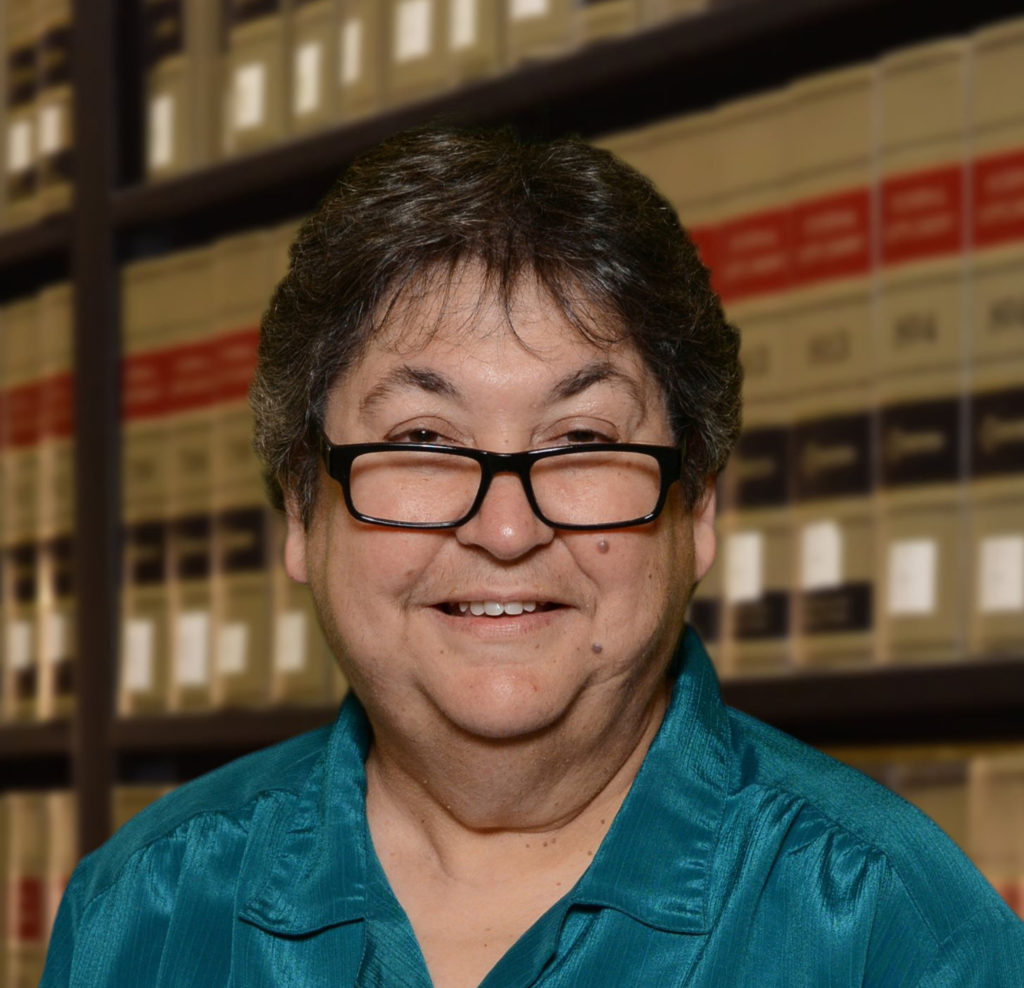 Honoring a non-alumni member of the Stetson Law community, the 2023 Distinguished Service Award recognized Adjunct Professor and Reference Librarian Sally Waters for her over four decades of incredible support of students, alumni, faculty, and beyond.
Lovingly referred to as the Queen of Reference, Waters started in her role at the library in 1982 and began teaching Legal Research and Writing I and II the following year. She currently teaches Advanced Legal Research. Waters co-authored Free Internet Legal Research, now in its second edition, with fellow librarians Wanita Scroggs and Kristen Moore, and co-wrote A Lawyer's Guide to Florida Legal Research.
"Her proficiency and ability to assist law students at all levels is incredible," said Maxey-Fisher. "Her enthusiasm to welcome students to the library and the law school is unmatched."
To Waters, the award reflects her passion for helping students succeed. "I was so excited and honored to receive this award," Waters said. "Working with the students has always been my very favorite part of this job, and it's what has kept me here for so long. I'm always so thrilled to see them doing well in their lives after Stetson, and so proud to have known them along the way."
President's Award – Mitchell Schermer '15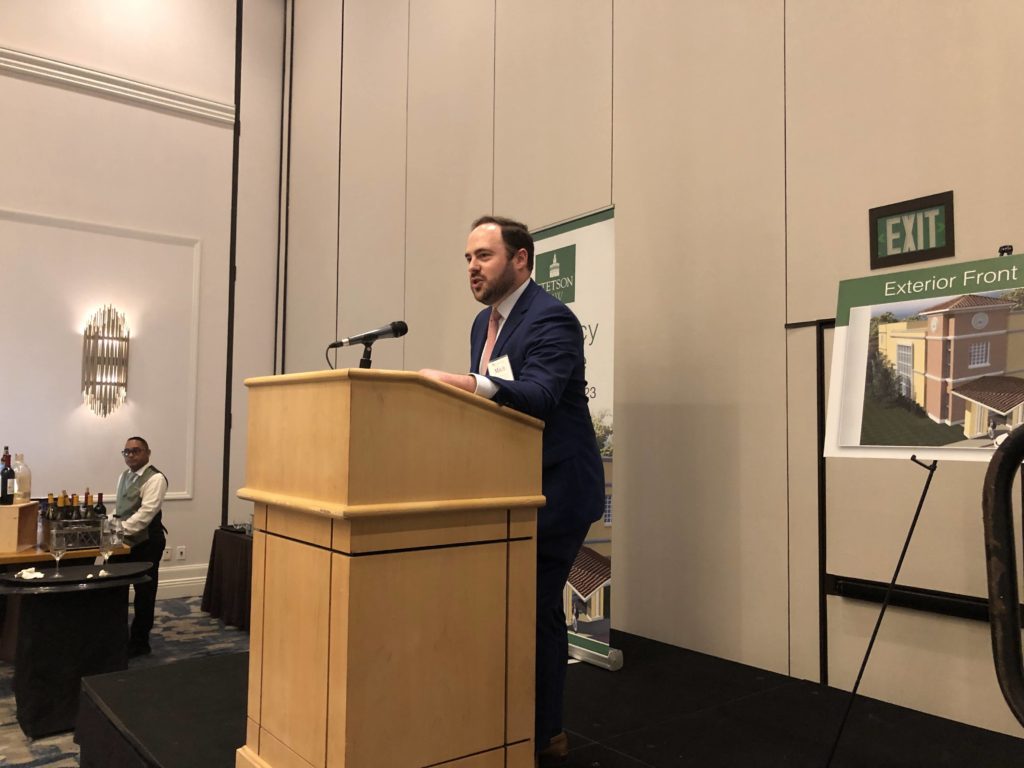 The final honor of the evening, the President's Award, recognizes the outgoing SLAA president. It was given to outgoing SLAA President Mitchell Schermer, who served in that role for the last two years, and joined the SLAA Advisory Council five years prior.
Schermer commended SLAA for carrying out its mission of supporting the College of Law, enriching the alumni base, and making the College of Law stronger with a solid foundation that will allow for continued growth and success.
"Stetson is an incredibly special place for me; having met my wife Mary, and many of my best friends in law school quite literally changed my life," said Schermer, who is now an attorney with Morgan & Morgan in the firm's Business Trial Group. "In addition, Stetson set me up for success as an attorney and advocate due to the strong emphasis on practical education and professionalism."
He said serving on the SLAA Advisory Council was an obvious way to give back to the Stetson Law community, and he looks forward to seeing the organization succeed further under Maxey-Fisher's leadership.
"The ability to serve as the representative for the over 11,000 College of Law alumni was an experience that I will not soon forget," he said. "I am glad to hand over the organization to Brittany Maxey-Fisher, who has a long and demonstrated track record of success as a leader, and who will usher the SLAA into its next chapter of success."
---
Post date: July 14

Media contact: Kate Bradshaw
[email protected] | 727-430-1580