Gavrinis Cairn, Gulf of Morbihan, Brittany, France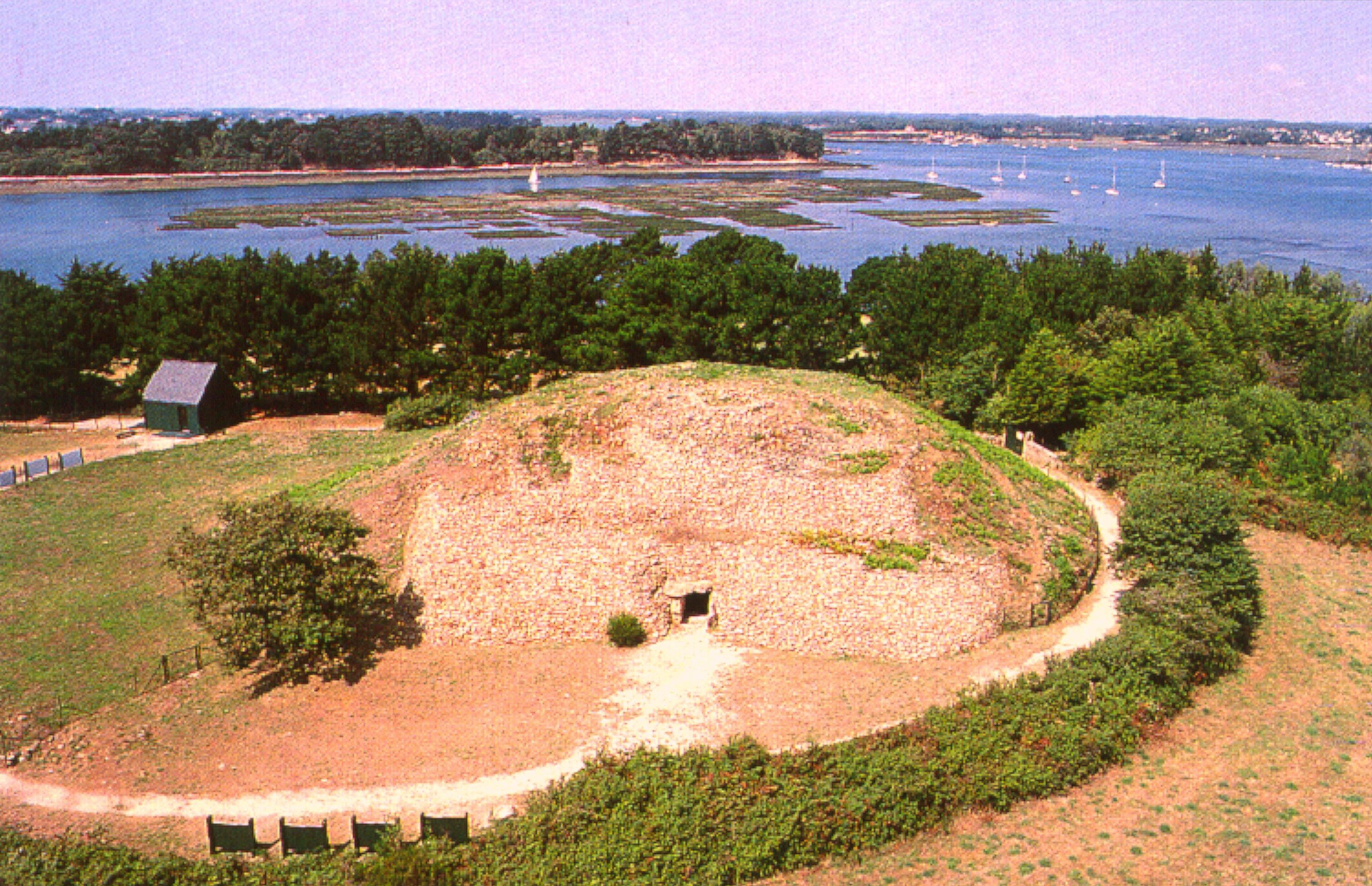 The magnificent tumulus/cairn at Gavrinis is significant for its well-preserved interior chamber and 29 large orthostats lining the passageway. The orthostats are carved with various motifs, including chevrons, crooks, axe heads, whorls, spirals, and waves. The site is on a privately-owned island and is only reachable by boat tour from the nearby town of Larmor-Baden. It is well worth the effort. The orientation of the passageway is toward sunrise on Winter Solstice. You can view some of the interior art on the passageway orthostats at: https://www2.stetson.edu/neolithic-studies/neolithic-art/gavrinis-cairn-passageway-gulf-of-moribhan-brittany-france/ and https://www2.stetson.edu/neolithic-studies/neolithic-art/gavrinis-petroglyph-semicircular-pattern-brittany-france/ and https://www2.stetson.edu/neolithic-studies/neolithic-art/gavrinis-cairn-passageway-gulf-of-moribhan-brittany-france/ and https://www2.stetson.edu/neolithic-studies/neolithic-art/whorl-patterns-gavrinis-cairn-passageway-gulf-of-morbihan-brittany-france/
Photo courtesy of Marc Chauvin.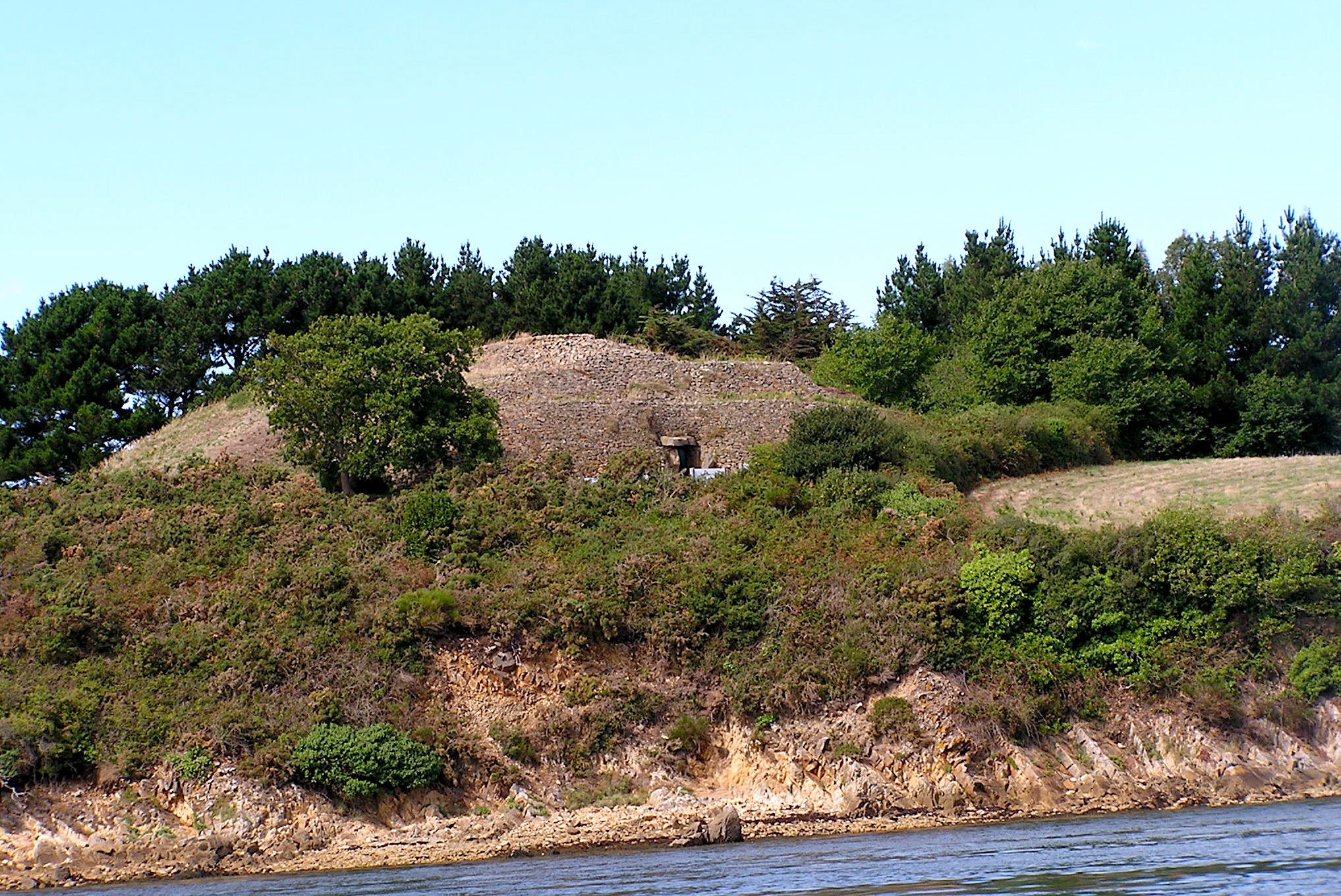 This is a view of the cairn from the boat that ferries visitors to the island. The monument was built between 4250-4000 B.C.E., roughly the same period as the major megalithic structures in nearby Carnac. The mound has a diameter of 50 meters and height of 6 meters, and features an entry chamber of 14 meters. Archaeologists believe that only tribal members of the highest social status (probably chieftains and their families) were interred here along with their jewels, weapons, and ceremonial vessels. 6000 years ago the cairn site sat prominently over the deep channel of the Vannes river and was not an island. There is a nice little video of the site at: https://www.youtube.com/watch?v=FosqMyBqd5I&t=70s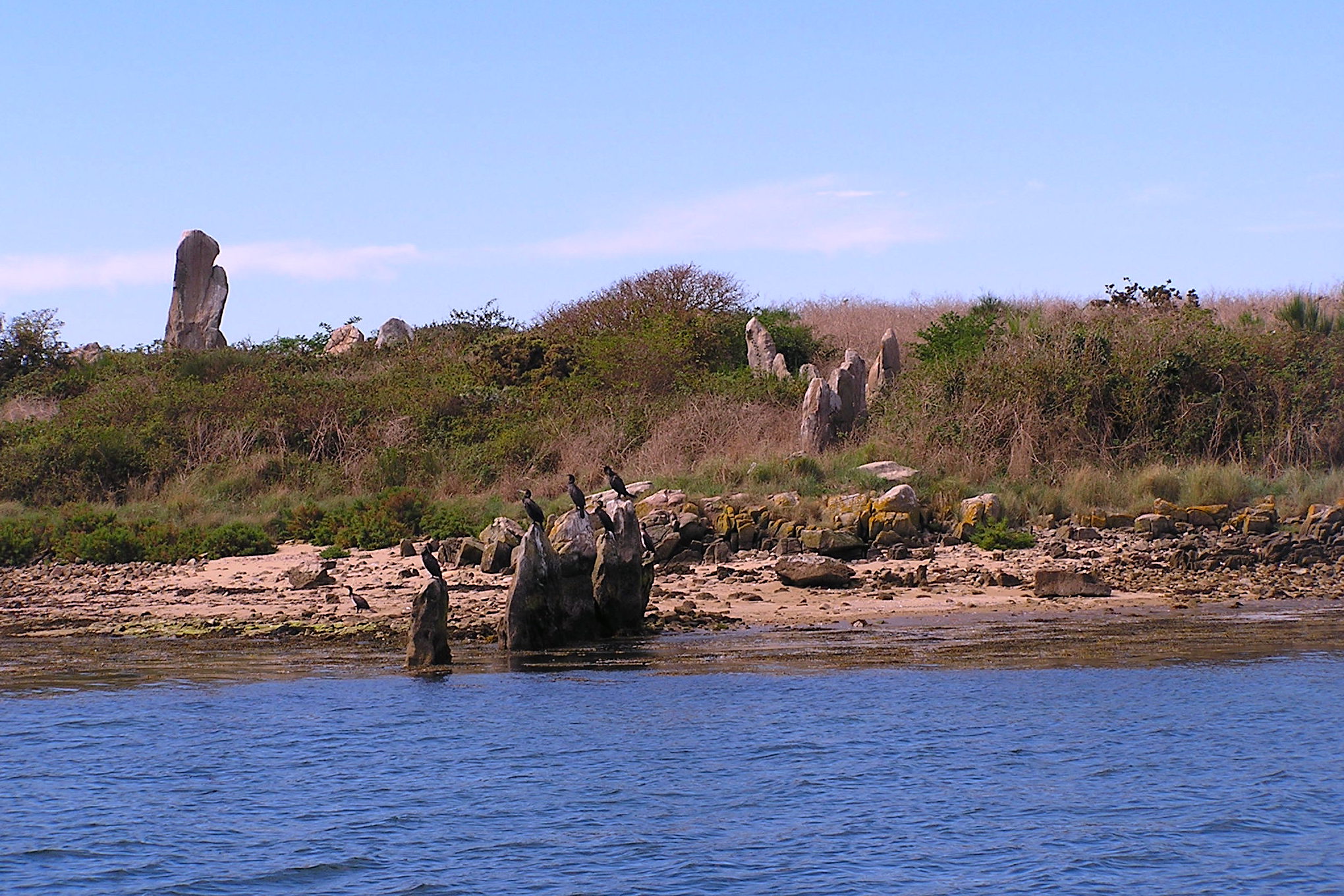 These stone are part of a megalithic stone circle on the nearby island of Er Lannic. The circle is partially submerged now due to tidal immersion. Parts of the circle are visible from the water during the ferry ride to Gavrinis. To visit the site, you have to book a reservation for a guided tour, which is available only from April to October; the boat ride takes 15 minutes from Larmor-Baden. The 1h30 tour starts with a French-language presentation on Neolithic megaliths and follows with a 20-minutes tour of the interior.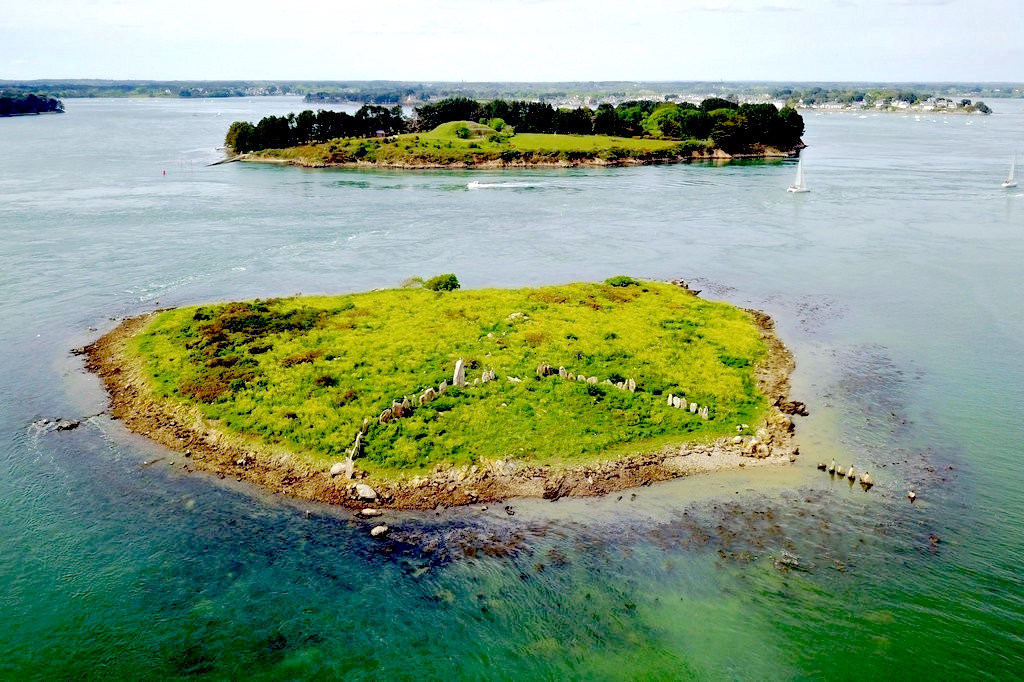 This overhead view shows the part of the Er Lannic stone circle that is not under water. The Gavrinis tumulus is visible in the distance. Photo courtesy of Bensozia.