Retired Philosophy Professor Completes Life Work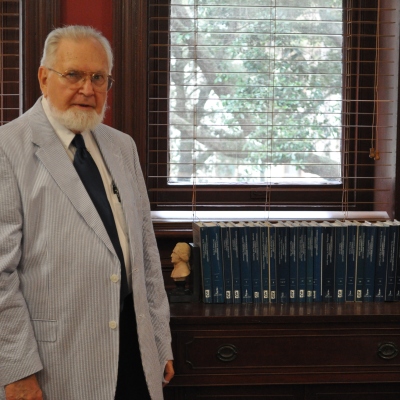 Stetson's Philosophy Department celebrated the completion of The International Kierkegaard Commentary, a 24-volume series about the 19th century Christian Existentialist philosopher Soren Kierkegaard, with an intimate reception last week for the prolific author. Dr. Robert L. Perkins, retired senior professor emeritus of Philosophy at Stetson University, recently completed the last volume, after spending nearly three decades of work. He compiled the collection of critical essays and meticulously read every submission that made it into the final edition of the series. 
The full collection contains 283 essays written by 123 authors from 14 countries representing 71 institutions on three continents, and is written across thousands of pages of text. The collection of essays is the largest critique of Kierkegaard ever produced. Each volume of essays corresponds to one of Kierkegaard's own writings as they were primarily translated into English by Howard and Edna Hong. 
Perkins requested article submissions from scholars across the globe. Generally, each submission would be returned to the author to be revised and resubmitted. Perkins also had a team of readers and appointed a volume-consulter for each volume to read and critique every submission—a process which insured that only the best essays would be published in the final work.
Perkins just mailed the last page of proofs on Sept. 29. The first volume was printed in 1984, supported by the University of South Alabama, and the 23 volumes that followed have been supported by Stetson, the last of which was printed in 2010.
After serving on Stetson's faculty and administration since 1986, Perkins just retired as a Senior Professor Emeritus of Philosophy in 2012. "I had only that volume in hand when I re-arrived at Stetson to take up the deanship," Perkins said.
Kierkagard as a philosopher pioneered Christian existentialism in the 19th century, explained Perkins. "You can't do a lot of American philosophy without him," Perkins said.  Perkins described Christian existentialism as "not a paradox at all, but it's full of paradoxes."
As Perkins finished the last volume of The International Kierkegaard Commentary, 17 of his authors surprised him with a Festschrift, a celebration of his life's work as an accomplishment, and to acknowledge the 24-volume work as a major addition to the world's philosophy community. Undoubtedly, the 24 volumes, which have been published over the past 26 years, have had an impact on the position Kierkegaard holds as a highly regarded figure in the religious and philosophical academic communities.
Perkins still feels his work remains unfinished. "When I returned home from mailing the last of the page proof corrections back to Mercer," he said, "my office seemed empty and strange. There was no 'necessity' pushing me to do anything. My retirement from Stetson was not a retirement from IKC, to understate the matter. But now that this is done, there is still more to do."
The full 24 volume set is available in the Lawson Seminar and Reading Room, 206E, on the second floor of Elizabeth Hall on Stetson's DeLand campus. It is also available in the duPont-Ball Library.
by James Albright '12
SUM student intern